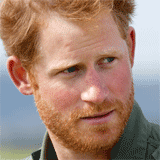 Princes William & Harry to Cameo in 'Star Wars: The Last Jedi'!
Prince William and Prince Harry are going to be making cameos in Star Wars: The Last Jedi! Spoilers ahead! Sources tell THR that the royals will be dressed as Stormtroopers in a scene, which also..
Just Jared
Prince Harry hands out HIV kits in London to promote testing
Harry, who is fifth in line to the British throne, launched the #FeelNoShame campaign in 2014.
Sydney Morning Herald
Also reported by •The Age
The actress, best known for her role as Rachel Zane in the series Suits, has been in a relationship with Prince Harry for some time and there may soon be another royal wedding in Great Britain.


Source: FYI News -



Meghan Markle will be leaving the legal drama Suits after seven seasons. And in a farewell message, Markle's body double, Nicky Bursic, may have left some clues about the actress's relationship..


Source: Hello Giggles -



In a recent nterview with BBC Radio 4, actor John Boyega confirmed Prince William and Prince Harry filmed cameos for the next "Star Wars" movie. The two members of the royal family were spotted on set..


Source: Wochit Entertainment -



Tom Hardy and Gary Barlow will also make a special appearance in the franchise.


Source: People -



PLUS: Prince Harry also gives back by visiting a pop-up clinic to hand out HIV self-test kits


Source: People -


Prince Harry Applauds the Progress to End Mental Health Stigma
Prince Harry is continuing his work to end the stigma against mental health issues! The 33-year-old royal stepped out at the Virgin Money Giving Mind Media Awards on Monday night (November 13) at Odeon..
Just Jared
Princess Bride! Meghan Markle Quits 'Suits' in Fairy Tale Ending
Meghan Markle is saying goodbye to Suits as her relationship with Prince Harry heats up. According to US Weekly, Markle, 36, is ending her time on the show at the end of Season 7. Patrick J. Adams, who..
Radar Online
Kate Middleton & Royal Family Attend Remembrance Sunday Memorial
Catherine, Duchess of Cambridge (aka Kate Middleton) attends services for the Remembrance Sunday memorial on Sunday (November 12) in London, England. Also in attendance at the annual event were her..
Just Jared
Prince Harry & Prince William Suit Up to Cheer on Rugby Teams
Prince Harry and Prince William looked sharp as they supported their rugby teams today! Harry, a patron of the Rugby Football Union, stepped out for the Rugby Union International match between England..
Just Jared
Prince Harry Jokes with Fan About Meghan Markle's Whereabouts
Prince Harry had a funny response when a fan asked him where his girlfriend Meghan Markle was during his latest public appearance! The 33-year-old royal attended a ceremony to honor the fallen soldiers..
Just Jared
Prince Harry charmingly discusses his pizza eating habits during a surprise school visit
During a visit this week to Chicago high school, Hyde Park Academy, Prince Harry surprised students in more ways than one.
Sydney Morning Herald
Also reported by •The Age
Prince Harry Calls His Mom Princess Diana His 'Ideal Role Model'
Prince Harry is lending his support for the Inaugural Obama Foundation Summit on Tuesday (October 31) in Chicago, Ill. The 33-year-old royal joined former President Barack Obama and former First Lady..
Just Jared
Prince Harry Reportedly Had a Crush on Meghan Markle for 2 Years Before Meeting!
Prince Harry is calling Meghan Markle his "ideal girl"! In the upcoming British documentary When Harry Met Meghan: A Royal Romance, royal expert Katie Nicholl reports that the 33-year-old royal has..
Just Jared