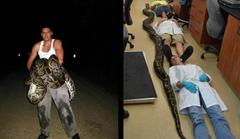 A 19-foot python killed in Florida on May 11 by Jason Leon fired up the debate on invasive species when a new record for Florida's largest-ever Burmese python was revealed in photos yesterday..
The Inquisitr 2 days ago

A record-setting Burmese python has been killed with a knife in a rural US county, after it wrapped itself around the leg of the man trying to capture it.        
Sydney Morning Herald 2 days ago
Videos for "Burmese Python"
In a state overrun by Burmese pythons, a man in South Florida has reported, captured and killed the longest Burmese python in Florida. The snake was over 18 feet long.


Source: OneMinuteNews.com - 2 days ago



Beginning on January 12, Authorities in Florida will be hosting a "Python Challenge" in an attempt to reduce the Burmese Python population that plagues the state. In addition to reducing the ever..
The Inquisitr on January 5, 2013

A 17-foot burmese python decided to join a family picnic in Florida earlier this week. According to the Huffington Post, the snake was shot and killed by a park ranger. The 17-foot burmese python will..
The Inquisitr on December 29, 2012
Only few matches found.
Search this site and the web: