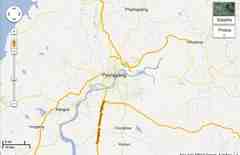 Google Maps now features various streets throughout North Korea thanks to residents and travelers who have added information via the Google Map Maker program. In previous versions of Google Maps users..
The Inquisitr on January 29, 2013

RETURN TRIP: A Google Map app for the iPhone was released Wednesday, much to the relief of people frustrated with the navigation system that Apple Inc. built into the latest version of the mobile..
The Age on December 13, 2012
Only few matches found.
Search this site and the web: