Denmark
Scandinavian country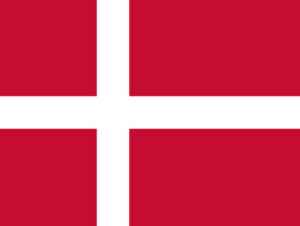 Denmark, officially the Kingdom of Denmark, is a Nordic country in Northern Europe. Denmark proper, which is the southernmost of the Scandinavian countries, consists of a peninsula, Jutland, and an archipelago of 443 named islands, with the largest being Zealand, Funen and the North Jutlandic Island. The islands are characterised by flat, arable land and sandy coasts, low elevation and a temperate climate. Denmark lies southwest of Sweden and south of Norway, and is bordered to the south by Germany. The Kingdom of Denmark is constitutionally a unitary state comprising Denmark proper and the two autonomous territories in the North Atlantic Ocean: the Faroe Islands and Greenland. Denmark has a total area of 42,924 km2 (16,573 sq mi), land area of 42,394 km2 (16,368 sq mi), and the total area of the Kingdom including Greenland and the Faroe Islands is 2,210,579 km2 (853,509 sq mi), and a population of 5.82 million in Denmark proper.


PM Modi discusses global supply chain, Covid with Denmark PM in virtual summit

The coronavirus pandemic has shown the risk involved in excessive dependence of the global supply chain on any single source, Prime Minister Narendra Modi said during a virtual bilateral summit on..
Credit: HT Digital Content Duration: 06:38
Published
Air bridges: Denmark, Slovakia and Iceland added to quarantine list

A list of countries and territories in Europe from which people don't need toquarantine on arrival in England, as it's announced that arrivals fromDenmark, Slovakia and Iceland will have to quarantine..
Credit: PA - Press Association STUDIO Duration: 00:41
Published
Gareth Southgate puzzled by Phil Foden and Mason Greenwood's actions in Iceland

England manager Gareth Southgate says he does not understand how Phil Fodenand Mason Greenwood thought their action in Iceland were acceptable. Southgatewas speaking following the 0-0 draw against..
Credit: PA - Press Association STUDIO Duration: 00:51
Published
Study: Relax, Taking Ibuprofen Won't Make COVID-19 More Severe

In the early days of the novel coronavirus COVID-19 pandemic, it was believed using NSAID painkillers like ibuprofen could worsen the disease. But now, UPI reports a new study from Denmark, published..
Credit: Wochit News Duration: 00:34
Published
Nations League match preview: Denmark v England

An in-depth match preview as Denmark take on England in the Nations League.
Credit: PA - Press Association STUDIO Duration: 01:17
Published
Belgium's Doku, Dimata brace for baptism of fire with Red Devils

RESENDING WITH COMPLETE SHOT LIST AND SCRIPT VIDEO SHOWS: BELGIAN NATIONAL SOCCER TEAM TRAINING AHEAD OF THEIR SEPTEMBER 5 ENCOUNTER AGAINST DENMARK IN THE UEFA NATIONS LEAGUE / BELGIAN NATIONAL
Credit: Reuters - Sports Duration: 04:53
Published
Study: Half Of Heart Attack Patients Did This Two Weeks Before The Event

New research from Denmark reveals roughly half of patients who suffer a heart attack seek medical attention within two weeks before the event itself. According to UPI, 54% of patients who experienced..
Credit: Wochit News Duration: 00:37
Published
Gareth Southgate: Harry Maguire has my support after incident in Greece

England manager Gareth Southgate addresses his decision to include HarryMaguire in the forthcoming squad for the UEFA Nations League internationalsagainst Iceland and Denmark, following the player's..
Credit: PA - Press Association STUDIO Duration: 00:52
Published
You Might Like



Denmark will reopen to most European nations except Portugal, much of Sweden

Denmark said on Thursday it would allow entry to citizens from most European nations with a low number of COVID-19 infections from June 27 - two months earlier than originally planned, including some..




Reuters - Published




Black Lives Matter protester in Denmark was infected with coronavirus, health minister says

Denmark's health minister on Tuesday urged people who took part in a large Black Lives Matter demonstration in Copenhagen to get tested for COVID-19 after one protester tested positive.




Reuters - Published





Denmark agrees to send more troops to Iraq's NATO training mission

Denmark will send up to 285 military personnel to NATO's non-combat training operation in Iraq as it takes over leadership of the mission training Iraqi security forces from Canada by the end of 2020,..




Reuters - Published





Denmark sees no rise in COVID-19 cases after further easing of lockdown

Denmark, the first country outside Asia to ease its coronavirus lockdown, said on Wednesday the spread of COVID-19 has not accelerated since it entered its second phase of reopening society last month.




Reuters - Published





Germany to end border controls with France, Austria, Denmark on June 15

Germany will lift border controls with Switzerland, France, Austria and Denmark on June 15, Interior Minister Horst Seehofer said on Wednesday, adding the government would reconsider if the coronavirus..




Reuters - Published





Denmark to allow public gatherings of 200 in August

Denmark plans to lift the limit on public gatherings from 50 to 100 people in July and to 200 in August as it eases measures to curb the spread of coronavirus, the government said on Monday.




Reuters - Published




Denmark wants 5G suppliers from closely allied countries, says defence minister

Denmark wants to be able to exclude 5G technology suppliers from providing critical infrastructure in Denmark if they are not from countries considered security allies, online technology news outlet..




Reuters - Published





Denmark lifts limit on public gatherings to 50 people from 10

Denmark on Monday lifted the limit on public gatherings to 50 people from 10 as it relaxes measures to curb the spread of the coronavirus, the ministry of health said.




Reuters - Published




Denmark arrests six people suspected of tax fraud, money laundering

Denmark's state prosecutor for economic crime said on Wednesday it arrested six people in relation to suspected tax fraud and money laundering worth 220 million Danish crowns ($33 million).




Reuters - Published





Sweden excluded as neighbours Denmark and Norway ease travel restrictions

Norway and Denmark said on Friday they would allow tourists to travel between the two countries, though border crossings with Sweden, where the number of COVID-19 infections is higher, will remain..




Reuters - Published





Denmark, Norway create joint travel zone: Norway PM

Norway and Denmark will resume free travel between the two Nordic countries from June 15, Norway's Prime Minister said on Friday.




Reuters - Published





Denmark and Norway create travel bubble, excluding Sweden: media

Norway and Denmark will resume free travel between the two countries, three Norwegian media outlets reported on Friday, creating a travel bubble that excludes Scandinavian neighbour Sweden, where the..




Reuters - Published





Reopening schools in Denmark did not worsen outbreak, data shows

Sending children back to schools and day care centres in Denmark, the first country in Europe to do so, did not lead to an increase in coronavirus infections, according to official data, confirming..




Reuters - Published




Denmark to let cross-border couples meet again

Denmark eased its border controls with other Nordic countries and Germany on Monday, allowing cross-border couples separated by the coronavirus lockdown to meet again if they can prove they have been..




Reuters - Published





Denmark to let cross-border couples meet - if they show photos, love letters

Denmark eased its border controls with other Nordic countries and Germany on Monday, allowing cross-border couples separated by the coronavirus lockdown to meet again if they can prove they have been..




Reuters - Published





Fast in, first out: Denmark leads lockdown exit

Four weeks after Denmark began easing its lockdown, Danes on Monday returned to cafes and restaurants, confident that the coronavirus outbreak is under control.




Reuters - Published





Denmark reports zero coronavirus deaths for first time since March

Denmark, the first country in Europe to gradually start reopening, reported no coronavirus-related deaths on Friday from the day earlier for the first time since March 13.




Reuters - Published





Denmark reports no COVID-19 deaths in past 24 hours

Denmark reported no coronavirus-related deaths in the past day for the first time since March 13, data from public health authorities showed on Friday.




Reuters - Published





Second virus wave 'very unlikely' in Denmark, says expert

Denmark is "very unlikely" to be hit by a second wave of coronavirus, the country's chief epidemiologist said on Tuesday, after the government laid out plans for increased testing and a contact tracing..




Reuters - Published





Denmark increases testing, contact tracing to prevent second coronavirus wave

Denmark will significantly increase testing for COVID-19 and put a contact tracing system in place to prevent a second wave of the coronavirus, Prime Minister Mette Frederiksen said on Tuesday.




Reuters - Published





Denmark charges two Swedes with bomb blast against tax office

Denmark's prosecutor said on Monday it had brought formal charges against two Swedes, aged 22 and 23 years, accused of carrying out a bombing of the Danish Tax Agency in Copenhagen last year.




Reuters - Published





Denmark to ease coronavirus restrictions further from June 8

Danish museums, amusement parks and cinemas will be allowed to reopen from June 8, the government said on Friday, after it struck a deal with parliament on how restrictions to curb the spread of..




Reuters - Published





Danish malls and restaurants to reopen next as virus lockdown eases

Danish shopping malls, cafes and restaurants will be allowed to open next Monday and older children will return to school in the second phase of Denmark's reopening from its coronavirus lockdown, under..




Reuters - Published





Denmark to ease curbs on restaurants, retail business in second reopening phase: PM

Denmark's government hopes to be able allow retail businesses, restaurants and cafes to open in the second phase of the Nordic country's reopening strategy, the Danish prime minister said on Wednesday..




Reuters - Published





Suspect charged in Denmark with preparing Islamist attack

Danish police said on Thursday they had arrested and charged a person suspected of preparing an Islamist terrorist attack.




Reuters - Published





Denmark says coronavirus spread has not accelerated since reopening began

The spread of Covid-19 in Denmark has not accelerated since the country began a gradual looswening of restrictions in mid-April, the State Serum Institute, which is responsible for preparedness against..




Reuters - Published





Russia flies nuclear-capable bombers over Baltic Sea in training exercise

Russia has flown two nuclear-capable Tu-160 strategic bombers over the neutral waters of the Baltic Sea, the Russian Ministry of Defence said on Wednesday, a move that prompted Finland, Denmark, Poland..




Reuters - Published





Russian envoy to Denmark says U.S. provokes Arctic peace

Russia's ambassador to Denmark has accused Washington of provoking confrontation in the Arctic in order to achieve dominance in a region where Moscow has invested heavily.




Reuters - Published





U.S. economic aid to Greenland draws criticism in Denmark

An economic aid package being prepared by the U.S. government to Greenland is drawing criticism in Denmark less than a year after it rebuffed U.S. President Donald Trump's offer to buy the vast Arctic..




Reuters - Published





Denmark says public gatherings will not exceed 500 people until September

Denmark will not allow public gatherings to exceed 500 persons until at least Sept. 1, the Danish health ministry said in a statement on Tuesday.




Reuters - Published





Danish hairdressers signal end to Europe's bad hair days

Denmark's hairdressers flung open their doors on Monday after a month-long coronavirus lockdown, fixing a horror show of home haircuts and giving hope to other Europeans that their bad hair days will..




Reuters - Published





Denmark to let some small businesses reopen on Monday after virus lockdown

Denmark will allow certain small businesses, such as hairdressers, beauty salons and driving schools, to reopen on April 20, the government said on Friday, following a lockdown ordered last month to..




Reuters - Published




Kids aren't coronavirus 'guinea pigs': Danish mums rebel as schools reopen

Denmark eased its coronavirus lockdown on Wednesday by reopening schools and day care centres, but concerns they might become breeding grounds for a second wave of cases convinced thousands of parents..




Reuters - Published





Denmark proposes faster easing of lockdown as coronavirus cases fall: PM

Denmark's government plans to reopen society more quickly than anticipated as the number of coronavirus-related hospitalizations continues to fall, Prime Minister Mette Frederiksen said on Tuesday.




Reuters - Published





Denmark's government proposes quicker reopening of society, says PM

Denmark's government wants to reopen society quicker than previously anticipated, as the number of coronavirus-related hospitalizations continues to fall, Prime Minister Mette Frederiksen said on..




Reuters - Published





Denmark to ease restrictions next week after coronavirus lockdown

Denmark plans to reopen day care centres and schools for children in first to fifth grade on April 15 as a first step to gradually relax a three-week lockdown to curb the spread of the new coronavirus,..




Reuters - Published





Denmark to reopen day care centers, schools on April 15

Denmark will reopen day care centers and schools for children in first to fifth grade starting on April 15 if the numbers of cases and deaths from the new coronavirus remain stable, Prime Minister..




Reuters - Published





Denmark eyes gradual reopening after Easter if coronavirus numbers stabilize

Denmark may gradually lift a lockdown after Easter if the numbers of coronavirus cases and deaths remain stable, Prime Minister Mette Frederiksen said on Monday.




Reuters - Published




Denmark charges Norwegian citizen over alleged Iranian assassination plot: prosecutor

Denmark's state prosecutor said on Wednesday it had charged a Norwegian citizen with assisting an Iranian intelligence service plan an assassination on Danish soil.




Reuters - Published





Denmark extends coronavirus lockdown until April 13

Denmark on Monday extended until April 13 a nationwide lockdown that has closed schools and restaurants and kept most public sector workers at home to try to curb the spread of the coronavirus.




Reuters - Published




Germany expands entry restrictions to flights from several EU countries

Germany on Wednesday expanded entry restrictions to include flights from Italy, Spain, Austria, France, Luxembourg, Denmark and Switzerland, the interior ministry said on Wednesday as authorities are..




Reuters - Published





Denmark bans crowds of over 10 people to curb coronavirus

Denmark has banned public crowds of more than 10 people and ordered restaurants and gyms to close in temporary moves to curb the spread of coronavirus, its prime minister said on Tuesday.




Reuters - Published





Shanghai extends quarantine requirement to UK, 7 other European countries

Travelers who have visited the United Kingdom, Switzerland, Sweden, Belgium, Norway, the Netherlands, Denmark and Austria in the past 14 days will be subject to a 14-day quarantine on arrival in..




Reuters - Published





Germany to introduce border controls as coronavirus cases jump

Germany will temporarily introduce border controls on its frontiers with Austria, Switzerland, France, Luxembourg and Denmark from Monday, the government said on Sunday as the country seeks to curb a..




Reuters - Published





Denmark shuts its borders for one month to curb spread of coronavirus

Denmark announced on Friday it would shut its borders to most foreign visitors for a month from Saturday, in a move unprecedented in peacetime as part of efforts to halt the spread of coronavirus.




Reuters - Published





Turkey halts flights with nine European countries to contain coronavirus

Turkey is halting flights to and from Germany, France, Spain, Norway, Denmark, Belgium, Austria, Sweden and the Netherlands as of Saturday morning until April 17 as part of efforts to contain..




Reuters - Published





Norway to close all schools as coronavirus spread: NTB news agency

Norway will announce the closure of all kindergartens and schools to curb the spread of the coronavirus, following a similar step by neighboring Denmark, news agency NTB reported on Thursday, citing..




Reuters - Published





Denmark shuts schools and universities after surge in coronavirus cases

Denmark will close all schools and universities and will start sending home all employees in the public sector with non-critical jobs in the coming days to curb the spread of the coronavirus, the prime..




Reuters - Published