Coronavirus disease 2019
Infectious respiratory disease caused by severe acute respiratory syndrome coronavirus 2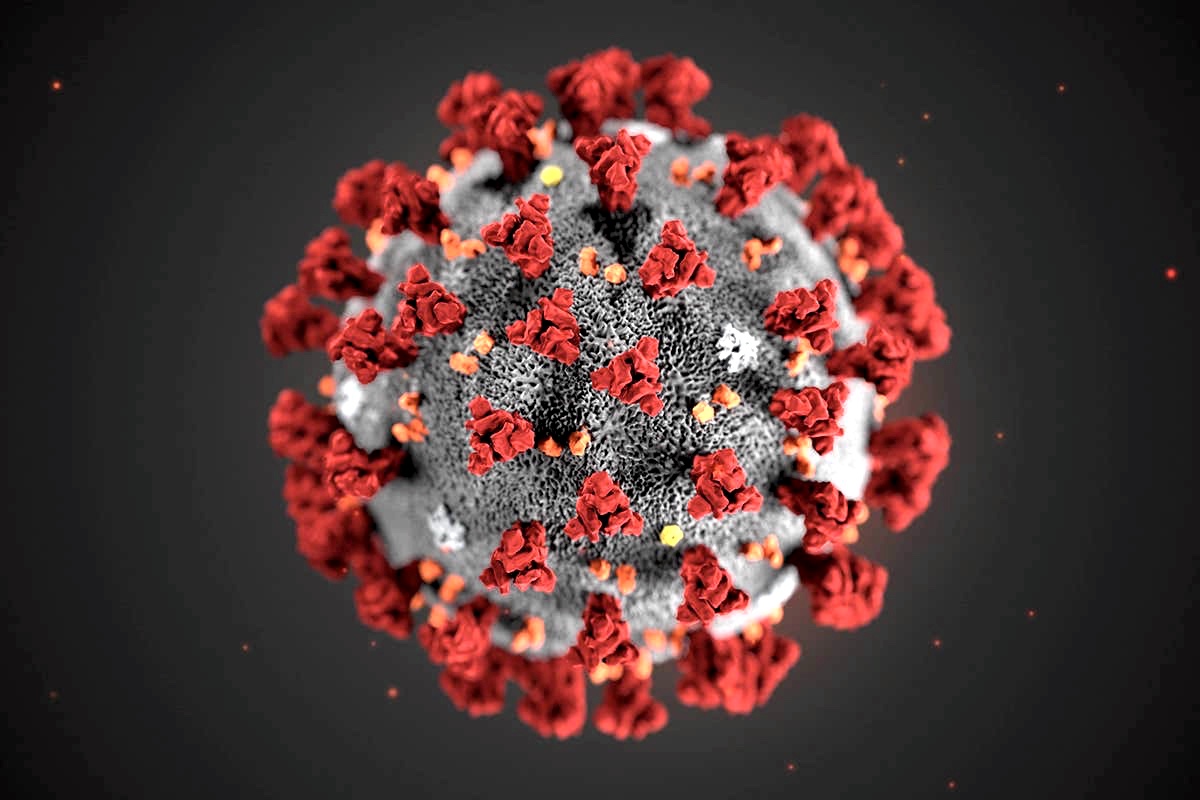 Coronavirus disease 2019 (COVID-19) is a contagious respiratory disease caused by severe acute respiratory syndrome coronavirus 2 (SARS-CoV-2), a specific type of coronavirus, responsible for an ongoing pandemic.


Bihar polls: JP Nadda holds roadshow in Hajipur amid COVID-19

Bharatiya Janata Party (BJP) president Jagat Prakash Nadda on October 31 held a massive roadshow in Bihar's Hajipur. COVID-19 norms were flouted during the political rally. The first phase of the Bihar..
Credit: ANI Duration: 01:18
Published
Delhi Health Minister cites festive season, pollution as reasons for rising COVID cases

Delhi Health Minister Satyendar Jain updated on the rising COVID cases in national capital. He said, "It's a combined effect of the festive season, decrease in temperature and increased pollution. The..
Credit: ANI Duration: 01:11
Published
COVID-19: India crosses 81-lakh mark

India's COVID-19 tally reached 81,37,119 on Oct 31. The spike of 48,268 new cases and 551 deaths reported in last 24 hours. Total active cases are 5,82,649 after a decrease of 11,737 in last 24 hrs...
Credit: ANI Duration: 01:14
Published
Schools in Odisha's remote area set up 'indigenous knowledge corners' made up of local resources

Remote areas of Keonjhar and Mayurbhanj districts are setting up 'indigenous knowledge corners' in some schools where students will be taught using 'Teaching Learning Material' made of resources..
Credit: ANI Duration: 02:27
Published
EJ Espresso: 5,000 plus Covid cases for 3rd straight day in Delhi

PM trains guns at opposition after Pak's Pulwama admission. 5,000 plus Covid cases for 3rd straight day in Delhi. Urmila to be nominated to legislative council. And iPhone 12, iPhone 12 Pro go on sale..
Credit: HT Digital Content Duration: 06:01
Published
Biden: Trump 'has simply given up' on COVID-19

During a campaign stop in Minnesota on Friday, Democratic presidential nominee Joe Biden said President Trump "has simply given up" on COVID-19, and criticized him for comments he made about U.S...
Credit: Reuters Studio Duration: 01:15
Published
COVID-19 tests should play a larger role in travel -WHO

COVID-19 tests should be more widely used in international travel than quarantines, the chair of the World Health Organization's Emergency Committee said on Friday.
Credit: Reuters Studio Duration: 01:04
Published
Coronavirus in numbers: UK death toll rises to 46,229

The Government said a further 274 people had died within 28 days of testingpositive for Covid-19 as of Friday. This brings the UK total to 46,229.
Credit: PA - Press Association STUDIO Duration: 00:34
Published
France is latest nation to return to lockdown amid COVID surge

The new lockdown announced by French President Emmanuel Macron will begin Friday and last until December 1.
Credit: Al Jazeera STUDIO Duration: 02:12
Published
Fitness devices 'could curb the spread of Covid-19'

Wearing a fitness device could help the battle to control the spread of Covid-19.
Credit: Cover Video STUDIO Duration: 01:29
Published
Premature baby Jorgito beats COVID-19

Finding hope amid the coronavirus pandemic in Peru, after baby Jorgito, born three-months premature and also beats the odds to recovers from COVID-19. Adam Reed reports.
Credit: Reuters Studio Duration: 00:59
Published
Guatemalans make offerings to folk hero San Simon for COVID protection

San Simon is a venerated folk saint in the indigenous village of San Andres Itzapa, western Guatemala. View on euronews
Credit: euronews (in English) Duration: 00:50
Published
Some COVID-19 'long haulers' experience lasting skin problems

Some patients with COVID-19 have persistent skin-related symptoms long after their initial infection has cleared, according to a new analysis.The findings, presented at the 29th Congress of the..
Credit: ANI Duration: 01:13
Published
Traditional cultural activities resume in Kashmir with 2-day folk music festival

Traditional cultural activities resumed after a long gap of COVID-19 shutdown in Kashmir valley. The Gulshan Cultural Forum has organized two-day folk music festival in Baramulla. During the event,..
Credit: ANI Duration: 04:10
Published
14-yr-old forced to sell tea in Mumbai after mother loses job due to COVID-19

Meet the 14-year-old boy, Subhaan Shaikh who is selling tea, door to door for livelihood. It's been almost 6 months since Subhaan started selling tea in Mumbai, as his mother lost her job due to..
Credit: ANI Duration: 03:44
Published
Dal Lake's water sports are back!

Srinagar's Dal Lake once again has regained its charm of water sports activities after months of halt. The lockdown shut all the sports activities in the Valley and bound people to stay in their houses..
Credit: ANI Duration: 03:55
Published
You Might Like



Trump Rallies Led to 30,000 COVID Cases and 700 Deaths According to Stanford

Trump campaign rallies have become major super spreader events, resulting in tens of thousands of COVID cases and hundreds of deaths ... this according to Stanford Univ. Stanford scientists conducted a..




TMZ.com - Published





Watch: Queensland COVID-19 update

Queensland Premier Annastacia Palaszczuk is speaking with an update on COVID-19 and borders.




SBS - Published




Dodgers Advised to Quarantine for 2 Weeks By Health Dept. Over Justin Turner Test

The Dodgers are "working closely" with the L.A. County Health Department after Justin Turner tested positive for COVID … and officials are advising an immediate team-wide quarantine. TMZ Sports spoke..




TMZ.com - Published





New Sydney venues on coronavirus alert as NSW records mystery case among four daily infections

NSW has recorded four new locally acquired cases of COVID-19 and Sydney's Malek Fahd Islamic School is closed after a student was diagnosed with COVID-19.




SBS - Published





NSW records mystery coronavirus case among four new infections

NSW has recorded four new locally acquired cases of COVID-19 and Sydney's Malek Fahd Islamic School is closed after a student was diagnosed with COVID-19.




SBS - Published





New coronavirus case at Melbourne early learning centre sparks contact tracing blitz

About 90 contacts linked to a Bundoora childcare centre have been notified after a young child tested positive for COVID-19.




SBS - Published





Oregon Health Official Dresses as Clown While Announcing COVID Death Toll

No one's laughing about the rising COVID death toll, which is why this is a total WTF moment -- a senior health official announcing grim numbers ... while rocking a clown costume. Try not to be..




TMZ.com - Published





MLB Says Justin Turner 'Refused to Comply' with COVID Protocol, Put Everyone At Risk

MLB is throwing Justin Turner under the bus -- placing ALL of the blame on the Dodgers star for not following COVID protocol after testing positive during the World Series. Turner was pulled during the..




TMZ.com - Published





L.A. Dodgers Win World Series, Justin Turner Pulled After Positive COVID Test

Crazy news about Dodgers star Justin Turner who was taken out of the the game in the 8th inning, because a COVID test came back positive during the game!!! Turner did not celebrate with the team on the..




TMZ.com - Published





Offset & Common Perform for Joe Biden's Atlanta Drive-In Event

Joe Biden brought out some hip-hop allies for a COVID-safe event in A-town -- Offset and Common performed, and Outkast helped with his intro. The Presidential candidate held a drive-in rally Tuesday in..




TMZ.com - Published





Treasurer Josh Frydenberg slams Victorian government for strict lockdown measures

Treasurer Josh Frydenberg has criticised strict lockdown measures that have been in place in Victoria, saying 'this lockdown has not come without a price'. It comes as Victorians celebrate easing..




SBS - Published





Gladys Berejiklian 'cautious' about opening to Victoria, as Tasmania reveals plan to reopen to NSW

There are two new local cases of COVID-19 in NSW as Gladys Berejiklian says she wants to open the Victorian border "as soon as we can" and Tasmania announces plans to reopen to NSW next week.




SBS - Published





Two new local COVID-19 cases in NSW

There are two new local cases of COVID-19 in NSW as Gladys Berejiklian says she wants to open the Victorian border but is being cautious.




SBS - Published





COVID-Safety Voting Costing Cities Millions of Dollars

You've probably heard it a million times -- this is the most important election of our lives -- and it's probably the most expensive too ... based on the millions it's costing to try to keep voters..




TMZ.com - Published





Adele Jokes About Her Weight Loss on 'SNL', Attributes it to COVID

Adele was awesome on 'SNL' Saturday night, and made a hilarious joke about her weight loss. The '"Somebody Like You" singer looked INCREDIBLE as she took the stage to host the show. She acknowledged,..




TMZ.com - Published





'Groundhog Day' as leaders, trade slam Vic

Victorian Premier Daniel Andrews' pause on COVID rule easing has been pilloried by the Morrison government, Melbourne Lord Mayor Sally Capp and business groups.




SBS - Published





NSW records third day in a row with zero locally transmitted coronavirus cases

NSW has recorded its third day in a row without any locally transmitted cases of COVID-19.




SBS - Published





Khabib vs. Georges St-Pierre Was Late Father's Dream, Trainer Says

It's starting to make more sense why Khabib Nurmagomedov so badly wants to fight Georges St-Pierre -- it was his father's plan. Khabib's dad, Abdulmanap Nurmagomedov, passed away back in July after..




TMZ.com - Published





Dr. Fauci Says He Doesn't Have President's Ear as COVID Stats Soar

President Trump's talking like he and Dr. Anthony Fauci are still on friendly terms -- despite each jabbing the other lately -- but that's news to Fauci, who says he has zero access to the Oval Office...




TMZ.com - Published





'Significant breakthrough' as NSW changes COVID-19 rules to allow for bigger protests

Protesters in NSW now have the green light to gather in their hundreds following an amendment to a public health order and several legal challenges.




SBS - Published





COVID Patients Are Voting From Their Hospital Beds

Astronauts are voting from space, millions are mailing ballots and patients battling COVID-19 are voting from their hospital beds ... welcome to the 2020 election. Voter turnout is expected to be on..




TMZ.com - Published





NSW allows protests with up to 500 people

Protesters in NSW now have the green light to gather up to 500 people in a COVID-safe way following an amendment to the public health order.




SBS - Published





Gladys Berejiklian tells Bathurst 1000 attendees in NSW to get tested for coronavirus

NSW Health has issued a coronavirus alert for those who attended the Bathurst 1000 motor race on the weekend after COVID traces were found in local sewage.




SBS - Published




Warning for Bathurst 1000 attendees in NSW after coronavirus remnants found in sewage

NSW Health has issued a coronavirus alert for those who attended the Bathurst 1000 motor race on the weekend after COVID traces were found in local sewage.




SBS - Published





Restrictions relaxed for NSW churches and gyms as two new cases recorded

There are two new cases of locally acquired COVID-19 in NSW, as the government announces further relaxing of restrictions for churches and gyms.




SBS - Published





DJ Paul Says Three 6 Mafia Will Stop KY Show If Fans Don't Social Distance

DJ Paul says Three 6 Mafia's indoor concert -- the first such U.S. show in the COVID era -- won't play out like the infamous Chainsmokers gig this summer ... the fun ends if fans don't follow the..




TMZ.com - Published





Not disclosing two crew left a COVID-hit livestock ship in WA was 'an oversight', Mark McGowan says

Two crew members left a livestock carrier before a widespread COVID-19 outbreak came to light, Western Australian Premier Mark McGowan has revealed.




SBS - Published





After a school year like no other, Year 12s in NSW have begun their HSC exams

Thousands of students across NSW began their HSC exams on Tuesday under strict COVID-safe protocols.




SBS - Published





NSW 'at a critical point' as coronavirus testing rates remain low

Two new local cases of COVID-19 have been recorded in NSW, with low testing rates remaining a problem as the state hovers at "a critical point" in the pandemic.




SBS - Published





Keep getting tested for COVID: NSW Health

With the daily number of COVID-19 tests undertaken in NSW falling below 7000, health authorities have again implored people to get tested if they feel ill.




SBS - Published





Anti-Masker Kicked Off UK Flight, Coughs on Everyone

Anti-mask rants, and dangerous COVID behavior, aren't just a U.S. problem -- an angry passenger spewed her breath on fellow fliers when she was kicked off a UK flight. The incident went down Sunday on..




TMZ.com - Published





Coach Nick Saban Dances In Locker Room After Negative Covid Test and Alabama Win

University of Alabama football coach Nick Saban was back in the game Saturday when his team trounced the University of Georgia ... and the team celebrated the win in spectacular fashion with its..




TMZ.com - Published





8-Year-Old Saves Halloween with Wild Candy Chute

An 8-year-old kid named Harry may have figured out a way to save Halloween!!! Harry lives with his fam in Washington, D.C. and was apparently noodling on how he and his pals could trick-or-treat in..




TMZ.com - Published





Stars and Scars -- You Be the Judge

Donald Trump has been more than sketchy about the last COVID-negative test he got before his debate with Biden, and lots of celebs are endorsing Biden, but will it help? So we gotta ask ...




TMZ.com - Published





Georgia State Rep. Vernon Jones Crowd Surfs During Trump Rally

President Trump's predicting a red wave on Election Day, but one of his rallies looked like a potential wave of COVID cases when a Georgia politician treated it more like a mosh pit. Georgia state Rep...




TMZ.com - Published





Texas Teen Wins $25,000 for Developing Potential COVID-19 Treatment

A teenage girl in Texas is getting national recognition for her work on a potential treatment for COVID-19 ... and she's already getting paid. Anika Chebrolu, a 14-year-old freshman at Independence..




TMZ.com - Published





Sen. Kamala Harris Cancels Travel Plans After Staffer Gets COVID-19

Sen. Kamala Harris' campaign travel is grounded for a bit ... after 2 people connected to her campaign tested positive for COVID-19. The Democratic Vice Presidential nominee has suspended her travel..




TMZ.com - Published





Trump Campaign Blares 'In the Air Tonight' at Iowa Rally Amid COVID Spike

President Trump's campaign is pumping "In the Air Tonight" at his Des Moines rally -- where few people are wearing face masks -- and it's in breathtakingly poor taste considering some grim COVID-19..




TMZ.com - Published





Nick Saban Tests Positive for COVID, Days Before Alabama vs. Georgia

Alabama head coach Nick Saban has been diagnosed with coronavirus -- this just 3 days before the Tide's HUGE game against Georgia. The school made the announcement Wednesday ... saying both Saban and..




TMZ.com - Published





Barron Trump Also Tested Positive for COVID with Melania & Donald

Barron Trump came down with coronavirus when his mom and dad did ... so says the First Lady. Melania Trump posted an essay Wednesday on the WH site about her personal experience with battling COVID-19,..




TMZ.com - Published





President Trump's Voice Sounds Terrible During White House Speech

President Trump's voice sounds a little worse for wear, and it could be due to back-to-back rallies to flaunt his post-COVID condition ... or possibly the lingering effects of the virus. POTUS was..




TMZ.com - Published





Gladys Berejiklian strongly defends her role following Maguire revelations

The NSW Premier changed her tone with reporters at a COVID-19 press conference when questions turned to the ICAC inquiry and her involvement with former MP, Daryl Maguire




SBS - Published





NSW halts easing of restrictions after recording 11 new locally-acquired cases

COVID-19 clusters in southwest Sydney continue to grow, with authorities issuing alerts for Woolworths, Aldi, Bunnings and McDonalds outlets in the area.




SBS - Published





Cristiano Ronaldo Tests Positive for COVID-19, Sent Home to Isolate

Cristiano Ronaldo -- arguably the most famous athlete in the world -- has tested positive for COVID-19, according to the Portuguese Football Association. He's already been sent away from the team so he..




TMZ.com - Published





Doctors, disability worker among new NSW COVID-19 cases

The COVID-19 clusters in southwest Sydney continue to grow with five of seven new locally acquired infections coming from the same household.




SBS - Published





President Trump Doctors Say He's Tested Negative for COVID-19, Flies to FL Rally

President Trump is on his way to address thousands of his supporters in the flesh and without a mask ... only a few hours after his doctors announced he's tested negative for COVID-19. Trump boarded..




TMZ.com - Published





Two Sydney doctors test positive for coronavirus, after state records one locally-acquired case

NSW Health has issued an alert after two doctors from a southwestern Sydney medical centre were diagnosed with COVID-19.




SBS - Published





Gervonta Davis Says Fighting in Front of Live Fans Worth the COVID Risk

Boxing superstar Gervonta Davis tells TMZ Sports he can't wait to fight in front of a live crowd on Halloween -- saying he refuses to live in fear of COVID. As we previously reported, "Tank" (23-0) is..




TMZ.com - Published





Second COVID-19 outbreak off WA coast

West Australian health authorities have confirmed another COVID-19 outbreak on a ship off the coast of Port Hedland, with seven of 20 crew catching the virus.




SBS - Published





Youth hit hardest by COVID-19: Foodbank

Almost 35 per cent of food-insecure Australians don't know how they will cope when the COVID-19 supports such as JobSeeker and JobKeeper are withdrawn.




SBS - Published