Andrew Yang
American entrepreneur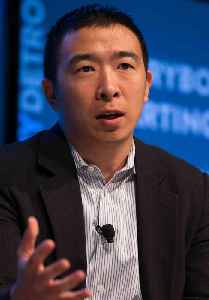 Andrew M. Yang is an American political commentator, entrepreneur, lawyer, and philanthropist. Originally a corporate lawyer, Yang began working in various startups and early stage growth companies as a founder or executive from 2000 to 2009. In 2011, he founded Venture for America (VFA), a nonprofit organization focused on creating jobs in cities struggling to recover from the Great Recession. He then ran as a candidate in the 2020 Democratic presidential primaries.


Stocks can charge higher: financial planner

Runnymede Capital Management's Andrew Wang says the massive liquidity and government stimulus measures can drive the market higher in the third quarter. But he tells Reuters' Fred Katayama the markets..
Credit: Reuters Studio Duration: 04:02
Published
Yang Says U.S. Should Adopt 4-Day Work Week

According to Business Insider, Andrew Yang says the US should "seriously" consider a four-day workweek. Some studies have shown four-day workweeks increase worker satisfaction and productivity...
Credit: Wochit News Duration: 00:32
Published
Andrew Yang Plans To Test Universal Basic Income With Project In New York

Andrew Yang ran with the platform of universal basic income and now has a plan to put it to the test. According to Business Insider. UBI is the government guarantee that each person receives a minimum..
Credit: Wochit News Duration: 00:32
Published
A Judge Orders New York State To Hold Its Presidential Primary

New York cancelled its Democratic presidential primary scheduled for Jun 23. New York District Judge Analisa Torres then ordered that the state hold its presidential primary. According to Business..
Credit: Wochit News Duration: 00:32
Published
No news matches found
Sorry, we were unable to find any results in our database for your query
Free news archive access

Did you know?
You are eligible to search our news archive with millions of news references free of charge.

To do this, please sign in first at the top of the screen.

• Information about free access to our news archive


Search this site and the web: