LGBT
Initialism for lesbian, gay, bisexual, and transgender persons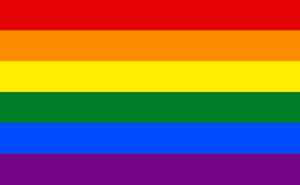 LGBT, or GLBT, is an initialism that stands for lesbian, gay, bisexual, and transgender. In use since the 1990s, the term is an adaptation of the initialism LGB, which began to replace the term gay in reference to the broader LGBT community beginning in the mid-to-late 1980s. The initialism, as well as some of its common variants, functions as an umbrella term for sexuality and gender identity.


Joe Biden Calls Transphobic Violence 'Unacceptable'

Joe Biden promised on Friday that, if elected, he will work towards ending discrimination. Sepcifically, discrimination against the LGBTQ community, says HuffPost. He also plans to expand economic..
Credit: Wochit News Duration: 00:36
Published
Star Trek's George Takei takes on #ProudBoys

Twitter users are flooding the #ProudBoys hashtag on social media with images of LGBTQI+ pride, displacing posts made by neo-Nazis and white supremacists using the tag.
Credit: Reuters Studio Duration: 01:24
Published
Hi-tech St. Pete mural makes voting fun with interactive art and focus on LGBTQ issues

New hi-tech mural in St. Pete is making voting fun with interactive art and a focus on LGBTQ issues in the upcoming election. Story: https://wfts.tv/3nkAipP
Credit: ABC Action News Duration: 01:39
Published
Bollywood directors, actors discuss if India is ready for gender-neutral awards

As the Berlin Film Festival became the first major festival to do away with the distinction between male and female acting award categories, is India ready to follow suit? Join HT City Spotlight as..
Credit: HT Digital Content Duration: 47:39
Published
Harry Styles in talks to star in LGBTQ drama My Policeman

Harry Styles is in final talks to star in Amazon Studios' upcoming new gay romantic drama, My Policeman.
Credit: Cover Video STUDIO Duration: 00:52
Published
Chick-Fil-A Won't Seek Lease At Airport

HuffPo reports that Chick-Fil-A that it no longer plans to open a restaurant in the San Antonio airport. The decision comes after more than a year of legal wrangling that began when some city leaders..
Credit: Wochit News Duration: 00:30
Published
Thousands of women in Belarus protest against Lukashenko

As women, students, and LGBTQ people march, prominent opposition activist says authorities forced her to leave Belarus.
Credit: Al Jazeera STUDIO Duration: 02:04
Published
You Might Like



LGBTIQ+ advocates urge SA government to pass bill outlawing 'gay panic' defence

South Australia is the only state in the country not to scrap the 'gay panic' defence, by which provocation can be used as a partial defence.




SBS - Published





CA Passes Law Allowing Trans Prisoners to be Housed by Gender Identity

California Governor Gavin Newsom just signed a new law allowing transgender prisoners in the State to be housed based on their gender identity rather than their biological sex. Newsom signed SB 132..




TMZ.com - Published





Pete Buttigieg Worried About SCOTUS Power Grab by Senate Republicans

Pete Buttigieg believes there may be immediate consequences for the LGBTQ community -- as well as people with preexisting conditions -- if President Trump succeeds in swiftly replacing Ruth Bader..




TMZ.com - Published





Lil Nas X Says RBG's Death Poses Terrifying Prospects for LGBTQ Community

Ruth Bader Ginsburg's death and President Trump's race to fill her seat isn't just a one-issue problem ... so says Lil Nas X, who fears big setbacks for the LGBTQ community. LNX was leaving LAX..




TMZ.com - Published





North Dakota City Councilwoman Comes Out as Gay During LGBTQ+ Debate

A city councilwoman in Minot, North Dakota got into it with a resident during a council meeting Friday -- a resident who was clearly upset the City would dare raise an LGBTQ+ flag -- and she shut him..




TMZ.com - Published





Thom Brennaman Apologizes To LGBTQ Community, 'I Failed You, You Deserve Better'

Cincinnati Reds announcer Thom Brennaman says he's "ashamed" that he used a homophobic slur on air ... and says he's now dedicating himself to working with the LGBTQ community to grow from this..




TMZ.com - Published





Lili Reinhart Supports LGBTQ+ TV Characters After Coming Out as Bi

Lili Reinhart says there should be more LGBTQ+ representation on TV and in media because it teaches kids to know it's fine to be who you are, and Lili knows from where she speaks. The "Riverdale"..




TMZ.com - Published





Why Australia's LGBTIQ+ community needs specific legal support

A Melbourne legal service has found the needs of international students and migrants from the LGBTIQ+ community are not being adequately met, as it campaigns to reduce discrimination.




SBS - Published





How LGBTQI+ AFL fans have banded together to create a network of pride groups

The AFL might be busy navigating coronavirus, but its fans remain as loyal as ever. For LGBTQI+ Australians who have previously reported feeling unwelcome by the men's game, they have been mobilising..




SBS - Published





Liberal Eden-Monaro candidate Fiona Kotvojs criticised for climate, LGBTIQ+ stances

Attacks are ramping up on Eden-Monero Liberal candidate Fiona Kotvojs with the by-election just days away.




SBS - Published




Some LGBTIQ+ Australians are having to pick between their culture and their identity

For some LGBTIQ+ people from culturally and linguistically diverse backgrounds, the choice to leave their families and hometowns behind to be with more people like them in the city is the only option...




SBS - Published





LGBT activists protest at Polish president's campaign rally

About a hundred protesters held up banners at an election rally for the Polish president on Monday, after he said over the weekend that LGBT "ideology" was more destructive than communist doctrine,..




Reuters - Published





Polish president says foreign media took LGBT comments "out of context"

Polish President Andrzej Duda on Sunday asked international media to "stop distributing fake news" after extensive coverage of a campaign speech in which he compared what he called LGBT "ideology" to..




Reuters - Published





Polish president compares 'LGBT ideology' to Soviet indoctrination

Poland's president compared LGBT "ideology" to communist doctrine in a campaign speech on Saturday, as LGBT rights become a hotly debated issue ahead of a June 28 presidential election in the staunchly..




Reuters - Published





Marriage equality vote revealed battles with family and faith for LGBTQ people in minority groups: report

LGBTQ people from culturally and linguistically diverse backgrounds say their family relationships were rocked when they disclosed their sexual identities during the 2017 marriage equality postal..




SBS - Published





Relaxed restrictions on LGBTIQ+ blood donors amid coronavirus pandemic not enough, advocates say

Australia's therapeutic goods regulator has approved a submission to reduce the amount of time a person must wait to donate blood after engaging in high-risk sexual activity, but LGBTIQ+ advocates say..




SBS - Published





Jordan was abused just for holding his boyfriend's hand

This weekend's Sydney Gay and Lesbian Mardi Gras is a time to celebrate LGBTIQ+ people and relationships. But Australia doesn't always make it easy, writes one young gay man.




SBS - Published





'Mardi Gras gives LGBTIQ+ people with no hope a reason to live'

Stuart Milk, the nephew of iconic gay rights campaigner Harvey Milk, is carrying on the legacy of his uncle in the US and around the world. He speaks to SBS News ahead of Sydney Gay and Lesbian Mardi..




SBS - Published





South Korea to decide on first transgender soldier amid debate

South Korea's military said on Thursday it will hold a meeting to discuss whether it will discharge the first soldier to have undergone gender reassignment surgery, which has sparked national debate..




Reuters - Published





'A licence to discriminate': Ian Thorpe blasts Religious Discrimination Bill

An LGBTQI+ advocacy group has released a video where a number of celebrities criticise the Religious Discrimination Bill.




SBS - Published





New religious freedom bill will 'immunise bigotry', LGBTQI+ advocates warn

The federal government's second attempt at drafting religious freedom legislation has been criticised by LGBTQI+ advocates.




SBS - Published





Anger from LGBTIQ+ community after Israel Folau, Rugby saga ends with secret agreement

The legal dispute between Rugby Australia and Israel Folau has been settled with a confidentiality agreement and an apology from both parties.




SBS - Published





LGBT+ activist demands Israel Folau pay charity $100k, apologise for social media posts

A gay rights campaigner has lodged a complaint over Israel Folau's online posts and a video that he says vilify homosexuals, and can incite contempt or hatred.




SBS - Published





Indonesia attorney general's office condemned for barring LGBT recruits

Indonesia's human rights commission condemned on Monday the attorney general's office for barring LGBT people from applying for posts it did not want people with what it called "sexual orientation..




Reuters - Published





This is what it's like to be an LGBTIQ+ asylum seeker in Australia

LGBTIQ+ people seeking asylum in Australia face a unique set of challenges and often find themselves isolated in a new country, say a support group working to change that.




SBS - Published





Polish police protect LGBT marchers as tensions rise before election

Polish anti-LGBT protesters clashed with riot police in the south-eastern city of Lublin on Saturday just before a gay pride march that has highlighted increased social tensions in the devoutly..




Reuters - Published





Senator offers touching tribute to wife and renowned climate scientist, Penny Whetton

Senator Janet Rice and her wife Penny Whetton became much-loved members of Australia's LGBTIQ+ community after they spoke candidly about the barriers they faced after Dr Whetton's gender transition.




SBS - Published





Pastor who quit over LGBTQI+ support says churches can't be exempt from discrimination laws

The release of a draft religious discrimination bill in Australia has renewed focus on potential discrimination claims in the workplace. Here, SBS News speaks to those on different sides of the debate.




SBS - Published





Dissapointmernt as review into Christian schools' right to expel gay students delayed

LGBTIQ+ advocates are disappointed a review of religious schools' exemptions from the sex discrimination act has been delayed.




SBS - Published





Review into religious schools' right to discriminate against gay students and teachers delayed

LGBTIQ+ advocates are disappointed a review of religious schools' exemptions from the sex discrimination act has been delayed.




SBS - Published





Victoria top cop says sorry to LGBTIQ+ community for 'unacceptable harm'

Victoria Police Chief Commissioner Graham Ashton says he's sorry for the way the force enforced historical laws which criminalised homosexuality.




SBS - Published





Amsterdam Canal Pride parade celebrates Stonewall anniversary

One of Europe's biggest annual Gay Pride parades kicked off on the canals of Amsterdam on Saturday, with over 500,000 visitors from around the world expected to cheer on 80 boats representing a wide..




Reuters - Published





Russian police arrest new suspect in slaying of LGBT activist

Russian police have detained a new suspect in the fatal stabbing of an LGBT activist near her home in St Petersburg after last week taking the wrong man into custody, investigators said on Thursday.




Reuters - Published





Russia arrests man over murder of LGBT activist

Russian police said on Thursday they had detained a man over the fatal stabbing of an LGBT activist near her home in St Petersburg and were not treating the murder as a hate crime.




Reuters - Published





I'm the gay grandson of a persecuted Jew; freedom of religion is not freedom to harm

As the government moves to a Religious Discrimination Bill, we need a level-headed debate, writes the head of Australia's largest LGBTQI health organisation.




The Age - Published





First LGBTI job fair held in India after gay ban lifted

An LGBTI job fair, billed by organizers as the first such event in India, attracted more than 250 people on Friday looking for employment with companies including Intel, Goldman Sachs and Uber.




Reuters - Published





LGBTIQ+ advocates alarmed by Australia's religious discrimination laws debate

Equality Australia fears the proposed religious discrimination bill will prevent employers providing a safe workplace for all.




SBS - Published





The Indigenous LGBTIQ+ Australians celebrating NAIDOC Week Pride

Participants in Melbourne's NAIDOC Week Pride Night say they want to show the next generation of people like them that a community is ready and waiting to accept them.




SBS - Published





Millions celebrate LGBTQ pride in New York amid global fight for equality: organizers

Millions lined the streets of New York on Sunday to wave rainbow flags, celebrate the movement toward LGBTQ equality and renew calls for action in what organizers billed as the largest gay pride..




Reuters - Published




World Pride parade preempted by anti-corporate dissidents

The world's marquee gay pride parade was preempted by thousands of anti-corporate dissidents who staged their own protest on Sunday, rejecting a uniformed police presence and commercial sponsorship..




Reuters - Published





'Here, I feel free': Mexico City celebrates role as haven for LGBTQ migrants

Tens of thousands of people paraded through the streets of Mexico City on Saturday to celebrate the capital's growing role as a beacon of tolerance for migrants fleeing persecution for their gender and..




Reuters - Published





An Australian LGBTIQ+ activist remembers Stonewall's influence

This Australian LGBTIQ+ activist told us how the brutality of New York's Stonewall riots influenced Sydney's first Mardi Gras.




SBS - Published





'We had this echo of the Stonewall rebellion': Australian LGBTIQ+ activist on Stonewall

This Australian LGBTIQ+ activist told us how the brutality of New York's Stonewall riots influenced Sydney's first Mardi Gras.




SBS - Published





50 years on: How the Stonewall riots inspired Australia's LGBTIQ+ movement

In 1969, a riot in a New York bar sparked a global rights movement. Half a century on, those involved in the Australian campaign tell SBS News what impact it had.




SBS - Published





LGBTIQ+ campaigner praises GoFundMe's shutdown of Folau's page

A campaigner who started a fundraiser for the LGBTQI+ community to take on Israel Folau has praised GoFundMe's decision to shut down the rugby player's page.




SBS - Published





Israel Folau fundraiser sparks counter campaigns, raises over $24,500 for LGBTIQ+ charities

Campaigners in Australia and UK have started their own fundraising initiatives to raise money for LGBTIQ+ groups in response former rugby star Israel Folau's attempts to raise $3m for legal fees.




SBS - Published





Time to end discrimination, parties told

LGBTI advocates have written to Labor and the coalition seeking a bipartisan approach to ending discrimination in law.




SBS - Published