Jair Bolsonaro
38th President of Brazil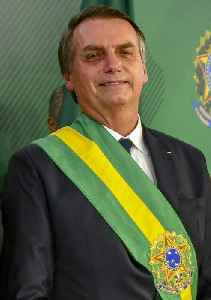 Jair Messias Bolsonaro is a Brazilian politician and retired military officer, serving as the 38th President of Brazil since 1 January 2019. He served in the country's Chamber of Deputies, representing the state of Rio de Janeiro, between 1991 and 2018. He currently is a member of the conservative Social Liberal Party.


Deforestation in Brazil, vote in Argentina endanger EU-Mercosur pact
Brazil's backsliding on Amazon conservation under right-wing President Jair Bolsonaro and a likely Peronist return to power in Argentina could delay or even derail ratification of an EU-Mercosur trade..
Reuters - Published
Brazil's Bolsonaro warns of 'leftist bandits' plunging Argentina into chaos
Brazilian President Jair Bolsonaro said on Wednesday that Argentina was heading for chaos as "leftist bandits" who performed well in Sunday's primary election there will follow the path of Venezuela,..
Reuters - Published
Brazilian government defends record on Amazon deforestation
Satellite images from Brazil's own space agency allegedly show deforestation in the Amazon has almost tripled since Bolsonaro's government came to power.
Credit: euronews (in English) Duration: 01:07Published
Inmates beheaded in Brazil prison gang bloodbath
A bloody clash between rival gangs shows the challenge for Brazil of controlling its overcrowded prisons. David Doyle reports.
Credit: Reuters Studio Duration: 01:23Published
Scores killed, 16 decapitated, in Brazil prison riot
At least 52 people were killed in a prison riot in the northern Brazilian state of Pará, authorities said on Monday. Gavino Garay reports.
Credit: Reuters Studio Duration: 00:36Published
Rare Amazon tribe caught on tape in Brazil
Rare video of uncontacted members of Brazil's Awa Amazon tribe has emerged, as activists warn of growing threats to this tribe from loggers who are nearing their traditional hunting ground. Rough cut -..
Credit: Reuters Studio Duration: 01:09Published
Brazil pension reform bill wins by big margin in lower house
Pension reform is the cornerstone of President Jair Bolsonaro's economic agenda, but the move has angered many.
Credit: Al Jazeera STUDIO Duration: 02:33Published
Brazil's Bolsonaro: What has changed six months into presidency
Despite bold promises, Jair Bolsonaro has so far done little to placate his opponents.
Credit: Al Jazeera STUDIO Duration: 02:34Published
Macron Warns He Won't Sign Mercosur Deal If Brazil Leaves Climate Accord
According to Reuters, French President Emmanuel Macron said that he would not sign any trade deal with Brazil if President Jair Bolsonaro pulled out of the Paris climate accord. EU talks with the..
Credit: Wochit News Duration: 00:35Published
Officer Traveling With Brazilian President Caught With 86 lbs Of Cocaine In Spain
CNN reports A Brazilian Air Force officer traveling with President Jair Bolsonaro's G20 contingent was arrested late Tuesday, after he was caught with 86 lbs of cocaine. The officer was arrested in..
Credit: Wochit News Duration: 00:41Published
Brazilian anti-corruption crusader backs Bolsonaro 2022 re-election
Brazilian Justice Minister Sergio Moro, who oversaw Brazil's biggest corruption probe as a federal judge, said on Monday he has no interest in elected office and that President Jair Bolsonaro is his..
Reuters - Published
Brazil's Bolsonaro warns of Argentine refugee crisis if Macri loses
Right-wing Brazilian President Jair Bolsonaro warned on Monday that his country could see a wave of migrants fleeing Argentina if a presidential election there returns leftist politicians to power,..
Reuters - Published
Brazil prosecutors seek to bar Bolsonaro's son as envoy to U.S.
Federal prosecutors filed a court injunction on Monday seeking to bar the appointment of right-wing Brazilian President Jair Bolsonaro's son Eduardo as ambassador to the United States due to his lack..
Reuters - Published
Search this site and the web:
You Might Like