Hindi
Indo-Aryan language spoken in India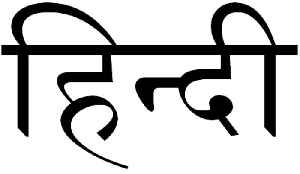 Hindi or more precisely Modern Standard Hindi, is an Indo-Aryan language spoken in India. Modern Hindi is the standardised and Sanskritised register of the Hindustani language, which itself is based primarily on the Khariboli dialect of Delhi and neighbouring areas of Northern India. Hindi, written in the Devanagari script, is one of the two official languages of the Government of India, along with the English language. It is one of the 22 scheduled languages of the Republic of India.


With no food or money, India's slum dwellers struggle

Bharpai, a 54-year-old Indian grandmother, is desperate to keep her family safe from a raging coronavirus crisis amid an unprecedented lockdown. Bharpai says since the nationwide lockdown was..
Credit: Reuters Studio Duration: 01:44
Published
India's poor pushed to live in trees for isolation

Indian Prime Minister Narendra Modi asked the nation's poor for "forgiveness" on Sunday, as the economic and human toll from his 21-day nationwide lockdown deepens. Lacking space in their homes, some..
Credit: Reuters Studio Duration: 02:06
Published
Empty streets of India under lockdown

India woke up on Wednesday to a sweeping lockdown of its 1.3 billion people, one of the world's most ambitious efforts to fight the coronavirus, but the order didn't stop crowds of people thronging to..
Credit: Reuters Studio Duration: 01:32
Published
India executes four men for brutal 2012 Delhi bus rape

India hanged four men on Friday (March 20) who were convicted for the rape and murder of a young woman on a bus in New Delhi in 2012, in a case that shocked the world and shamed the country over its..
Credit: Reuters Studio Duration: 02:15
Published
Cricket - South Africa to shine ball with saliva despite coronavirus scare, says skipper De Kock

South Africa's cricket team will continue to shine balls with saliva despite the spreading coronavirus the team captain said ahead of international match against India.
Credit: Reuters - Sports Duration: 01:04
Published
Buffalo-racer dubbed India's Bolt says no to national trials

SHOWS: MANGALURU, KARNATAKA, INDIA (FEBRUARY 22, 2020) (ANI - NO USE INDIA) 1. RACE START 2. SPECTATORS WATCHING 3. KAMBALA RACER, SRINIVAS GOWDA, RUNNING WITH BUFFALOS 4. GOWDA (BACK FACING CAMERA)
Credit: Reuters - Sports Duration: 01:35
Published
You Might Like
Search this site and the web: