Canberra
Capital of Australia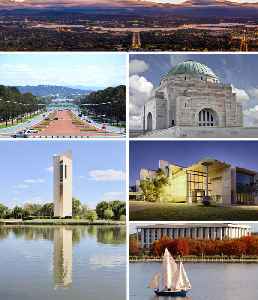 Canberra is the capital city of Australia. Founded following the federation of the colonies of Australia as the seat of government for the new nation, it is Australia's largest inland city and the eighth-largest city overall. The city is located at the northern end of the Australian Capital Territory; 280 km (170 mi) south-west of Sydney and 660 km (410 mi) north-east of Melbourne.


Facebook's ultimatum will block Australians' news

[NFA] Facebook Inc on Tuesday said it would stop Australians from sharing news content on its platforms if a proposal to make it pay local media outlets for their content becomes law, a sharp ultimatum..
Credit: Reuters - Politics Duration: 01:41
Published
You Might Like



Watch: The Prime Minister is speaking live

Prime Minister Scott Morrison is speaking live from Canberra with the Attorney-General.




SBS - Published




Watch: Question Time live

It's question time in the House of Representatives in Canberra. Watch it live here.




SBS - Published




Canberra has recorded its first coronavirus case in more than 100 days

The new case marks the ACT's first infection in 104 days, and comes shortly after a warning was issued to NSW.




SBS - Published





Watch: Digital jobs announcement

Prime Minister Scott Morrison is speaking live shortly from Canberra about a new digital jobs plan.




SBS - Published





'TikTok is not China': Popular video-sharing app denies Australian content is moderated for Beijing's benefit

TikTok Australia has denied the Chinese Communist Party wields power over content during a parliamentary inquiry in Canberra.




SBS - Published





TikTok denies China vets Australian videos

TikTok Australia has denied the Chinese Communist Party wields power over content during a parliamentary inquiry in Canberra.




SBS - Published





Scott Morrison cuts Queensland tour short for urgent talks about aged care COVID-19 crisis

Prime Minister Scott Morrison is cutting short his tour of Queensland to return to Canberra for urgent talks about the aged care coronavirus crisis in Victoria.




SBS - Published





Hackers recycle code used against Canberra

Australian governments and businesses have been warned to step up cyber security measures as suspected Chinese hackers recycle dangerous code.




SBS - Published





Canberra universities to welcome back 350 international students next month as part of pilot

Two Canberra universities are welcoming back international students to Australia under a new pilot program.




SBS - Published




Scott Morrison spruiks highway upgrade in answer to question on women giving birth on side of the road

Prime Minister Scott Morrison was asked if it was acceptable for women to be forced to give birth on the side of the road near Canberra.




SBS - Published





China urges Australia to safeguard Chinese citizens' safety

China said on Thursday its advisories warning students and traveller about risks they could face in Australia are based on facts and called on Canberra to take measures to safeguard Chinese citizens'..




Reuters - Published





China tells students to consider whether to study in Australia or leave

China's education ministry warned on Tuesday that Chinese students should consider whether to study in Australia, amid escalating tensions between Beijing and Canberra.




Reuters - Published





Australia says China unresponsive to its pleas to ease tensions

Australia said on Monday China remains unresponsive to its weeks-long pleas to ease tensions between the two trading partners that escalated after Canberra called for an international enquiry into the..




Reuters - Published





Watch: Prime Minister and Treasurer to speak

The Prime Minister and Treasurer are speaking live in Canberra shortly about tougher rules for foreign investors.




SBS - Published





Scott Morrison told to 'get off the grass' by Canberra man

While speaking about the new 'HomeBuilder' scheme, Prime Minister Scott Morrison was interrupted by a homeowner, asking the PM and media to get off his front lawn.




SBS - Published





Australia eases social distancing restrictions as economic recovery efforts intensify

Several Australian states eased social distancing restrictions further on Monday, allowing restaurants to host more people and public attractions to reopen, as Canberra moves to revive the country's..




Reuters - Published





Australia to refocus international aid to health security on doorstep

Australia will divert A$280 million ($185.25 million) in overseas aid this year to bolster the response of its closest neighbours to the coronavirus pandemic, with Canberra warning the stability of the..




Reuters - Published





Chinese embassy says Australia claim of WHA vindication 'a joke'

The Chinese Embassy in Australia said it was "nothing but a joke" for Australia to claim that a World Health Assembly (WHA) resolution that calls for an inquiry into the coronavirus was a vindication..




Reuters - Published





Australia says China suspension of beef imports not tied to call for COVID-19 inquiry

China decision to ban imports from four of Australia's largest beef processors was not a response to Canberra's call for independent inquiry into the origins of COVID-19, Australia's Minister for Trade..




Reuters - Published





Watch: Treasurer gives budget update

Treasurer Josh Frydenberg is delivering a budget statement to parliament in Canberra.




SBS - Published





Australia sets plan to end most COVID-19 restrictions by July

Australia will ease social distancing restrictions in a three-step process, Prime Minister Scott Morrison said on Friday, as Canberra aims to remove most curbs by July and get nearly 1 million people..




Reuters - Published





Opening up, Australia maps out staged easing of COVID-19 curbs

Australia will ease social distancing restrictions in a three-step process, Prime Minister Scott Morrison said on Friday, as Canberra aims to remove all curbs by July and get nearly 1 million people..




Reuters - Published





China embassy accuses Australia of petty tricks in coronavirus dispute

China accused Australia of "petty tricks" on Wednesday in an intensifying dispute over Canberra's push for an international inquiry into the coronavirus outbreak that could affect diplomatic and..




Reuters - Published





Australia asks China to explain 'economic coercion' threat in coronavirus row

Australia has asked the Chinese ambassador to explain his "threats of economic coercion" in response to Canberra's push for an international inquiry into the source and spread of the coronavirus.




Reuters - Published





Australia, China tensions rise over coronavirus inquiry call

Australia has asked the Chinese ambassador to explain what it called a threat of "economic coercion" in response to Canberra's push for an international inquiry into the source and spread of the..




Reuters - Published





Australian researchers launch 'prejudice census' to better understand coronavirus racism

Researchers in Canberra are collecting data on coronavirus-fuelled discrimination in order to tackle and better understand the issue.




SBS - Published





Australia calls on G20 nations to end wet wildlife markets over coronavirus concerns

Australia has called on G20 nations to end wet wildlife markets over concerns they pose a threat to human health and agricultural markets, a move which could further strain ties with China after..




Reuters - Published





Australia urges probe into origins of coronavirus, France says not now

Australian Prime Minister Scott Morrison sought support for an international investigation into the origins of the coronavirus pandemic in phone calls with U.S. President Donald Trump and the German..




Reuters - Published





Australia says coronavirus restrictions to continue at least four more weeks

Australia will keep in place restrictions implemented to curb the spread of the coronavirus for at least four more weeks, Prime Minister Scott Morrison said on Thursday, despite signs that Canberra has..




Reuters - Published





AFP 'don't set out to do illegal raids' says Commissioner, after High Court rules Smethurst raid warrant invalid

The High Court has found a warrant used by Australian Federal Police to search the Canberra home of News Corp reporter Annika Smethurst last year was invalid.




SBS - Published





Warrant used by AFP to raid home of News Corp journalist Annika Smethurst ruled invalid by High Court

The High Court has found a warrant used by Australian Federal Police to search the Canberra home of News Corp reporter Annika Smethurst last year was invalid.




SBS - Published





AFP recruits filmed partying amid virus lockdowns could be 'sacked'

The Australian Federal Police cadets who were filmed breaking social distancing rules at a Canberra residential college now face the prospect of expulsion.




SBS - Published





Federal parliament gives green light to $130 billion JobKeeper scheme

The Morrison government's $130 billion JobKeeper wage subsidy scheme has passed federal parliament during a special sitting day in Canberra.




SBS - Published





JobKeeper to pump out $130b for workers

The Morrison government's $130 billion JobKeeper wage subsidy scheme has passed federal parliament during a special sitting day in Canberra.




SBS - Published





Chinese embassy angry at 'disinformation' targeting businesses during coronavirus crisis

The Chinese embassy in Canberra his issued an angry statement accusing Australian media of being malicious towards state-owned companies.




SBS - Published




Chinese embassy angry at 'disinformation'

The Chinese embassy in Canberra his issued an angry statement accusing Australian media of being malicious towards state-owned companies.




SBS - Published





This Sikh community group is delivering free meals to Australians in isolation

Turbans 4 Australia is delivering food to people in Canberra who are isolating because of the coronavirus crisis.




SBS - Published





Australia widens coronavirus testing as death toll rises

Australia will expand coronavirus testing, Prime Minister Scott Morrison said on Wednesday, as Canberra struggles to contain an outbreak that it said has killed nine people in the country.




Reuters - Published





War hero Ben Roberts-Smith interviewed by police over alleged killing

The Victoria Cross recipient recently attended a police interview in Canberra and, as is standard, was cautioned that what he said could be used in court.




The Age - Published





Penny Wong in self-isolation after waking up 'feeling unwell'

Labor senator Penny Wong, the leader of the opposition in the Senate, is in self-isolation in Canberra pending medical advice.




SBS - Published





Labor senator Penny Wong in self-isolation

Labor senator Penny Wong, the leader of the opposition in the Senate, is in self-isolation in Canberra pending medical advice.




SBS - Published





COVID-19: High Court to stop hearings until August

The full bench of the High Court won't hear cases in Canberra in April, May and June in response to the spread of coronavirus.




SBS - Published




Australia mulls second stimulus package as market slumps on coronavirus, sources say

Australia is considering a second round of economic stimulus, three sources familiar with the deliberations told Reuters, as Canberra accelerated efforts to contain the spread of the coronavirus that..




Reuters - Published




NZ fin min cancels Australia trip, will hold virus bilateral on Skype: media

Australia's and New Zealand's top finance lawmakers will hold a Skype call to discuss economic threats from the coronavirus, after New Zealand Finance Minister Grant Robertson canceled his trip to..




Reuters - Published





Prosecutors get say in second day of George Pell High Court appeal bid

After a full day of arguments from George Pell's lawyers in his High Court appeal bid in Canberra, prosecutors will have their turn.




SBS - Published