Iceland
Island republic in Northern Europe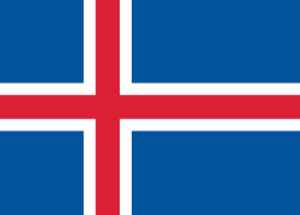 Iceland is a Nordic island country in the North Atlantic, with a population of 360,390 and an area of 103,000 km2 (40,000 sq mi), making it the most sparsely populated country in Europe. The capital and largest city is Reykjavík, with Reykjavík and the surrounding areas in the southwest of the country being home to over two-thirds of the population. Iceland is volcanically and geologically active. The interior consists of a plateau characterised by sand and lava fields, mountains, and glaciers, and many glacial rivers flow to the sea through the lowlands. Iceland is warmed by the Gulf Stream and has a temperate climate, despite a high latitude almost entirely outside the Arctic Circle. Its high latitude and marine influence keep summers chilly, with most of the archipelago having a tundra climate.


Millions of young people, led by Sweden's Thunberg, to strike for climate action
With world leaders about to gather in New York for a UN Climate Action Summit next week, millions of young people from Australia to Iceland will take off from school or work on Friday to demand urgent..
Reuters - Published
Iceland's PM will meet with Pence on Wednesday: government
Icelandic Prime Minister Katrin Jakobsdottir will meet with U.S. Vice President Mike Pence on Wednesday, her government said, despite earlier reports that she would miss the visit.
Reuters - Published
Scientists alarmed by Iceland's melting glaciers
As rising temperatures drastically reshape Iceland's landscape, businesses and government prepare for an uncertain future.
Credit: Al Jazeera STUDIO Duration: 03:17Published
Scientists in Iceland fuse carbon dioxide into rock in a bid to combat climate change
Iceland's glaciers are changing every year, so scientists are developing new ways to neutralize the harmful effects of carbon dioxide.
Credit: euronews (in English) Duration: 02:09Published
Climate Change top of the agenda as Nordic ministers meet Germany's Merkel in Iceland
The meeting comes after environmentalists in Iceland laid a commemorative plaque on the site of a Glacier on Sunday that had been declared dead. The Okjökull glacier had existed for 700 years and was..
Credit: euronews (in English) Duration: 01:26Published
Iceland unveils memorial plaque for lost glacier
Iceland unveiled a plaque to its Okjokull ice sheet on Sunday (August 18), the first of the country's hundreds of glaciers to melt away due to climate change. Rough cut - no reporter narration.
Credit: Reuters Studio Duration: 01:21Published
As Australia marks Father's Day, dads are calling for more paid parental leave
In Iceland, fathers are entitled to at least three months paid parental leave, compared to two weeks of taxpayer-funded support in Australia. These advocates say it's time for change.
SBS - Published
Pence, in visit to Iceland, to discuss 'incursions' into Arctic Circle by China, Russia -official
Vice President Mike Pence, in a visit to Iceland next week, will have talks about 'incursions' into the Arctic Circle by China and Russia, a senior Trump administration official said on Wednesday.
Reuters - Published
Philippines' top senator chides Iceland for abortion, U.N. drugs war probe
The Philippines' highest-ranking lawmaker said on Monday a U.N. resolution to probe the country's bloody war on drugs should be ignored, and its chief backer Iceland be investigated instead for human..
Reuters - Published
Duterte mocks 'ice-eating' Iceland over U.N. vote on Philippine war on drugs
Philippine President Rodrigo Duterte took a swipe at Iceland on Friday for spearheading a U.N. resolution to investigate his bloody war on drugs, saying it was a nation made entirely of ice, with no..
Reuters - Published
Israeli host expecting Eurovision 'punishment' for Iceland's Palestinian flag display
The Israeli broadcaster of the Eurovision Song Contest said on Sunday that an unauthorized display of Palestinian flags by Iceland's band could draw "punishment" from the event's organizers.
Reuters - Published
UK reaches post-Brexit trade agreement with Iceland and Norway
Britain on Monday reached an a deal with Iceland and Norway to allow trade to continue unchanged if it leaves the European Union without a deal, trade minister Liam Fox said.
Reuters - Published
You Might Like