Doolittle Raid
American aerial bombing mission against Japan in WWII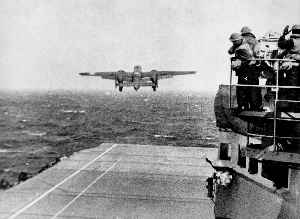 The Doolittle Raid, also known as the Tokyo Raid, on Saturday, April 18, 1942, was an air raid by the United States on the Japanese capital Tokyo and other places on the island of Honshu during World War II, the first air operation to strike the Japanese Home Islands. It demonstrated that the Japanese mainland was vulnerable to American air attack, served as retaliation for the attack on Pearl Harbor, and provided an important boost to American morale. The raid was planned and led by Lieutenant Colonel James Doolittle of the United States Army Air Forces.


Last of the Doolittle Raiders from World War II
Sixteen Mitchells, modified to carry extra fuel, were loaded on to the aircraft carrier Hornet in San Francisco before it sailed towards Japan.
The Age - Published
Search this site and the web:
You Might Like