Government of New South Wales
State government of New South Wales, Australia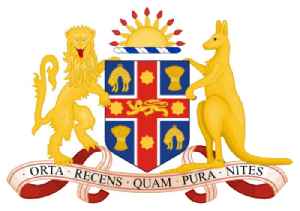 The Government of New South Wales, also referred to as the New South Wales Government or NSW Government, is the Australian state democratic administrative authority of New South Wales. It is currently held by a coalition of the Liberal Party and the National Party. The Government of New South Wales, a parliamentary constitutional monarchy, was formed in 1856 as prescribed in its Constitution, as amended from time to time. Since the Federation of Australia in 1901, New South Wales has been a state of the Commonwealth of Australia, and the Constitution of Australia regulates its relationship with the Commonwealth. Under the Australian Constitution, New South Wales ceded legislative and judicial supremacy to the Commonwealth, but retained powers in all matters not in conflict with the Commonwealth.


NSW Govt attacks Labor over Shooters deal
NSW Labor leader Michael Daley has given an "unequivocal and ironclad guarantee" he won't weaken NSW gun laws if he becomes premier on Saturday.
SBS - Published
Search this site and the web:
You Might Like