Air force
Military branch for aerial warfare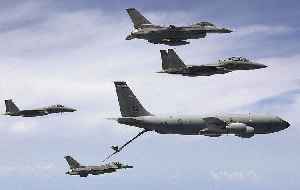 An air force is in the broadest sense, the national military branch that primarily conducts aerial warfare. More specifically, it is the branch of a nation's armed services that is responsible for aerial warfare as distinct from an army or navy. Typically, air forces are responsible for gaining control of the air, carrying out strategic and tactical bombing missions, and providing support to land and naval forces often in the form of aerial reconnaissance and close air support.


You Might Like
Bolivian light plane crash kills six, including four Spanish citizens
A Bolivian military plane crashed on Saturday, killing two crew members and four Spanish citizens who were being transferred before a planned repatriation amid the coronavirus outbreak, the country's..
Reuters - Published
Leader Khamenei says Iran has a strong Air Force despite U.S. pressure
Iran has a very strong Air Force despite limitations imposed on the country by the United States since the country's 1979 Islamic revolution, Supreme Leader Ayatollah Ali Khamenei told a gathering of..
Reuters - Published
About 350 U.S. evacuees from China placed under coronavirus quarantine at military bases
Two planes carrying about 350 Americans out of Wuhan, China, arrived at an Air Force base in California on Wednesday as the United States stepped up efforts to bring its citizens home from the..
Reuters - Published
Brazil´s Bolsonaro fires aide who flew on Air Force jet from Davos
President Jair Bolsonaro fired his deputy chief of staff for the second time this week, after the official used a Brazilian Air Force plane to fly from Davos, Switzerland, to New Delhi last weak.
Reuters - Published
Senate confirms ex-Air Force General Stilwell as top diplomat for East Asia
The U.S. Senate on Thursday confirmed former Air Force General David Stilwell to be the State Department's top diplomat for East Asia, a post that had remained unfilled for more than two years despite..
Reuters - Published
Search this site and the web: