Southeast Asia
Subregion of Asia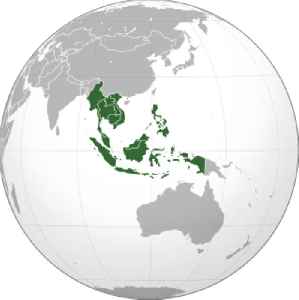 Southeast Asia
or
Southeastern Asia
is the southeastern region of Asia, consisting of the regions that are geographically south of China, east of the Indian subcontinent and north-west of Australia. Southeast Asia is bordered to the north by East Asia, to the west by South Asia and the Bay of Bengal, to the east by Oceania and the Pacific Ocean, and to the south by Australia and the Indian Ocean. The region is the only part of Asia that lies partly within the Southern Hemisphere, although the majority of it is in the Northern Hemisphere. In contemporary definition, Southeast Asia consists of two geographic regions:
Mainland Southeast Asia, also known historically as Indochina, comprising Cambodia, Laos, Myanmar, Peninsular Malaysia, Thailand and Vietnam.
Maritime Southeast Asia, also known historically as Nusantara, the East Indies, or the Malay Archipelago, comprising the Andaman and Nicobar Islands (India), Ashmore and Cartier Islands (Australia), Brunei, Christmas Island (Australia), the Cocos (Keeling) Islands (Australia), East Malaysia, East Timor, Indonesia, the Philippines and Singapore.
Why Singapore's COVID death rate is world's lowest

Singapore has the lowest coronavirus case fatality count globally, with just 27 deaths among the more than 57,000 people who have been infected with COVID-19 in the Southeast Asian island. So why is..
Credit: Reuters Studio Duration: 02:09
Published
Indonesian students trade trash to study online

When the coronavirus pandemic forced Indonesian schools to shut, it exposed how millions of households in the Southeast Asian country still had no access to the internet or even a device like a mobile..
Credit: Reuters Studio Duration: 01:54
Published
ASEAN summit: South China Sea, coronavirus pandemic cast a shadow

Southeast Asia's top diplomats to discuss coronavirus pandemic and rising tensions in South China Sea in online summit.
Credit: Al Jazeera STUDIO Duration: 01:59
Published
'Covid-19 vaccines will be available to all countries on equitable basis': WHO Chief

Health Ministers from member countries of the World Health Organisation (WHO) South-East Asia Region participated in a session to discuss measures to contain the Covid-19 outbreak. The 73rd Regional..
Credit: HT Digital Content Duration: 02:32
Published
Singapore's concert for the dead goes online

The studio lights dim, the band begins to strum, and it's showtime for a Singapore getai concert - a popular form of entertainment in southeast Asia that features songs, skits and over-the-top costumes..
Credit: Reuters Studio Duration: 01:59
Published
Philippines faces worst COVID-19 crisis in Southeast Asia

A strict lockdown in the capital, Manila is easing, and many are hoping it will help kickstart economic recovery.
Credit: Al Jazeera STUDIO Duration: 02:38
Published
Philippines closes in on Indonesia for most SE Asian COVID-19 cases

The Philippines has reported more than 3,200 new coronavirus infections, pushing it close to Indonesia as the worst-hit county in Southeast Asia.
Credit: Al Jazeera STUDIO Duration: 02:27
Published
You Might Like



Health officials praise Laos after coronavirus-free declaration

International health organizations on Thursday praised Laos' early response and countrywide networks for containing the novel coronavirus after the Southeast Asian nation declared itself free of the..




Reuters - Published





Indonesia reports 1,031 new coronavirus infections; Southeast Asia's highest case total

Indonesia reported 1,031 new coronavirus infections on Wednesday taking the total to 41,431 and overtaking Singapore with the highest number of COVID-19 cases in Southeast Asia.




Reuters - Published





Traffickers demand payments for Rohingya stranded at sea

People traffickers holding hundreds of Rohingya refugees at sea are demanding payments from their families before they will release them from boats off the shores of Southeast Asia, relatives and..




Reuters - Published





Indonesia's hundreds of suspected child virus deaths highlight danger

Hundreds of children in Indonesia are believed to have died from COVID-19, giving the Southeast Asian country one of the world's highest rates of child deaths from the novel coronavirus that experts..




Reuters - Published





Exiled Thai activist abducted in Cambodia, rights group says

Unknown gunmen abducted a Thai political activist in Cambodia's capital, rights advocates said on Friday, the latest in a series of mysterious disappearances of Southeast Asian dissidents living in..




Reuters - Published




Jakarta mosques host Friday prayers for first time in two months

Indonesians in Jakarta returned to mosques on Friday for prayers after the city relaxed rules on attending places of worship as part of a loosening of restrictions in place since late March to contain..




Reuters - Published





Indonesia reports 703 new coronavirus infections, 49 new deaths: official

Indonesia reported 703 new coronavirus infections on Friday, taking the number of confirmed cases in the Southeast Asian country to 29,521.




Reuters - Published




Philippines' Duterte renews threat to kill drug dealers after big bust

Philippine President Rodrigo Duterte renewed on Friday a threat to kill drug dealers after police seized 756 kg (1,667 lb) of methamphetamines, a haul he said proved the Southeast Asian country had..




Reuters - Published





Indonesia capital tentatively eases some coronavirus restrictions

The governor of Indonesia's capital announced on Thursday the easing of some coronavirus restrictions though he warned that the fight against the outbreak was far from over in Southeast Asia's biggest..




Reuters - Published





Indonesia reports 479 new coronavirus cases

Indonesia reported 479 new cases of the novel coronavirus on Monday, taking the total in the Southeast Asian nation to 22,750, Health Ministry official Achmad Yurianto said.




Reuters - Published




Indonesia reports biggest daily rise in coronavirus infections

Indonesia reported on Wednesday 693 new coronavirus infections, the Southeast Asian nation's biggest daily rise and taking the total number of cases to 19,189, according to the website of Indonesia's..




Reuters - Published




Thai government approves plan for bankruptcy court-led restructuring of Thai Airways

Thailand's cabinet approved a plan to restructure troubled Thai Airways International Pcl's finances through a bankruptcy court, the Southeast Asian country's prime minister said on Tuesday.




Reuters - Published




Cambodia says all COVID-19 patients recovered, no new cases for a month

Cambodia's last patient with the new coronavirus has recovered and left hospital, leaving the Southeast Asian country with zero cases, the health ministry said on Saturday, while urging continued..




Reuters - Published





Amnesty says 1,000 Rohingya stranded at sea as Southeast Asia seals borders

At least 1,000 Rohingya are stranded at sea as Southeast Asian nations tighten their borders to keep out the new coronavirus, Amnesty International said on Friday, urging action to ensure they were not..




Reuters - Published





How coronavirus cleared Southeast Asia's traffic jams

Strict lockdowns, school closures and restrictions on commerce to curb the novel coronavirus in Southeast Asian countries brought a rare respite from the transport mayhem that is the norm in some of..




Reuters - Published





Indonesia's COVID-19 deaths top 1,000 as those under 45 urged to resume work

Indonesia's death toll from the novel coronavirus passed the 1,000 mark on Tuesday, even as authorities signalled they were poised to ease some social restrictions aimed at curbing the spread of the..




Reuters - Published





Indonesian coronavirus death toll tops 1,000: ministry

Deaths from the coronavirus in Indonesia passed the 1,000 mark on Tuesday as the Southeast Asian nation reported 16 new fatalities and 484 new infections, health ministry official Achmad Yurianto said.




Reuters - Published





Philippines reports 184 new coronavirus cases, 15 more deaths

The Philippines' health ministry on Sunday confirmed 184 new coronavirus cases, taking the Southeast Asian nation's total reported infections to 10,794.




Reuters - Published




Indonesia says coronavirus infections rise above 10,000

Indonesia confirmed on Thursday 347 new coronavirus infections, taking the total in the Southeast Asian country above 10,000 for the first time with 10,118 infections, health ministry official Achmad..




Reuters - Published





Indonesia announces 260 coronavirus cases, 11 deaths

Indonesia confirmed 260 new coronavirus infections on Wednesday, taking the total in the Southeast Asian nation to 9,771, said health ministry official Achmad Yurianto.




Reuters - Published




Ramadan bazaars go digital in Southeast Asia amid pandemic

For 15 years, Siti Zabedah Abdul Wahab's family food business has opened for one month a year, selling murtabak, a pan-fried bread stuffed with meat, at Malaysia's popular Ramadan bazaars.




Reuters - Published





Indonesia hopes for return to 'normal lives' by July

Indonesia hopes its citizens will be able to resume normal lives by July, as the Southeast Asian nation targets lowering new coronavirus infections by June, its COVID-19 task force chief Doni Monardo..




Reuters - Published





Vietnam jails Facebook user over 'anti-state' posts

A court in Vietnam on Monday sentenced a man to 1-1/2 years in prison for uploading anti-state posts to Facebook, the security ministry said, days after Facebook sources told Reuters they had agreed to..




Reuters - Published





U.N. concerned over 'grave immediate risk' to Rohingya refugees on boats

The U.N. refugee agency UNHCR voiced mounting concern on Thursday over a "grave immediate risk" to Rohingya refugees aboard boats in the Bay of Bengal and Andaman Sea, urging Southeast Asian..




Reuters - Published





Singapore confirms 1,037 new COVID-19 cases

Singapore's health ministry said it had preliminarily confirmed 1,037 new coronavirus cases on Thursday, taking the Southeast Asian city-state's total infections to 11,178.




Reuters - Published





Vietnam to ease nationwide coronavirus lockdown

Vietnam, which has reported under 300 cases of coronavirus and no deaths since the first infections were detected in January, said on Wednesday it would start lifting tough movement restrictions as..




Reuters - Published





Hundreds of Brazilians stranded by coronavirus head home from Southeast Asia

Brazilian nationals Julio de Oliveira and his wife Thamyres only wanted to enjoy a few days on a Thai beach last month, but the coronavirus outbreak turned their holiday upside down.




Reuters - Published





Indonesia bans traditional Ramadan exodus to rein in coronavirus

Indonesia will ban its traditional annual exodus by people streaming out of cities at the end of the Muslim fasting month in May, as the Southeast Asian nation looks to curb the spread of coronavirus,..




Reuters - Published





Indonesia bans Ramadan mass exodus tradition to curb coronavirus spread

Indonesia will ban the mass exodus tradition, locally known as 'mudik,' at the end of the Muslim fasting month in May in a bid to curb the spread of coronavirus in the Southeast Asian country,..




Reuters - Published





Indonesia reports highest number of coronavirus cases in Southeast Asia

Indonesia reported on Friday 407 new coronavirus cases, taking the total number of cases to 5,923 and surpassing the Philippines as the country with the highest number of infections in Southeast Asia.




Reuters - Published





Indonesia taskforce sees May-June coronavirus peak of 95,000 cases

Indonesia expects the number of coronavirus cases to peak between May and June with around 95,000 infections, a government adviser said on Thursday, marking an official admission of the growing scale..




Reuters - Published





Vietnam to extend coronavirus lockdown in 12 provinces for seven days

Vietnam will extend its coronavirus lockdown in 12 provinces, including Hanoi and Ho Chi Minh City, for seven days, although restrictions will be lifted in some areas outside of the Southeast Asian..




Reuters - Published





Vietnam introduces 'fake news' fines for coronavirus misinformation

A new decree took effect in Vietnam on Wednesday introducing fines for the dissemination of 'fake news' or rumours on social media, amid the rapid spread of comment online about the novel coronavirus..




Reuters - Published