Trans-Pacific Partnership
A trade agreement between several Pacific Rim countries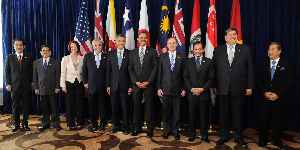 The Trans-Pacific Partnership (TPP), also called the Trans-Pacific Partnership Agreement, is a defunct proposed trade agreement between Australia, Brunei, Canada, Chile, Japan, Malaysia, Mexico, New Zealand, Peru, Singapore, Vietnam, and the United States signed on 4 February 2016, which was not ratified as required and did not take effect. After the United States withdrew its signature, the agreement could not enter into force. The remaining nations negotiated a new trade agreement called Comprehensive and Progressive Agreement for Trans-Pacific Partnership, which incorporates most of the provisions of the TPP and which entered into force on 30 December 2018.


PM reveals international trade priorities
Scott Morrison will prioritise finalising the EU trade deal and aim for more countries to join the Trans-Pacific Partnership if he wins the election.
SBS - Published
Search this site and the web:
You Might Like