Barcelona
City in Catalonia, Spain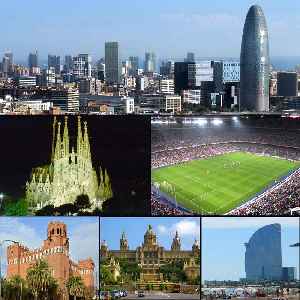 Barcelona is a city on the coast of northeastern Spain. It is the capital and largest city of the autonomous community of Catalonia, as well as the second most populous municipality of Spain. With a population of 1.6 million within city limits, its urban area extends to numerous neighbouring municipalities within the Province of Barcelona and is home to around 4.8 million people, making it the fifth most populous urban area in the European Union after Paris, the Ruhr area, Madrid, and Milan. It is one of the largest metropolises on the Mediterranean Sea, located on the coast between the mouths of the rivers Llobregat and Besòs, and bounded to the west by the Serra de Collserola mountain range, the tallest peak of which is 512 metres high.


Inter sign midfielder Vidal from Barcelona for 1 million euros

Vidal joins Inter from Barcelona
Credit: Reuters - Sports Duration: 01:16
Published
Catalan separatists burn effigy of king at annual demonstration to mark region's National Day

An estimated 50,000 pro-independence protesters attended the main demonstration in Barcelona to mark the Catalan National Day. It was a muted affair compared to previous years because of local..
Credit: euronews (in English) Duration: 01:05
Published
Messi's back at Barca training

Lionel Messi returned to Barcelona's training ground on Monday for the first time since August 25, when he announced he wanted to leave the Catalan club.
Credit: Reuters Studio Duration: 00:39
Published
Love and care through a glass window

From behind the large windows of Barcelona's Centre Parc nursing home, elderly residents blow kisses, give virtual hugs and speak to loved ones on the other side of the glass using mobile phones.
Credit: Reuters Studio Duration: 01:51
Published
Messi's father in Barcelona for club meeting

Lionel Messi's father and agent, Jorge Messi, landed in Barcelona Tuesday morning and was expected to hold talks with the Catalan club over future of his son.
Credit: Reuters Studio Duration: 00:53
Published
Barca star Rakitic rejoins Sevilla

Croatia midfielder Ivan Rakitic rejoins Europa League holders Sevilla on a four-year contract from Barcelona.
Credit: Reuters - Sports Duration: 01:08
Published
Credit: FRANCE 24 English Duration: 01:36
Published
Barcelona mourns the victims of the 2017 terror attacks

Sixteen people died in the attacks on Las Ramblas and in the coastal town of Cambrils.View on euronews
Credit: euronews (in English) Duration: 00:50
Published
Lionel Messi and Barcelona teammates arrive in Lisbon

Barcelona's players touched down in Lisbon as the Catalan giants prepare toface Bayern Munich in the UEFA Champions League quarter-finals on Friday.
Credit: PA - Press Association STUDIO Duration: 00:56
Published
Barcelona train ahead of Napoli clash

Barcelona prepare for their Champions League second leg with Napoli
Credit: Reuters - Sports Duration: 01:21
Published
Barcelona's soaring COVID-19 cases cause concern

In Barcelona, it is a race against time to bring the infection rate under control.
Credit: Al Jazeera STUDIO Duration: 01:52
Published
Passengers from Spain arrive in Birmingham

Passengers from Barcelona, Ibiza, Mallorca and Alicante arrive at BirminghamAirport on Monday, after the UK Government imposed coronavirus travelrestrictions for Spain on Saturday and announced 14-day..
Credit: PA - Press Association STUDIO Duration: 00:54
Published
Barcelona's hospitals coping despite COVID-19 rebound, says doctor

A hospital doctor just outside Barcelona says the rise in coronavirus infections across the region is worrying, but the health system is coping well.View on euronews
Credit: euronews (in English) Duration: 01:50
Published
You Might Like



Parts of Madrid and Barcelona airports to reopen July 1: operator Aena

Spanish airport operator Aena said on Monday it would reopen Terminal 1 of Madrid's Barajas airport on July 1 after three months of closure, while some terminals at Barcelona's El Prat will reopen..




Reuters - Published





Spain promises safety as it tries to win back tourists and their money

All Spanish beaches reopened on Monday with the exception of Barcelona, and the Guggenheim Museum in Bilbao will unlock its doors for the first time in months as Spain took steps to revive a tourist..




Reuters - Published





Madrid residents eager ahead of this week's reopening

Residents of Madrid and Barcelona are eagerly anticipating the opening of parks, museums, churches and outdoor seating at bars this week, as Spain prepares to ease some of the strictest lockdown..




Reuters - Published





Spain allows outdoor dining again in Madrid and Barcelona

Coronavirus lockdowns will be eased in Spain's capital Madrid and second city Barcelona from Monday to allow outdoor dining and gatherings of up to 10 people as infections have slowed sufficiently..




Reuters - Published





Some Spaniards to see lockdown eased as daily deaths fall again

Spain registered its lowest daily number of coronavirus deaths on Sunday since mid-March and half of its population prepared for an easing of one of Europe's strictest lockdowns, though not yet the..




Reuters - Published





Madrid and Barcelona will not move to next stage of Spain's lockdown exit

Madrid and Barcelona will not progress to the next phase of Spain's exit from one of Europe's strictest lockdowns that will allow bars, restaurants and places of worship to reopen in some areas from..




Reuters - Published




Beaches open in Barcelona as Spain decides on next steps of lockdown exit

The Spanish government will decide on Friday in which regions bars, restaurants and places of worship will open under the next phase of a gradual exit from the coronavirus lockdown, although it looked..




Reuters - Published





Police detain suspected Islamic State follower in Barcelona

Spanish police have arrested a Moroccan man in Barcelona with suspected links to Islamic State who they believe was planning a militant attack.




Reuters - Published





Spain steps gingerly towards normality, but Madrid and Barcelona may lag

Spain was weighing up further steps on Thursday to bring life back to normal as the coronavirus epidemic ebbed, but the capital Madrid and the city of Barcelona could remain under tight restrictions..




Reuters - Published





Spain's coronavirus death pace slows, but agony continues

The pace of new coronavirus deaths in Spain slowed for the fourth day on Monday, but overcrowded crematoria in Barcelona and the death of soccer coach Pep Guardiola's mother showed the national agony..




Reuters - Published




Flooded toilets, dirty sheets: South Asia quarantine centers worry experts

When Mrinal Sabharwal and his wife landed in New Delhi with hundreds of other passengers from Barcelona on Monday, they expected clean coronavirus quarantine facilities.




Reuters - Published





One dead, 13 injured in explosion at Barcelona chemical plant

One person died and 13 others were injured in an explosion on Tuesday at a small chemical plant in Barcelona, local emergency services in Catalonia's regional capital said.




Reuters - Published




Organisers of cancelled mobile conference play down compensation chances

Companies that have spent money on a major telecoms conference in Barcelona that has been cancelled after mass withdrawals due to the coronavirus outbreak cannot expect compensation under the..




Reuters - Published





Mobile World Congress in Barcelona called off over coronavirus fears

The Mobile World Congress (MWC), the annual telecoms industry gathering that draws more than 100,000 visitors to Barcelona, was canceled on Wednesday after a mass exodus by exhibitors due to fears over..




Reuters - Published




Major U.S. tech firms pull out of Barcelona meet over coronavirus fears

Cisco Systems Inc , Facebook Inc , AT&T and Sprint Corp on Tuesday became the latest U.S. technology companies to pull out of the Mobile World Congress (MWC) in Barcelona due to the coronavirus..




Reuters - Published




Cisco pulls out of Barcelona conference as coronavirus fears spread

Cisco Systems Inc on Tuesday became the latest heavyweight technology company to pull out of the Mobile World Congress (MWC) in Barcelona due to the coronavirus outbreak.




Reuters - Published





Sony, NTT latest to pull out of Barcelona congress over coronavirus

Japan's largest wireless carrier, NTT Docomo, and Sony Corp on Monday became the latest companies to pull out of an international telecoms conference in Barcelona this month because of the coronavirus..




Reuters - Published




Amazon withdraws from Barcelona's Mobile World Congress tech conference over coronavirus: El Mundo

Amazon (AMZN.O) withdrew on Sunday from attending an international telecoms conference in Barcelona later this month because of the new coronavirus.




Reuters - Published





GSMA presses on with telecoms gathering despite second pullout

The organizers of a major telecoms industry conference in Barcelona at the end of this month said on Friday it would still go ahead, as Ericsson of Sweden become the second major exhibitor to pull out..




Reuters - Published





Barcelona mayor says major fair to go ahead despite coronavirus

The mayor of Barcelona on Friday said she was confident that a major telecoms conference in the city would go ahead as normal after Swedish telecoms equipment maker Ericsson joined Korea's LG in saying..




Reuters - Published





Mobile World Congress to go ahead despite China virus spread: GSMA

The Mobile World Congress, an annual telecoms industry event that draws more than 100,000 visitors to Barcelona, will go ahead as planned on Feb. 24-27 despite the international spread of a virus that..




Reuters - Published





Spain's PM Sanchez to meet with Catalan leader Torra first week of February

Spain's Prime Minister Pedro Sanchez said on Monday he plans to meet with leader of Catalonia region Quim Torra during the first week of February in Barcelona.




Reuters - Published





'El Clasico' sparks pro-independence protests near Barcelona stadium

Chanting "Independence" and "Free political prisoners", several thousand Catalan protesters gathered near Barcelona's Camp Nou stadium on Wednesday hours before the home side was to face rivals Real..




Reuters - Published





Pro-independence protests erupt near Barcelona stadium before 'El Clasico'

Chanting "Independence" and "Free political prisoners", several thousand Catalan protesters gathered near Barcelona's Nou Camp stadium on Wednesday hours before the local side was to face rivals Real..




Reuters - Published





Chemical plant fire in Spain forces authorities to evacuate area

Catalan authorities evacuated the area around a chemical plant outside Barcelona early on Wednesday after a fire ripped through the facility in Spain's northeastern region, sending plumes of black..




Reuters - Published





Pro-independence protesters take to Barcelona's main train station

Dozens of protesters crowded into Barcelona's main railway station on Saturday in the latest show of dissent to grip the city more than a month after a Spanish court handed stiff prison sentences to..




Reuters - Published





'Freedom for political prisoners,' Catalan separatists chant on election eve

Waving separatist flags and chanting "freedom for political prisoners" thousands of supporters of Catalan independence gathered in Barcelona for concerts and rallies on Saturday, a day before Spain..




Reuters - Published





Catalonia divided: Barcelona hosts unionist rally a day after separatist march

Huge crowds of Catalans supporting continued union with Spain marched through Barcelona on Sunday, a day after the city hosted two pro-independence protests - highlighting deep political faultlines..




Reuters - Published





Police, Catalan separatists clash as day of protest ends in violence

Clashes between police and militant elements in a thousands-strong crowd of demonstrators transformed part of central Barcelona into a battleground late on Saturday as another day of pro-independence..




Reuters - Published





Spanish police, massed Catalan protesters clash in central Barcelona

Spanish police and militant elements in a thousands-strong crowd of protesters clashed in the streets of Barcelona close to police headquarters late on Saturday as a pro-independence demonstration by a..




Reuters - Published





Spanish police charge to disperse separatist protesters outside Barcelona HQ

Spanish police carrying shields and weapons and backed by dozens of riot vans charged to try to disperse Catalan pro-independence protesters late on Saturday who had gathered outside police..




Reuters - Published





Huge crowds join grassroots march for jailed Catalan leaders

Hundreds of thousands of Catalans marched peacefully through Barcelona on Saturday in support of calls to free jailed separatist leaders, after the region's mayors demanded it be allowed to map out its..




Reuters - Published





Catalonia's mayors call for self-determination before protest march

The vast majority of Catalonia's almost 1,000 mayors on Saturday urged authorities in Madrid to grant the region the right to determine its own future, as crowds of separatists readied for a protest..




Reuters - Published





Spanish PM visits Barcelona, criticizes regional chief

Spain's acting prime minister accused Catalonia's pro-seccession president of failing in his duty to ensure public order and peace between pro and anti-indepedence supporters as he visited regional..




Reuters - Published




Spain's acting prime minister to visit Barcelona

Spain's acting prime minister, Pedro Sanchez, said he would travel to Barcelona on Monday to visit police officers injured in protests that have rocked the Spanish region of Catalonia.




Reuters - Published





Pro-separatists stage new Barcelona rallies, government says violence fading

Hundreds of pro-independence protesters took to the streets of Barcelona for a seventh successive night on Sunday, with anger over the jailing of Catalan separatist leaders showing little sign of..




Reuters - Published





Anti-separatists rally in Barcelona after pro-independence unrest

One of the most prominent figures against independence for the Spanish region of Catalonia staged a counter-protest on Sunday after a week of separatist unrest and called for an end to the violence.




Reuters - Published





Spanish PM tells Catalan leader to denounce violence

Spain's acting Prime Minister Pedro Sanchez on Saturday dismissed a call for dialogue from Catalonia's regional chief, telling him he must first condemn the separatist unrest that is roiling Barcelona.




Reuters - Published





Barcelona rocked by violence on fifth day of separatist protests

Hundreds of protesters battled police in the heart of Barcelona on Friday, setting up fiery barricades and hurling rocks at security forces on the fifth day of unrest following the jailing of Catalan..




Reuters - Published




Violent clashes rock Barcelona on fifth day of separatist protests

Hundreds of protesters battled police in the heart of Barcelona on Friday, setting up fiery barricades and hurling rocks at security forces on the fifth day of unrest following the jailing of Catalan..




Reuters - Published




Spain calls in civil guard to outskirts of Barcelona

The Spanish Interior Ministry said on Friday it had given the go ahead for civil guard police reinforcements to be sent to the outskirts of Barcelona following five days of sometimes violent protests..




Reuters - Published





Protesters clash with police in central Barcelona

Masked demonstrators clashed with police in central Barcelona on Friday as a fifth day of protests over the jailing of separatist leaders turned violent.




Reuters - Published





Catalan protesters flood Barcelona on fifth day of rallies

Tens of thousands of demonstrators waving pro-independence flags and chanting "freedom for political prisoners" poured into Barcelona on Friday, the fifth day of protests over the jailing of Catalan..




Reuters - Published





Barcelona's Sagrada Familia shut down due to separatist protests

Barcelona's Sagrada Familia cathedral has shut down due to separatist protests, an official at the cathedral told Reuters on Friday.




Reuters - Published





Thousands converge on Barcelona for fifth day of Catalan protests

Hundreds of thousands of pro-independence supporters from across Spain's northeastern region of Catalonia are expected to pour into Barcelona on Friday, as unions called for a general strike on the..




Reuters - Published




Thousands gather in Barcelona for fourth day of protests for separate Catalonia

Thousands gathered in Barcelona in a fourth day of protests that have led to the worst sustained street violence in Spain in decades after Catalan leaders were sentenced to lengthy prison sentences for..




Reuters - Published