University of Sydney
Australian university founded in 1850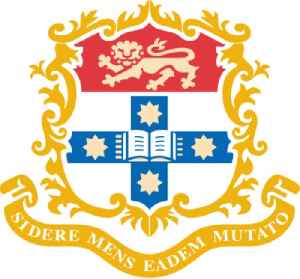 The University of Sydney is an Australian public research university in Sydney, Australia. Founded in 1850, it is Australia's first university and is regarded as one of the world's leading universities. The university is known as one of Australia's 6 sandstone universities. Its campus is ranked in the top 10 of the world's most beautiful universities by the British Daily Telegraph and The Huffington Post, spreading across the inner-city suburbs of Camperdown and Darlington. The university comprises nine faculties and university schools, through which it offers bachelor, master and doctoral degrees.


Sydney University shelves funding for chair of Australian literature
Amid concerns about dwindling focus on Australian studies, the country's oldest chair of Australian literature position will sit empty due to funding issues
The Age - Published
Ramsay Centre rejects Sydney Uni's revised proposal
The Ramsay Centre has knocked back Sydney University's proposal to radically revamp its Western civilisation offering.
The Age - Published
'We do not consent': Sydney Uni academics divided over new Ramsay proposal
Sydney Uni's new proposal to the Ramsay Centre for Western Civilisation has met fiery opposition from academics, who say it will "entrench a hard-right agenda".
The Age - Published
Sydney Uni sounds death knell for prestige educational program
Sydney Uni's proposed changes to the Ramsay Centre's Western civilisation degree should be a rescue rope for the controversial course, but are more likely to bring it to an end before it even starts.
The Age - Published
Sydney Uni wants Ramsay Centre to revise Western civilisation plan
After more than a year of negotiations over a Western civilisation course, Sydney University wants the Ramsay Centre to radically re-think its $50 million plan.
The Age - Published
Instead of floating the White Australia bogey, let's be honest about Chinese influence
The vice-chancellor of the University of Sydney cries "racism" but he should discuss genuine concerns about Australia's dependence on Chinese students' fees.
The Age - Published
China debate raises spectre of White Australia Policy, says uni chief
The argument that pro-China views had no place on campus were "frightening as well as kind of dumb," says Sydney University vice-chancellor Michael Spence
The Age - Published
Scientists discover a fish called Wakanda
A new species of fish, confirmed by an expert at Sydney University, has been named after a mythical nation from the Black Panther movie.
SBS - Published
Majority support for No Jab, No Pay: study
Joint research from the University of Sydney and the University of Western Australia indicates a majority of Australians support the "No Jab, No Pay" policy.
SBS - Published
Sydney University's St Paul's College launches international hunt for new head
The head of the scandal-ridden St Paul's College is leaving after less than two years in the role, as St Paul's implements the recommendations of a damning review.
The Age - Published
Dicey Topics: Ron McCallum talks money, politics, and bodies
The Sydney University emeritus professor of law discusses the topics we are told to keep quiet.
The Age - Published
Sydney University to adopt principles of 'terrific' free speech code
Vice-chancellor Michael Spence welcomes proposed strengthening of protections around free academic expression.
The Age - Published
Noel Hush: chemist with international reputation
Hush was founding professor of the Department of Theoretical Chemistry at the University of Sydney.
The Age - Published
You Might Like