Nauru
Republic in Oceania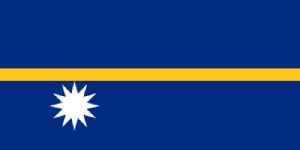 Nauru, officially the Republic of Nauru and formerly known as Pleasant Island, is an island country in Micronesia, a subregion of Oceania, in the Central Pacific. Its nearest neighbour is Banaba Island in Kiribati, 300 kilometres (190 mi) to the east. It further lies northwest of Tuvalu, north of the Solomon Islands, east-northeast of Papua New Guinea, southeast of the Federated States of Micronesia and south of the Marshall Islands. With only a 21-square-kilometre (8.1 sq mi) area, Nauru is the third-smallest state on the list of countries and dependencies by area behind Vatican City and Monaco, making it the smallest state in the South Pacific Ocean, the smallest island state, and the smallest republic. Its population is 11,347, making it the third smallest on the list of countries and dependencies by population, after the Vatican and Tuvalu.


This is what happened to the children on Nauru that Australia rejected
The final refugee children to leave Australia's offshore processing centre may now be resettled in the US, but the scars of life in detention remain.
SBS - Published
Former Nauruan president's refugee regrets
The terminally ill former president of Nauru has described a refugee contract he signed with Australia in 2012 as a deal with the devil.
SBS - Published
Thousands gather across Australia for Palm Sunday refugee rallies
Football commentator and advocate Craig Foster said Australia's national conscience had been severely damaged by deaths on Manus Island and Nauru.
SBS - Published
Search this site and the web:
You Might Like