Job
Activity done by a person to earn money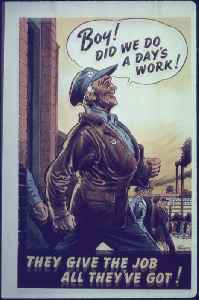 A job, employment, work or occupation, is a person's role in society. More specifically, a job is an activity, often regular and often performed in exchange for payment. Many people have multiple jobs. A person can begin a job by becoming an employee, volunteering, starting a business, or becoming a parent. The duration of a job may range from temporary to a lifetime.


Disney World Reopening Video Works As Horror

In celebration of Disney World's reopening after shutting down earlier this year in response to the still ongoing coronavirus pandemic that's killed over 130,000 people in the US alone, the Disney..
Credit: Wochit News Duration: 00:45
Published
You Might Like
Watch: Jobs update
The Prime Minister has announced a $1.5b extension for apprentices and trainees as part of a new skills package. The package is targeted to assist school leavers and people looking for work to take up..
SBS - Published
Search this site and the web: