Strasbourg
Prefecture and commune in Grand Est, France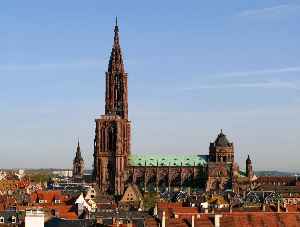 Strasbourg is the capital and largest city of the Grand Est region of France and is the official seat of the European Parliament. Located at the border with Germany in the historic region of Alsace, it is the capital of the Bas-Rhin department. In 2016, the city proper had 279,284 inhabitants and both the Eurométropole de Strasbourg and the Arrondissement of Strasbourg had 491,409 inhabitants. Strasbourg's metropolitan area had a population of 785,839 in 2015, making it the ninth largest metro area in France and home to 13% of the Grand Est region's inhabitants. The transnational Eurodistrict Strasbourg-Ortenau had a population of 915,000 inhabitants in 2014.


Europe 'wounded' by Notre-Dame fire, EU pledges help
The devastation of Paris's Notre Dame cathedral is blow to all Europe and all Europe will contribute to its rebuilding, leaders of the European Union declared on Tuesday at the European Parliament in..
Reuters - Published
Search this site and the web:
You Might Like