Madagascar
Island country in the Indian Ocean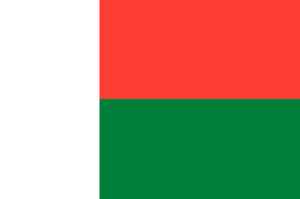 Madagascar, officially the Republic of Madagascar, and previously known as the Malagasy Republic, is an island country in the Indian Ocean, approximately 400 kilometres off the coast of East Africa. At 592,800 square kilometres (228,900 sq mi) Madagascar is the world's second-largest island country. The nation comprises the island of Madagascar and numerous smaller peripheral islands. Following the prehistoric breakup of the supercontinent Gondwana, Madagascar split from the Indian subcontinent around 88 million years ago, allowing native plants and animals to evolve in relative isolation. Consequently, Madagascar is a biodiversity hotspot; over 90% of its wildlife is found nowhere else on Earth. The island's diverse ecosystems and unique wildlife are threatened by the encroachment of the rapidly growing human population and other environmental threats.


You Might Like
Madagascar records its first COVID-19 death: official
Madagascar has registered its first coronavirus death, of a 57-year-old medical worker who suffered from diabetes and high blood pressure, the national COVID-19 taskforce said on Sunday.
Reuters - Published
Madagascar coronavirus herbal mix draws demand from across Africa despite WHO misgivings
Madagascar is putting its self-proclaimed, plant-based "cure" for COVID-19 on sale and several countries in Africa have already put in orders for purchase, despite warnings from the World Health..
Reuters - Published
Madagascar confirms first cases of coronavirus: president
The island nation of Madagascar confirmed its first cases of coronavirus on Friday, the president said in a televised statement.
Reuters - Published
'Fragile' Africa prepares for high risk of coronavirus spread
An isolation ward stands ready at a hospital in Khartoum, Sudan. Laboratories in Senegal and Madagascar have the testing equipment they need. Passengers arriving at airports in Gambia, Cameroon and..
Reuters - Published
Madagascar floods kill at least 12 people, with more missing
Floods across the island of Madagascar has killed at least 12 people this week, with 18 missing, after unseasonably heavy rain, the national disaster office said on Thursday.
Reuters - Published
Pope celebrates Madagascar's 'living saint', champion of the poor
Pope Francis on Sunday celebrated a former student of his who is now sometimes called Madagascar's "living saint" for having changed the lives of thousands of poor people who once lived in garbage..
Reuters - Published
Pope, on Madagascar visit, condemns clan culture of privilege, graft
Pope Francis, on a visit to Madasgascar, on Sunday condemned what he said was its clan culture of privilege and corruption that allows a very few to live in wealth while the vast majority languish in..
Reuters - Published
Deforestation must be seen as global threat: pope in Madagascar
Pope Francis said on Saturday rapid deforestation and reduction in biodiversity in individual countries should not be treated as local issues since they threaten the future of the whole planet.
Reuters - Published
Madagascar forest destruction wiping out humans' tiniest relative
As a shocked world watches fires ravage the Amazon, slash-and-burn farmers are wreaking proportionally worse destruction half a world away in Madagascar, driving humanity's smallest relative - the..
Reuters - Published
Pope's ex-student to welcome his mentor to Madagascar quarry 'cathedral'
Three times a year, Father Pedro Opeka celebrates Mass in a vast grey quarry in the hills above Madagascar's capital. This week, he will welcome his old teacher, Pope Francis, to see the chiseled..
Reuters - Published
Factbox: Pope Francis visits Mozambique, Madagascar and Mauritius
Pope Francis will visit Mozambique, Madagascar and Mauritius from Sept. 4-10. Following are some of the highlights of his second trip to sub-Saharan Africa:
Reuters - Published
Remains of British woman who fell from plane found in Madagascar
Police said on Wednesday they had found the remains of a British woman who fell 1,200 meters (4,000 feet) from a light aircraft in the remote north of Madagascar last month.
Reuters - Published
Stampede in Madagascar crowd kills 15 and wounds 75
At least 15 people were killed and 75 wounded in a stampede at a stadium after a military parade in Madagascar's capital on Wednesday to mark the country's independence day, authorities said.
Reuters - Published