Jamaica
Country in the Caribbean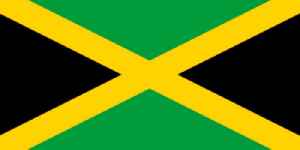 Jamaica is an island country situated in the Caribbean Sea. Spanning 10,990 square kilometres (4,240 sq mi) in area, it is the third-largest island of the Greater Antilles and the Caribbean. Jamaica lies about 145 kilometres (90 mi) south of Cuba, and 191 kilometres (119 mi) west of Hispaniola ; the British Overseas Territory of the Cayman Islands lies some 215 kilometres (134 mi) to the north-west.


Australian runner abandoned as a baby now face of competition for athletes with a disability
Alberto Campbell-Staines was orphaned in Jamaica when he was just three months old and suffered malnutrition as a child, leading to brain damage. After being adopted by an Australian couple, he is now..
SBS - Published
'I actually wanted more': Praise for Sam Kerr's four-goal performance in Matildas' win against Jamaica
Jamaican coach Hue Menzies has joined others praising Australian Sam Kerr's virtuoso four-goal game, saying he rates her the best player in the world.
SBS - Published
Hundreds turn out to pay their respects to 100-year-old RAF veteran
Members of the public gather as the coffin of former RAF serviceman Oswald Dixon, 100, arrives at Agecroft Crematorium, Swinton. Mr Dixon, who had no relatives in the UK, joined the Royal Air Force in..
Credit: PA - Press Association STUDIO Duration: 00:52Published
Austria elections: Will far-right return to power despite video scandal?
Former conservative chancellor Sebastian Kurz is cruising to victory but it is not clear which coalition partners he will pick — the far-right party FPO or a so-called 'Jamaica' alliance with the..
Credit: euronews (in English) Duration: 01:59Published
Cricketer bowls his final over aged 85
Having taken in excess of 7,000 wickets over a career lasting more than half a century, 85-year-old West Indies bowler Cecil Wright is looking forward to passing on his wisdom to the next generation...
Credit: PA - Press Association STUDIO Duration: 01:48Published
Bahamas reels from Hurricane Dorian devastation
The most damaging storm to strike the island nation, Dorian killed 20 people when it hit as a highest-level Category 5 storm, Bahamas Prime Minister Hubert Minnis said on Wednesday (September 4). Rough..
Credit: Reuters Studio Duration: 01:07Published
Incredible Kerr scores four to send Matildas through to World Cup last 16
The sensational Sam Kerr has become the first Australian to score a World Cup hat-trick, firing four goals in a 4-1 rout of Jamaica to send the Matildas into the knockout rounds.
SBS - Published
Sam Kerr makes history as Matildas defeat Jamaica 4-1 at Women's World Cup
Sam Kerr has produced one of Australia's most extraordinary solo performances at a World Cup with a four-goal haul to defeat Jamaica.
SBS - Published
In Passing
Son of Hitler's foreign minister, Rudolf von Ribbentrop; Edward Seaga Jamaica prime minister; Nan Winton first female BBC newsreader
The Age - Published
Search this site and the web:
You Might Like