Apu Nahasapeemapetilon
Character from The Simpsons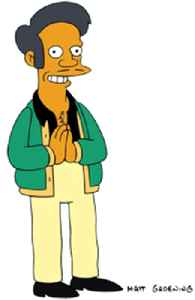 Apu Nahasapeemapetilon is a recurring character in the animated TV series The Simpsons. He is an Indian immigrant proprietor who runs the Kwik-E-Mart, a popular convenience store in Springfield, and is best known for his catchphrase, "Thank you, come again." He is voiced by Hank Azaria and first appeared in the episode "The Telltale Head". A 2017 documentary, The Problem with Apu, written and starring the comedian Hari Kondabolu, critiqued the character as being a South Asian stereotype, which later led to Azaria announcing he was stepping down as the voice of the character so long as he maintains his current personality. However, Azaria also acknowledged that he doesn't have control over the character's future and that the decision was made in unison with the Simpsons production crew. Simpsons creator Matt Groening stated in August 2019 that Apu will continue to remain on the show.


Azaria will no longer voice Simpsons' Apu
Hank Azaria will no longer voice the character of Apu on 'The Simpsons' after long-running complaints from those of South Asian descent.
SBS - Published
Search this site and the web:
You Might Like