Chevron Corporation
American multinational energy corporation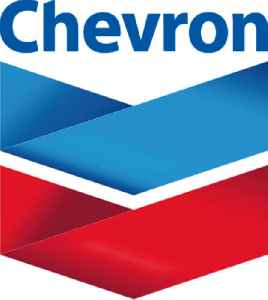 Chevron Corporation is an American multinational energy corporation. One of the successor companies of Standard Oil, it is headquartered in San Ramon, California, and active in more than 180 countries. Chevron is engaged in every aspect of the oil, natural gas, and geothermal energy industries, including hydrocarbon exploration and production; refining, marketing and transport; chemicals manufacturing and sales; and power generation. Chevron is one of the world's largest oil companies; as of 2019, it ranked eleventh in the Fortune 500 list of the top US closely held and public corporations and 28th on the Fortune Global 500 list of the top 500 corporations worldwide. It was also one of the Seven Sisters that dominated the global petroleum industry from the mid-1940s to the 1970s. Chevron is incorporated in California.


You Might Like
Chevron employee in London tested negative for coronavirus
Chevron Corp said on Saturday that an employee in its Canary Wharf office in London who reported a flu-like illness, prompting the oil firm to send its staff home, has tested negative for the..
Reuters - Published
Argentina's energy bust spawns 'ghost town' in prized Vaca Muerta
Just weeks into his young administration, Argentina's new president convened a meeting with executives from Chevron Corp, Royal Dutch Shell PLC and other oil companies in a bid to smooth things over..
Reuters - Published
U.S. warns energy cos like Rosneft, Chevron over ties to Venezuela's Maduro
The Trump administration is ramping up pressure against Venezuelan President Nicolas Maduro's government, and energy companies with ties to it, from Russia's Rosneft to U.S.-based Chevron Corp , should..
Reuters - Published
Chevron asks staff to postpone all non-essential travel to China
U.S. oil major Chevron Corp said on Thursday it has asked its employees to postpone all "non-essential" business travel to China in the aftermath of the coronavirus outbreak.
Reuters - Published
U.S. oil major Chevron pulls staff from northern Iraq
Chevron Corp removed its expatriate staff operating in northern Iraq as a security precaution, a spokeswoman said on Monday, joining other oil companies pulling staff following the U.S. killing of an..
Reuters - Published
Chevron CEO: Saudi oil strikes won't have much short-term impact on U.S. oil production
Attacks on Saudi oil plants will not have much impact on U.S. oil production in the short term, Chevron Chief Executive Michael Wirth told CNBC in an interview on Monday.
Reuters - Published