Beijing
Capital of the People's Republic of China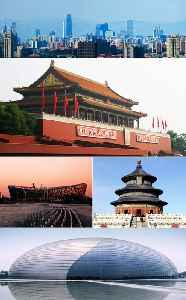 Beijing, alternatively romanized as Peking, is the capital of the People's Republic of China. It is the world's most populous capital city, with over 21 million residents within an administrative area of 16,410.5 km2. The city, located in North China, is governed as a municipality under the direct administration of the central government with 16 urban, suburban, and rural districts. Beijing is mostly surrounded by Hebei Province with the exception of neighboring Tianjin to the southeast; together, the three divisions form the Jingjinji megalopolis and the national capital region of China. Beijing is an important world capital and global power city, and one of the world's leading centers for culture, diplomacy and politics, business and economy, education, language, and science and technology. A megacity, Beijing is the second-largest Chinese city by urban population after Shanghai and is the nation's cultural, educational, and political center. It is home to the headquarters of most of China's largest state-owned companies and houses the largest number of Fortune Global 500 companies in the world, as well as the world's four biggest financial institutions. It is also a major hub for the national highway, expressway, railway, and high-speed rail networks. The Beijing Capital International Airport has been the second busiest in the world by passenger traffic since 2010, and, as of 2016, the city's subway network is the busiest and longest in the world.


'Our relation with China should be on reciprocity': Former Ambassador to Uzbekistan

Former Ambassador to Uzbekistan and Republic Of Korea, Skand Ranjan Tayal accused the Chinese ambassador in Delhi of spreading lies. He said, "The Chinese ambassador in New Delhi is spreading lies in..
Credit: ANI Duration: 01:33
Published
Already responded to China in different ways: Trump on Chinese sanctions

US President Donald Trump on Monday said that the US "has already responded" in many ways to the sanctions posed by Beijing on American officials and added that phase-1 deal with China means "very..
Credit: ANI Duration: 02:22
Published
Hong Kong Media Tycoon First To Be Arrested Under New China Security Law

CNN reports Hong Kong media tycoon Jimmy Lai was arrested early Monday. Lai is known for his support of the city's pro-democracy movement and criticism of China. The arrest comes under the new security..
Credit: Wochit News Duration: 00:40
Published
Hong Kong: Anti-China media tycoon Jimmy Lai arrested under contentious law

In a controversial move, Jimmy Lai, a media mogul in Hong Kong was arrested reportedly under a new security law. He is the owner of Next Digital Ltd which runs the flagship newspaper, Apple Daily...
Credit: HT Digital Content Duration: 02:17
Published
China targeting U.S. election infrastructure -O'Brien

[NFA] After U.S. counterintelligence said Russia was actively working to undermine Democratic candidate Joe Biden ahead of the presidential election, President Donald Trump's national security adviser..
Credit: Reuters - Politics Duration: 02:00
Published
U.S. health chief visits Taiwan, defying China

The visit marks the highest-level U.S. government outreach to the territory claimed by China since 1979. This report produced by Zachary Goelman.
Credit: Reuters - Politics Duration: 01:26
Published
US health secretary's Taiwan visit angers China

Beijing warns US President Trump that the visit threatens peace and stability in the region.
Credit: Al Jazeera STUDIO Duration: 06:19
Published
Beijing's top office in Hong Kong slams 'ridiculous' US sanctions

Officials subject to US sanctions include Hong Kong leader Carrie Lam and head of China's Liaison Office, Luo Huining.
Credit: Al Jazeera STUDIO Duration: 02:06
Published
HK vows it won't be intimidated by U.S. sanctions

Beijing's top representative office in Hong Kong said on Saturday that sanctions imposed by Washington on senior Hong Kong and Chinese officials were "clowning actions" that would not frighten or..
Credit: Reuters - Politics Duration: 02:12
Published
Trump orders bans on China's TikTok, WeChat

U.S. President Donald Trump on Thursday unveiled sweeping bans on Chinese-owned apps TikTok and WeChat in a major escalation of tensions with Beijing. Gloria Tso reports.N
Credit: Reuters - Politics Duration: 02:06
Published
Amid China tension, India & Japan talk business as Delhi seeks investments

Union minister Piyush Goyal spoke at the Invest India Exclusive Investment Forum - Japan Edition on Thursday, seeking to boost trade ties between Delhi and Tokyo. He said that together, the two nations..
Credit: HT Digital Content Duration: 02:30
Published
Covid update: China allows Indians to return; Bill Gates on vaccine

From China allowing Indians to return to another Uttar Pradesh minister reportedly testing positive - here are the top news updates on the Covid-19 pandemic. Around 150 Indians including diplomats'..
Credit: HT Digital Content Duration: 02:44
Published
Top U.S. official's visit to Taiwan may anger China

U.S. Secretary of Health and Human Services Alex Azar will visit Taiwan in the coming days, his office said on Tuesday, marking the highest-level visit by a U.S. official in four decades -- a move..
Credit: Reuters - Politics Duration: 01:32
Published
WH Staffers Struggle To Justify Trump's Demand For 'Key Money' In TikTok Deal

The Trump administration was at a loss on Tuesday over the president's suggestion to shake down Microsoft in its proposed purchase of Chinese app TikTok. According to Gizmodo, the Trump administration..
Credit: Wochit News Duration: 00:48
Published
'TikTok may be banned in US,' says President Donald Trump

The United States may ban Chinese-video sharing app TikTok, said President Donald Trump, amidst rising tensions between Beijing and Washington on a range of issues. "We are looking at TikTok, we may be..
Credit: HT Digital Content Duration: 01:53
Published
Hong Kong delays election by a year

Hong Kong leader Carrie Lam on Friday postponed a Sept. 6 election for the city's legislature for a year because of a spike in novel coronavirus cases, dealing a blow to the pro-democracy opposition..
Credit: Reuters - Politics Duration: 01:55
Published
After India, will US ban Tiktok?: Watch Donald Trump's response

US President Donald Trump has said that his government is looking at banning Chinese video-sharing application Tiktok. When asked a question on the issue, the US President said they are looking into..
Credit: HT Digital Content Duration: 01:19
Published
Chinese ambassador: Disputes between UK and China have seriously poisoned relations

Disputes between the UK and China over Hong Kong, tech giant Huawei and humanrights abuses in Xinjiang have "seriously poisoned" relations between the twocountries, Beijing's ambassador to London..
Credit: PA - Press Association STUDIO Duration: 01:20
Published
You Might Like



Senator wants Chinese diplomats kicked out

Crossbench senator Rex Patrick has urged the government to send 100 Chinese diplomats packing, in an aggressive move that would undoubtedly enrage Beijing.




SBS - Published





Chinese state media accuses Australia of spying

Chinese Communist Party-run tabloid Global Times has published claims that Australia is engaging in widespread spying against Beijing.




SBS - Published




China finds heavy coronavirus traces in seafood, meat sections of Beijing food market

China has found the trading sections for meat and seafood in Beijing's wholesale food market to be severely contaminated with the new coronavirus and suspects the area's low temperature and high..




Reuters - Published





Taiwan to set up office to help people fleeing Hong Kong

Taiwan said on Thursday it will set up a dedicated office to help those thinking of fleeing Chinese-ruled Hong Kong as Beijing tightens its grip on the former British colony.




Reuters - Published





Beijing's coronavirus outbreak under control, Chinese expert says

Beijing has brought its latest coronavirus outbreak under control, a Chinese medical expert said on Thursday, although the capital can still expect sporadic new cases.




Reuters - Published





Beijing residents rush coronavirus test clinics as emergency rules expand

China's capital has mandated coronavirus tests for hundreds of thousands of people as it widens measures against a new outbreak of the disease that has sent anxious residents flooding to clinics for..




Reuters - Published





Hong Kong security law draft to be put before China's top parliament body

The top decision-making body of China's parliament will review a draft of national security legislation for Hong Kong during a session in Beijing that began on Thursday, the official Xinhua news agency..




Reuters - Published





UK says China and Russia trying to exploit coronavirus crisis

The United Kingdom said on Thursday that China, Russia and Iran were looking to exploit weaknesses shown by the coronavirus outbreak, amid suggestions Beijing had used the crisis to push through new..




Reuters - Published





Top China parliament body to review Hong Kong security legislation

The top decisionmaking body of the Chinese parliament will review a draft Hong Kong national security legislation during its session in Beijing that began on Thursday, the official Xinhua news agency..




Reuters - Published





Top U.S, China diplomats hold 'constructive' meeting amid strains

U.S. Secretary of State Mike Pompeo met China's top diplomat, Yang Jiechi, in Hawaii on Wednesday in what Beijing described as a "constructive dialogue," amid a deep deterioration of ties between..




Reuters - Published





China tells U.S. to stop interfering in its affairs, work to repair relations

China's top diplomat told his U.S. counterpart that Washington needed to respect Beijing's positions on key issues, halt its interference in issues such as Hong Kong, Taiwan and Xinjiang and work to..




Reuters - Published





China says it must improve hygiene in markets after Beijing outbreak

Low standards of hygiene in China's wholesale food markets and vulnerabilities in its food supply chain need to be urgently addressed after a new coronavirus outbreak in Beijing, a leading body of the..




Reuters - Published





China reports 28 new coronavirus cases in mainland

China reported 28 new coronavirus cases in the mainland as of end-June 17, 21 of which were in the capital of Beijing, the country's health commission said on Thursday.




Reuters - Published




Beijing reports 21 new COVID-19 cases in city as of June 17

Beijing confirmed 21 new COVID-19 cases as of June 17, China's health authority said on Thursday, down from 31 a day earlier.




Reuters - Published




Norway says its salmon did not cause virus at Beijing market

Chinese and Norwegian authorities have concluded salmon from Norway was not the source of the coronavirus found on cutting boards at a Beijing wholesale food market, Norway's fisheries and seafood..




Reuters - Published





Beijing says COVID-19 cases could stay at current levels for some time

Beijing cannot rule out the possibility that the number of COVID-19 cases in the city will stay at current levels for some time, a city official said on Wednesday.




Reuters - Published





Norwegian salmon was not source of virus at Beijing food market, Norway says

Chinese and Norwegian authorities have concluded that Norwegian salmon was likely not the source of the novel coronavirus that was found at cutting boards in a Beijing food market, the Norwegian..




Reuters - Published




Beijing extends movement curbs to contain resurgent coronavirus

Scores of flights to and from Beijing were cancelled, schools shut and some neighbourhoods blocked off as officials ramped up efforts to contain a coronavirus outbreak that has fanned fears of wider..




Reuters - Published





Beijing cuts flights to curb potential spread of mounting coronavirus cases

Scores of domestic flights in and out of Beijing were cancelled on Wednesday as officials ramped up attempts to contain a coronavirus outbreak in the Chinese capital over the past week that has sparked..




Reuters - Published




Macau to require 14-day quarantine for people with recent Beijing travel history

Macau's government said on Wednesday it will require all people who have been to Beijing within two weeks prior to entering the city to be put under 14 days of medical observation at a designated..




Reuters - Published





Beijing on heightened alert as coronavirus cases mount

Beijing officials reported several new COVID-19 cases for the sixth consecutive day on Wednesday, extending an outbreak that has forced the Chinese capital's authorities to reinstate strict defences..




Reuters - Published





Beijing city reports 31 new coronavirus cases vs 27 a day earlier

Beijing's city government reported 31 new confirmed coronavirus cases as of end-June 16, up from 27 cases reported a day earlier as the city moves to curb the spread of the disease.




Reuters - Published





Beijing city raises COVID-19 emergency response level to II from III

Beijing's city government on Tuesday raised its COVID-19 emergency response level to II from III, according to state media.




Reuters - Published





India says China unilaterally tried to change status quo at disputed border site

India's foreign ministry said on Tuesday the face-off that led to the deaths of three Indian troops along its disputed border with China was a result of an attempt by Beijing "to unilaterally change..




Reuters - Published





Amid U.S. standoff, WHO chief to address Chinese university graduates

The head of the WHO is due to give a speech to Beijing university students this week, as the U.N. body seeks to manage a resurgence of the coronavirus in China amid hostility from its biggest donor,..




Reuters - Published





Hong Kong leader says opponents of security law are "enemy of the people"

Hong Kong leader Carrie Lam on Tuesday urged opponents of Beijing's plan to impose national security legislation in the financial hub to stop "smearing" the effort, saying those who did were "the enemy..




Reuters - Published




China says it hopes for peace and stability on Korean peninsula

China's foreign ministry said on Tuesday that Beijing hopes for peace and stability on the Korean Peninsula, amid escalating tensions between Seoul and Pyongyang.




Reuters - Published





Beijing and provinces impose travel curbs as coronavirus cases mount

Beijing banned high-risk people from leaving the Chinese capital and halted some transportation services on Tuesday to stop the spread of a fresh coronavirus outbreak to other cities and provinces.




Reuters - Published





Virus-hit Beijing tightens outbound travel; Shanghai demands quarantine

Beijing banned high-risk people from leaving the Chinese capital and halted some transportation services on Tuesday to stop the spread of a fresh coronavirus outbreak to other cities and provinces.




Reuters - Published





Beijing enacts more curbs to stop spread of coronavirus out of Chinese capital

Beijing authorities imposed more restrictions to stop the spread of a fresh outbreak of coronavirus in the Chinese capital to other provinces, banning outbound travel of high-risk people and suspending..




Reuters - Published




Shanghai to quarantine all who arrive from mid to high-risk COVID-19 areas in China

Shanghai will quarantine all people coming to the city from mid to high-risk COVID-19 areas in China for 14 days, a city official said on Tuesday amid concerns about a resurgence of the disease..




Reuters - Published





WHO chief to speak at top Chinese university graduation ceremony

The director-general of the World Health Organization is scheduled to give a commencement speech to students at the elite Tsinghua University in Beijing, amid accusations from the United States that he..




Reuters - Published





China's new virus outbreak needs further testing after 'hypothesis' on cause: WHO

The origins of a new cluster of coronavirus infections in Beijing are uncertain, World Health Organization officials said on Monday, but the claim that it might have been caused by imports or packaging..




Reuters - Published





Beijing imposes curbs as coronavirus returns to Chinese capital

Several districts of the Chinese capital put up security checkpoints, closed schools and ordered people to be tested for the coronavirus on Monday after an unexpected spike of cases linked to the..




Reuters - Published





China steps up checks on meat, seafood after COVID-19 cases in market

Several Chinese provinces are stepping up inspections of fresh and frozen meat and seafood, including imported products, after a new outbreak of coronavirus infections linked to a Beijing food market.




Reuters - Published





Crowds gather for coronavirus tests in Beijing amid new outbreak

On a sweltering Beijing afternoon, police vehicles blocked roads near the Guangan Sports Center complex and security guards warned the public to stay clear as residents filed in for testing amid the..




Reuters - Published





Coronavirus resurgence forces Beijing to reinstate isolation measures

Several districts in Beijing reinstated security checkpoints, ordered residents be tested and closed schools on Monday in response to an unexpected resurgence of the coronavirus in the Chinese capital.




Reuters - Published




China says death sentence for Australian unrelated to bilateral relations

China's foreign ministry said on Monday the case of an Australian citizen sentenced to death last week on drug smuggling charges has nothing to do with Beijing's bilateral relations with Australia.




Reuters - Published





China reports 49 new COVID-19 cases for June 14; 36 in Beijing

Mainland China reported 49 new confirmed COVID-19 cases for June 14, down from 57 a day earlier, the national health authority said on Monday.




Reuters - Published





Beijing steps up coronavirus measures as dozens of cases emerge from a food market

After weeks with almost no new coronavirus infections, Beijing has recorded dozens of new cases in recent days, all linked to a major wholesale food market, raising concerns about a resurgence of the..




Reuters - Published





New wave of COVID-19 cases from Beijing market spreads to Liaoning

After weeks with almost no new coronavirus infections, Beijing has recorded dozens of new cases in recent days, all linked to a major wholesale food market, raising concerns about a resurgence of the..




Reuters - Published





Beijing logs record 36 COVID-19 cases, linked to market cluster

Beijing on Sunday reported a record 36 new cases of COVID-19 in China's capital, all linked to a major food wholesale market, raising concerns about the spike in a country that had sharply reduced its..




Reuters - Published





Beijing district in 'wartime emergency' after virus cluster at major food market

A Beijing district put itself on a "wartime" footing and the capital banned tourism and sports events on Saturday after a cluster of novel coronavirus infections centred around a major wholesale market..




Reuters - Published