Tsai Ing-wen
President of R.O.C (Taiwan)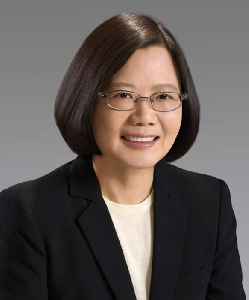 Tsai Ing-wen is a Taiwanese politician and academic serving as the seventh President of the Republic of China, since 2016. A member of the Democratic Progressive Party, Tsai is the first female president of Taiwan. She has served as Chair of the Democratic Progressive Party (DPP) since 2020, and previously from 2008 to 2012 and 2014 to 2018.


U.S. health chief offers Taiwan 'strong' support

U.S. Health Secretary Alex Azar offered President Donald Trump's strong support for democratic Taiwan on Monday, telling President Tsai Ing-wen that her government's response to the coronavirus..
Credit: Reuters Studio Duration: 01:45
Published
U.S. health chief visits Taiwan, defying China

The visit marks the highest-level U.S. government outreach to the territory claimed by China since 1979. This report produced by Zachary Goelman.
Credit: Reuters - Politics Duration: 01:26
Published
Top U.S. official's visit to Taiwan may anger China

U.S. Secretary of Health and Human Services Alex Azar will visit Taiwan in the coming days, his office said on Tuesday, marking the highest-level visit by a U.S. official in four decades -- a move..
Credit: Reuters - Politics Duration: 01:32
Published
You Might Like



Taiwan president visits bookshop to show solidarity with Hong Kongers

Taiwan President Tsai Ing-wen on Friday visited a bookshop that has become a symbol of resistance to perceived Chinese encroachments on Hong Kong's liberties, vowing to give help to the city's citizens..




Reuters - Published





Taiwan president pledges humanitarian relief for Hong Kongers

Taiwanese President Tsai Ing-wen on Wednesday pledged to draw up a plan to give humanitarian relief to people involved in pro-democracy protests in Taiwan's most concrete intervention since a renewal..




Reuters - Published





Taiwan considers revoking Hong Kong's special status on law fears

China's planned national security law may prompt Taiwan to revoke the special status it extends to Hong Kong, President Tsai Ing-wen said, a move that could anger Beijing and make it harder for Hong..




Reuters - Published





Taiwan promises 'necessary assistance' to Hong Kong's people

Taiwan will provide the people of Hong Kong with "necessary assistance", President Tsai Ing-wen said, after a resurgence in protests in the Chinese ruled territory against newly proposed national..




Reuters - Published





China says Pompeo's congratulations to Taiwan seriously damaged relations

China's foreign ministry said on Wednesday U.S. Secretary of State Mike Pompeo seriously damaged the peace and stability of the Taiwan Strait and China-U.S. relations by making a congratulatory..




Reuters - Published





Taiwan president rejects Beijing rule; China says 'reunification' inevitable

Taiwan cannot accept becoming part of China under its "one country, two systems" offer of autonomy , President Tsai Ing-wen said on Wednesday, strongly rejecting China's sovereignty claims and likely..




Reuters - Published




Taiwan president rejects Chinese rule, calls for talks to coexist

Taiwan cannot accept becoming part of China under its "one country, two systems" offer of autonomy, President Tsai Ing-wen said on Wednesday, in a strong rejection of China's sovereignty claim, but..




Reuters - Published





Taiwan president says wants talks with China, but not 'one country, two systems'

Taiwan wants dialogue with China but cannot accept its proposal for "one country, two systems", President Tsai Ing-wen said on Wednesday after being inagurated for her second and final term in office.




Reuters - Published





U.S. praises Taiwan's coronavirus response, hails 'shared vision'

U.S. Secretary of State Mike Pompeo on Tuesday congratulated Taiwan's President Tsai Ing-Wen on her recent re-election, praised its response to the coronavirus crisis and called Taiwan, claimed by..




Reuters - Published





After WHO setback, Taiwan president to press for global participation

Taiwan will strive to actively participate in global bodies despite its failure to attend this week's key World Health Organization (WHO) meeting, and will not accept being belittled by China,..




Reuters - Published





U.S. sails warship near Taiwan a week ahead of presidential inauguration

The U.S. navy said on Thursday it had sailed a guided-missile destroyer through the sensitive Taiwan Strait, a week before Taiwan President Tsai Ing-wen's inauguration for a second term in office amid..




Reuters - Published





Taiwan shows solidarity as bookseller who fled Hong Kong opens shop

Taiwan's ruling party on Saturday showed support for a Hong Kong bookseller who fled to the democratic island amid fears of Chinese persecution, with President Tsai Ing-wen offering congratulations as..




Reuters - Published





Taiwan airlines to get $1.6 billion help, more stimulus may be coming

Taiwan will help its hard-hit airline industry access T$50 billion ($1.6 billion) in financing, and does not rule out further economic stimulus to help during the coronavirus outbreak, President Tsai..




Reuters - Published





Taiwan president says don't hoard, economic fundamentals good

Taiwan's economic fundamentals remain good and people should not hoard as the government can ensure stable supplies during the ongoing coronavirus crisis, President Tsai Ing-wen said on Thursday.




Reuters - Published





U.S. to 'redouble' efforts to ensure Taiwan's global participation, official says

The United States will "redouble" its efforts to ensure Taiwan's participation on the global stage, a senior U.S. official told President Tsai Ing-wen on Thursday, amid Chinese efforts to prevent the..




Reuters - Published





Taiwan calls on China to share 'correct' virus information

Taiwan President Tsai Ing-wen called on China on Wednesday to share "correct" information about a new coronavirus and for the World Health Organisation (WHO) not to exclude Taiwan from collaboration on..




Reuters - Published





Taiwan president complains to Pope Francis about Chinese pressure

Taiwan President Tsai Ing-wen has written to Pope Francis to complain about Chinese pressure on the island Beijing claims as its own, saying China seeks to threaten its democracy and freedom.




Reuters - Published





U.S. warship transits Taiwan Strait less than week after election

A U.S. warship sailed through the Taiwan Strait on Thursday, the island's defence ministry said, less than a week after Taiwan President Tsai Ing-wen won re-election by a landslide on a platform of..




Reuters - Published





Taiwan president urges China to review policy after election win

Taiwan President Tsai Ing-wen urged China on Wednesday to review its policy towards the island, days after she won a landslide re-election victory, in a rebuke that could fuel further tensions with..




Reuters - Published





Separatists will 'stink for 10,000 years', China says after Taiwan vote

Separatists will "leave a stink for 10,000 years", the Chinese government's top diplomat said on Monday, in Beijing's most strongly worded reaction yet to Taiwan President Tsai Ing-wen's re-election on..




Reuters - Published





China could flex military muscles to pressure Taiwan post-election

His policies rejected by Taiwan voters in a landslide re-election for President Tsai Ing-wen, Chinese President Xi Jinping will most likely continue to tighten the screws on the island, with state..




Reuters - Published





Hong Kong protesters fete landslide election win for Taiwan's Tsai

Hong Kong's democracy protesters and politicians have hailed a sweeping election win by Taiwan's President Tsai Ing-wen as a fillip for their movement that puts further pressure on China.




Reuters - Published





China says will not change position on Taiwan after landslide election

China will not change its position that Taiwan belongs to it, Beijing said on Sunday, after President Tsai Ing-wen won re-election and said she would not submit to China's threats, as state media..




Reuters - Published




U.S. applauds Tsai's re-election as Taiwan president: Pompeo

U.S. Secretary of State Mike Pompeo congratulated Taiwanese President Tsai Ing-wen on her re-election on Saturday and lauded her for seeking stability with China "in the face of unrelenting pressure."




Reuters - Published





U.S. applauds Taiwan president re-election: Pompeo

Secretary of State Mike Pompeo on Saturday said the United States congratulated Taiwanese President Tsai Ing-wen on her re-election and lauded her for seeking stability with China "in the face of..




Reuters - Published





Taiwan president wins landslide victory in stark rebuke to China

Taiwanese re-elected President Tsai Ing-wen by a landslide on Saturday, a stern rebuke to China which has tried both military threats and economic inducements to get the island to accept its rule, and..




Reuters - Published




Taiwan president says will try to break deadlock with China

Taiwan President Tsai Ing-wen said on Saturday that her government will exert all its efforts to break the deadlock in relations with China and will maintain stability in the Taiwan Strait.




Reuters - Published





Taiwan president tells China they will not give in to threats

Taiwan President Tsai Ing-wen said on Saturday that she hopes China understands that democratic Taiwan will not concede to threats and intimidation and that the island will decide its own future.




Reuters - Published





Taiwan opposition candidate admits defeat in presidential election

Taiwan opposition candidate Han Kuo-yu conceded defeat on Saturday in the island's presidential election, offering his congratulations to President Tsai Ing-wen for winning re-election.




Reuters - Published





Taiwan President Tsai set to win re-election

Taiwan President Tsai Ing-wen is set to win re-election on Saturday, with figures from the election commission showing her leading her main opponent by more than two million votes with more than 86% of..




Reuters - Published





Taiwan president takes early lead in election closely watched by China

Taiwan President Tsai Ing-wen took an early lead on Saturday in vote counting for a presidential election that will be closely watched by Beijing, which claims the democratic island as its own, in the..




Reuters - Published




Show Hong Kong value of democracy, Taiwan president says before vote

Taiwan President Tsai Ing-wen urged young voters on Friday to turn out and show protest-wracked Hong Kong the meaning of democracy on the eve of elections held in the shadow of anti-government protests..




Reuters - Published





World is watching our democracy, Taiwan president says on election eve

The world is watching what choice Taiwan makes as the only Chinese-speaking democracy, President Tsai Ing-wen said on Friday, the eve of elections in which Tsai said a vote for her would be a vote for..




Reuters - Published





Profiles of Taiwan's presidential candidates

Taiwan votes in presidential and parliamentary elections on Saturday, with three candidates standing for the position of president, including current leader Tsai Ing-wen who is up for re-election at..




Reuters - Published




Taiwan leader rejects China's offer to unify under Hong Kong model

Taiwan President Tsai Ing-wen said on Wednesday the island would not accept a "one country, two systems" political formula Beijing has suggested could be used to unify the democratic island, saying..




Reuters - Published





Taiwan president channels HK protests in appeal for votes: 'Don't believe the Communists'

Citing a letter from a young Hong Konger appealing for people "not to believe the Communists", Taiwan President Tsai Ing-wen said on Sunday the island's democratic way of life was at risk from the..




Reuters - Published





Taiwan has 'urgent' need for infiltration law in face of China: president

Taiwan "urgently" needs to pass a planned anti-infiltration law to face threats from China to penetrate the island, President Tsai Ing-wen said on Friday, denouncing China's opposition to it as..




Reuters - Published





Taiwan president urges more talks on contested China 'infiltration' bill

Taiwan President Tsai Ing-wen urged parliament on Wednesday to have more discussion on a proposed anti-infiltration bill which the government says is needed to combat Chinese influence and has been..




Reuters - Published





China fears Taiwan's democracy the most, island's president says in election pitch

What Communist Party rulers in China fear the most is Taiwan's democracy, President Tsai Ing-wen said on Wednesday, describing Beijing as a threat seeking every day to undermine Taiwan and criticizing..




Reuters - Published





Taiwan president says not 'using' Hong Kong protests for election

Taiwan President Tsai Ing-wen said on Tuesday that she was not "using" the anti-government protests in Hong Kong for electoral purposes, following criticism from her main opponent in next month's..




Reuters - Published





Taiwan ruling party says China 'enemy of democracy' after meddling allegations

Taiwan President Tsai Ing-wen's ruling party denounced China as an "enemy of democracy" on Monday following fresh claims of Chinese interference in the island's politics ahead of presidential and..




Reuters - Published





China meddling allegations roil Taiwan election campaign

New allegations Beijing tried to infiltrate Taiwan's democracy roiled election campaigning on the island this weekend, with President Tsai Ing-wen's main opponent saying would drop out if he had taken..




Reuters - Published





China says Taiwan courting 'disaster' after pre-election comment on independence

The Chinese government warned self-ruled Taiwan on Thursday that it was courting "disaster", after the running mate for President Tsai Ing-wen in January elections said he was working toward the..




Reuters - Published




Taiwan president says China interfering in election 'every day'

China is interfering in Taiwan's elections "every day" as it seeks to damage the island's democracy, Taiwan President Tsai Ing-wen said on Tuesday, after China sailed an aircraft carrier group near the..




Reuters - Published





Taiwan president chooses running mate who Chinese paper wanted arrested

Taiwan President Tsai Ing-wen has named as her running mate for 2020 elections a former premier who angered Beijing so badly last year with his support for the island's formal independence that a major..




Reuters - Published





Taiwan vows to defend its sovereignty amid China pressure

President Tsai Ing-wen vowed on Thursday to defend Taiwan's sovereignty, saying her government would defend freedom and democracy as Beijing ramps up pressure on the self-ruled island it considers a..




Reuters - Published





Marshall Islands shows support for Taiwan after neighbors favor China

The Marshall Islands confirmed its diplomatic ties with Taiwan on Wednesday, a welcome show of support for President Tsai Ing-wen who has seen two other Pacific nations drop ties in favor of China in a..




Reuters - Published





Solomon Islands breaks ties with Taiwan after Chinese 'dollar diplomacy'

The Solomon Islands' government has cut official ties with Taiwan in a new blow to President Tsai Ing-wen, who is seeking re-election in January amid rising tension with China.




Reuters - Published