Yangon
Metropolitan City in Yangon Region, Myanmar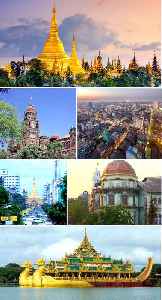 Yangon
, also known as
Rangoon
, is the capital of the Yangon Region and the largest city of Myanmar. Yangon served as the capital of Myanmar until 2006, when the military government relocated the administrative functions to the purpose-built city of Naypyidaw
[nèpjìdɔ̀]
in central Myanmar. With over 7 million people, Yangon is Myanmar's most populous city and its most important commercial centre.
You Might Like
Myanmar reports first coronavirus death as case numbers rise
Myanmar reported its first coronavirus death on Tuesday, a 69-year-old man who also had cancer and died in a hospital in the commercial capital of Yangon, a government spokeswoman said.
Reuters - Published
Rights group denounces Japan envoy for 'disturbing' comments on Myanmar Rohingya
Tokyo-based human rights activists on Wednesday decried recent remarks by Japan's ambassador to Yangon, who told local media he did not think the Myanmar military committed genocide on the Rohingya..
Reuters - Published
In Myanmar park, crowds gather to support Suu Kyi in Rohingya genocide hearings
Crowds have gathered for the past three evenings in a small park in downtown Myanmar's capital Yangon to hear accusations of genocide delivered thousands of miles away at the United Nation's top court..
Reuters - Published
Myanmar citizens deported from Singapore over alleged insurgent ties remanded in custody
Six Myanmar nationals deported from Singapore over alleged links to an ethnic minority insurgent group were remanded in custody in Yangon on Friday, a court spokesman said, as relatives of the accused..
Reuters - Published
Suu Kyi's bid to reform charter sparks rival protests in Myanmar
Hundreds of people demonstrated in Myanmar's largest city, Yangon, on Wednesday in support of proposed constitutional amendments that would reduce the power of the military.
Reuters - Published
Thousands protest amid outcry over Myanmar child-rape case
Thousands of protesters marched to a police office in the north of Myanmar's largest city, Yangon, on Saturday, demanding speedy and transparent justice in a child-rape case that has sparked national..
Reuters - Published
As Myanmar military takes critics to court, some want Suu Kyi to act
As Min Htin Ko Ko Gyi arrived at a Yangon court recently to face charges of defaming Myanmar's military in Facebook posts, the ailing filmmaker was greeted by a crowd of activists dressed in blue, the..
Reuters - Published