Hongkongers
Citizens of Hong Kong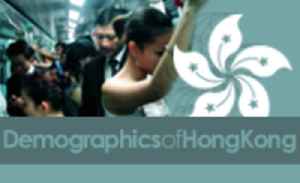 Hongkongers, also known as Hong Kongese, Hongkongese Hong Kong citizen and Hong Kong people, usually refer to the permanent residents of Hong Kong, in a broad sense. Very often, those terms are confined to describe Hong Kong permanent residents who are culturally associated with Hong Kong, especially through descent, birth or growth in Hong Kong or other types of deep affiliations with Hong Kong, regardless of ethnicity or nationality. In legal terms, they are usually regarded as persons who are Permanent Residents of Hong Kong and, depending on their nationality, are eligible for a Hong Kong SAR passport. In March 2014, the word "Hong Kongers" was officially included in the Oxford English Dictionary.


Lords peer struggles with mask while on train

Conservative former minister Lord Duncan of Springbank held his mask in frontof his face as he asked a minister a question, which is likely to raisequestions over whether this was in line with the..
Credit: PA - Press Association STUDIO Duration: 00:35
Published
UK unveils citizenship offer for Hongkongers

Some residents of Hong Kong will soon be able to apply for UK citizenship -- starting January of next year. Gloria Tso reports.
Credit: Reuters Studio Duration: 01:54
Published
Activist Wong launches bid for HK legislature

Prominent Hong Kong democracy activist Joshua Wong has applied to run for a seat in the Chinese-ruled city's legislature, raising the prospect of a battle with authorities after being barred from..
Credit: Reuters - Politics Duration: 01:50
Published
Australia considering safe haven offer for Hong Kongers

Australia is considering safe haven proposals for Hong Kong residents, Prime Minister Scott Morrison said on Thursday, after China imposed a new national security law on the financial hub. Libby Hogan..
Credit: Reuters Studio Duration: 02:25
Published
PMQs: Boris Johnson announces new route for Hong Kong citizens to enter the UK

Boris Johnson told MPs that he would introduce a new route for Hong Kongers with British National (Overseas) status to enter the UK following the introduction of Beijing's new security law.
Credit: PA - Press Association STUDIO Duration: 00:52
Published
China approves controversial Hong Kong security law

China has approved a controversial new security law for Hong Kong, which many Hongkongers claim will erode the territory's autonomy. Hong Kong's chief executive Carrie Lam refused to discuss the law..
Credit: PA - Press Association STUDIO Duration: 00:58
Published
You Might Like



We asked how many Hongkongers seek asylum in Australia. This is what we found

Exclusive: According to a decade of data obtained by SBS under the Freedom of Information Act, asylum and refugee claims from Hong Kong residents have spiked in the past financial year amid ongoing..




SBS - Published





How a little-known visa program could be the answer for Hongkongers hoping to move to Australia

About 4,000 global talent visas are understood to have been issued under the scheme designed to attract the best and brightest from across the world.




SBS - Published





China takes a swipe at Australia over plan to give Hong Kongers safe haven visas

The Chinese foreign ministry says Australia should avoid going further down the wrong path by offering Hong Kong nationals safe haven visas.




SBS - Published




Pro-democracy Hong Kongers in Australia welcome Scott Morrison's safe haven plans

Australia is "actively considering" offering safe haven to Hong Kong residents who are endangered by a new draconian national security law imposed on the city by China.




SBS - Published





Australia 'actively considering' offering safe haven to Hong Kongers as China cracks down on protesters

Prime Minister Scott Morrison is considering offering safe haven to people in Hong Kong endangered by new national security laws imposed by China.




SBS - Published





Horrified by China's new security laws, pro-democracy Hongkongers are looking to Australia

The controversial new national security law imposed on Hong Kong by China has expats living in Australia concerned.




SBS - Published




Pro-democracy Hongkongers in Australia are 'horrified' by the city's new security laws

The controversial new national security law imposed on Hong Kong by China has expats living in Australia concerned.




SBS - Published





Police pepper spray Hong Kongers defying ban to mark Tiananmen

Police pepper-sprayed some Hong Kong protesters on Thursday who defied a ban to stage candlelight rallies in memory of China's bloody 1989 Tiananmen Square democracy crackdown, accusing Beijing of..




Reuters - Published





Defying police ban, Hong Kongers hold Tiananmen candle memorial

Thousands defied a police ban to gather with candles in Hong Kong on Thursday to mark China's bloody Tiananmen Square democracy crackdown in 1989 and accuse Beijing of stifling freedoms too on their..




Reuters - Published





Hong Kongers to mark Tiananmen anniversary with 'candles everywhere', online vigil

People in Hong Kong planned to light candles across the city on Thursday to commemorate the bloody 1989 crackdown by Chinese troops in and around Tiananmen Square, circumventing a ban imposed on the..




Reuters - Published




Australia urged to follow UK and consider taking in Hong Kong residents

Australia is being urged to consider a UK request to help offer residency to Hong Kongers if China imposes a new national security law.




SBS - Published





Hong Kong's pro-democracy activists urge Australia to consider residency requests

Australia is being urged to consider a UK request to help offer residency to Hong Kongers if China imposes a new national security law.




SBS - Published





Taiwan president visits bookshop to show solidarity with Hong Kongers

Taiwan President Tsai Ing-wen on Friday visited a bookshop that has become a symbol of resistance to perceived Chinese encroachments on Hong Kong's liberties, vowing to give help to the city's citizens..




Reuters - Published





Taiwan pledges help for fleeing Hong Kongers, riles China

Taiwan promised on Thursday to settle Hong Kongers who flee the Chinese-ruled city for political reasons, offering help from employment to counselling, and prompting angry condemnation from Beijing as..




Reuters - Published





From settlement to counselling, Taiwan promises help for fleeing Hong Kongers

Taiwan on Thursday promised to settle Hong Kongers who flee the Chinese-ruled city due to political reasons, offering help from employment to counselling as China pushes new security legislation that..




Reuters - Published





Taiwan president pledges humanitarian relief for Hong Kongers

Taiwanese President Tsai Ing-wen on Wednesday pledged to draw up a plan to give humanitarian relief to people involved in pro-democracy protests in Taiwan's most concrete intervention since a renewal..




Reuters - Published





Taiwan considers revoking Hong Kong's special status on law fears

China's planned national security law may prompt Taiwan to revoke the special status it extends to Hong Kong, President Tsai Ing-wen said, a move that could anger Beijing and make it harder for Hong..




Reuters - Published





Hong Kongers fret over Beijing's planned new security laws

Newspaper vendor Man, 60, was speechless when she saw the headline that Beijing plans to impose national security laws on Hong Kong, and worried what the future holds for youth in the Chinese-ruled..




Reuters - Published





Hong Kongers turn out for indie club's last performance as coronavirus forces closure

Hundreds of Hong Kongers sporting face masks pulsated under strobe lights at a reknowned indie club for the last time on Thursday as cancellations by performers due to the coronavirus have forced the..




Reuters - Published





Residents of evacuated Hong Kong apartments test negative for coronavirus

Five Hong Kongers evacuated from a residential building where a man and woman confirmed with coronavirus live tested negative for the virus, health authorities said on Tuesday, easing concerns of a..




Reuters - Published





Exclusive: Hong Kongers support protester demands; minority wants independence from China - Reuters poll

Hong Kong's protest movement is supported by 59% of city residents polled in a survey conducted for Reuters by the Hong Kong Public Opinion Research Institute, with more than a third of respondents..




Reuters - Published





Taiwan president channels HK protests in appeal for votes: 'Don't believe the Communists'

Citing a letter from a young Hong Konger appealing for people "not to believe the Communists", Taiwan President Tsai Ing-wen said on Sunday the island's democratic way of life was at risk from the..




Reuters - Published





'We can celebrate later': Hong Kongers pen Christmas cards to protesters

Hong Kong residents have been gathering across the city on weekends and in lunch breaks to write Christmas cards to injured protesters and those in detention as anti-government demonstrations grind on..




Reuters - Published





Hong Kongers troubled by unrest look for new homes abroad

As protests in Hong Kong stretch from summer into autumn with little sign of resolution, a surge in migration applications suggests more locals are making plans to leave the special administrative..




Reuters - Published





As unrest deepens, Hong Kongers eye exits from Vancouver to Melbourne

As protests in Hong Kong stretch from summer into autumn with little sign of resolution, a surge in migration applications suggests more locals are making plans to leave the special administrative..




Reuters - Published





Call for Hong Kongers to be given permanent protection in Australia

The Greens are calling on the government to grant Hong Kongers in Australia permanent protection, just as Bob Hawke did for Chinese people after the Tiananmen Square massacre.




SBS - Published





Spooked by protests, Hong Kong citizens buy Malaysian homes

Hong Kong citizens have snapped up about 200 apartments in the past two months at a sprawling housing development in Malaysia, two estate agents said, a sign that some Hong Kongers are looking for..




Reuters - Published





Tens of thousands of Hong Kongers join anti-government rally

Tens of thousands of protesters poured into one of Hong Kong's busiest shopping districts on Sunday, braving a downpour to join an anti-government rally in the eleventh week of what have been often..




Reuters - Published




Hong Kongers rally against government under stormy skies

Thousands of school teachers joined an 11th weekend of anti-government protests in Hong Kong on Saturday, as shops pulled down their shutters and braced for another restive summer night.




Reuters - Published




Hong Kongers stage more anti-government protests, braving storms

Thousands of Hong Kongers including many teachers took part in more anti-government rallies on Saturday, braving thunderstorms to march past shops shuttered due to growing concern that police could..




Reuters - Published