Big Bird
Sesame Street character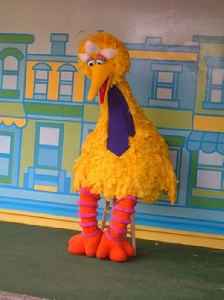 Big Bird is a character on the children's television show Sesame Street. Officially performed by Caroll Spinney from 1969 to 2018, he is an eight-foot two-inch (249 cm) tall bright yellow anthropomorphic canary. He can roller skate, ice skate, dance, swim, sing, write poetry, draw, and even ride a unicycle. Despite this wide array of talents, he is prone to frequent misunderstandings, on one occasion even singing the alphabet as one big long word, pondering what it could mean. He lives in a large nest behind the 123 Sesame Street brownstone and right next to Oscar the Grouch's trash can and he has a teddy bear named Radar. In Season 46, Big Bird's large nest is now sitting within a small, furnished maple tree, and is no longer hidden by used construction doors.


Apple Reveals Credit Card and TV Streaming Service
by Simon Baxendale - While Apple has partially led the way up till now in terms of modern technology, there has been one major market they haven't tapped into – video streaming. However,..
One News Page Staff - Published
Search this site and the web:
You Might Like