Microsoft
American technology company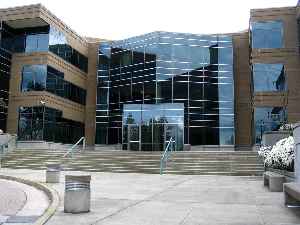 Microsoft Corporation is an American multinational technology company with headquarters in Redmond, Washington. It develops, manufactures, licenses, supports, and sells computer software, consumer electronics, personal computers, and related services. Its best known software products are the Microsoft Windows line of operating systems, the Microsoft Office suite, and the Internet Explorer and Edge web browsers. Its flagship hardware products are the Xbox video game consoles and the Microsoft Surface lineup of touchscreen personal computers. In 2016, it was the world's largest software maker by revenue. The word "Microsoft" is a portmanteau of "microcomputer" and "software". Microsoft is ranked No. 30 in the 2018 Fortune 500 rankings of the largest United States corporations by total revenue.


Microsoft CEO Nadella says saddened by India's citizenship law: BuzzFeed
Microsoft Corp's India-born Chief Executive Officer Satya Nadella said he was saddened by a new citizenship law based on religion that was recently implemented in his home country, BuzzFeed News..
Reuters - Published
Tech companies back independent watchdog to tackle online extremism
A global working group set up by Facebook, Twitter, YouTube, and Microsoft to remove extremist content will become an independent watchdog working "to respond quicker and work more collaboratively to..
Reuters - Published
Alphabet's public market cap tops $1 trillion
The public market capitalization of Google parent Alphabet topped the $1 trillion mark shortly before the close of trading on Thursday, making it the fourth S&P 500 component to top the lofty level...
Credit: Reuters Studio Duration: 01:57Published
Microsoft to erase its entire carbon footprint by 2050
Microsoft said on Thursday it aims to remove more carbon from the atmosphere than it emits by 2030 and that by 2050, it hopes to have taken out enough to account for all the direct emissions the..
Credit: Reuters Studio Duration: 01:43Published
North Korean hackers stole sensitive information from Microsoft users
Microsoft has filed a lawsuit against two anonymous North Korean hackers for stealing user information in a hacking operation called Thallium.
Credit: Reuters - 3D Animations (Next Me Duration: 01:06Published
Microsoft Seizes Copycat Domains North Korea-Linked Hackers
Unsealed court documents show that the domains include "hotrnall.com," "office356-us.org," and "mai1.info," among other copycat URLs. Microsoft says Thallium used one of the oldest tricks..
Credit: Wochit News Duration: 00:32Published
North Korean hackers stole sensitive information - Microsoft
Microsoft says it has seized control of 50 sites used by a hacking group based in North Korea to steal sensitive information. David Doyle reports.
Credit: Reuters Studio Duration: 01:25Published
Nasdaq hits 9,000 for the first time ever
The Nasdaq topped the 9,000-point mark for the first time ever on Thursday, boosted in the session by Amazon after the company said customers shopped at record levels this holiday season. Yahaira..
Credit: Reuters Studio Duration: 00:42Published
Microsoft Wants to Eliminate Load Times With the Xbox Series X
Xbox Director of Program Management, Jason Ronald, told GameSpot that they've tapped into faster MVME SSDs to help power their next console.
Credit: Cover Video STUDIO Duration: 01:03Published
Amazon blames Trump for loss of Pentagon contract
Amazon on Monday accused U.S. President Donald Trump of exerting "improper pressure" and bias that led the Department of Defense to award a lucrative $10 billion cloud contract to rival Microsoft...
Credit: Reuters Studio Duration: 01:10Published
Warren Buffett Told Bill Gates To Spend $370 Million On Melinda's Engagement Ring
According to Markets Insider, before Bill Gates got engaged to his wife in 1993, Warren Buffett tried to persuade him to shell out a cool $400 million on an engagement ring. Buffet talks about it in..
Credit: Wochit News Duration: 00:34Published
Search this site and the web:
You Might Like