Xinjiang
Autonomous region of China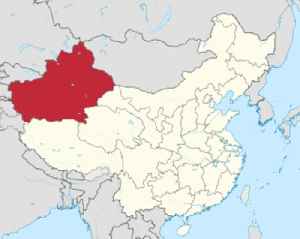 Xinjiang, officially Xinjiang Uygur Autonomous Region (XUAR), is an autonomous region of the People's Republic of China (PRC), located in the northwest of the country close to Central Asia. Being the largest province-level division of China and the 8th-largest country subdivision in the world, Xinjiang spans over 1.6 million km2, and has about 25 million inhabitants.


Watch: Protest in Canada against China's atrocities on Ughyur Muslims

Hundreds of people participated in an anti-China protest in Canada's Vancouver over atrocities against Uyghurs. The protestors marched from Vancouver Art Gallery to the Chinese consulate office in..
Credit: HT Digital Content Duration: 02:09
Published
'Something close' to genocide in China's Xinjiang: WH

Robert O'Brien, the U.S. national security adviser, on Friday during an online event said that China was perpetrating 'something close to' a genocide with its treatment of Muslims in its Xinjiang..
Credit: Reuters - Politics Duration: 01:49
Published
Vatican denies Pompeo audience with Pope

U.S. Secretary of State Mike Pompeo slammed what he called China's "repressive" regime on Wednesday, as Vatican officials accuse him of trying to drag the Catholic Church into the U.S. presidential..
Credit: Reuters - Politics Duration: 01:36
Published
Netflix urged to drop sci-fi series over Uighurs

Five Republican U.S. senators have urged Netflix to reconsider plans to adapt a Chinese science-fiction book trilogy into a TV series because they said the author has defended the Chinese government's..
Credit: Reuters - Politics Duration: 01:59
Published
Protest against China slave camps, 'genocide' of Uyghurs outside UN office

A protest was organised against China outside the United Nations office in Geneva, Switzerland. The 3-day long demonstration, consisting of a photo exhibition, was organised by a group called the World..
Credit: HT Digital Content Duration: 02:14
Published
Photo exhibition on Uyghur genocide held outside UN office in Geneva

A photo exhibition titled "Stop Uyghur Genocide! Stop Uyghur Forced Labour" was organised at Broken Chair in front of UN during the 45th Human Rights Council Session in Geneva. The World Uyghur..
Credit: ANI Duration: 02:42
Published
U.S. lawmakers quiz Disney CEO over 'Mulan'

A group of bipartisan U.S. lawmakers urged Walt Disney Bob Chapek to explain the company's connection with "security and propaganda" authorities of China's Xinjiang region during the production of..
Credit: Reuters Studio Duration: 01:24
Published
'Mulan' remake Is criticized for filming in China's Xinjiang province

Activists note that a number of significant human rights allegations are tied to the province.
Credit: Cover Video STUDIO Duration: 01:00
Published
Peacock Picks Up 'Fresh Prince of Bel-Air' Series Reboot, #BoycottMulan Movement Gains Momentum & More News | THR News

'The Fresh Prince of Bel-Air' series reboot, simply titled 'Bel-Air,' is headed to Peacock, Disney's 'Mulan' has come under fire for filming scenes in China's Xinjiang Province and Colin Kaepernick is..
Credit: The Hollywood Reporter Duration: 02:05
Published
Disney's 'Mulan' Under Fire For Filming in China's Xinjiang Province | THR News

Disney's big-budget remake of 'Mulan,' already the subject of a pro-democracy boycott, has come under additional fire for filming scenes in China's Xinjiang Province
Credit: The Hollywood Reporter Duration: 02:06
Published
Massive protest held in Dhaka against China's repression of Uighur Muslims

A massive protest was held outside Dhaka Press Club on Friday to condemn the Chinese brutality and suppression against Uighur Muslims in Xinjiang Autonomous region. Bangladesh Freedom Fighters..
Credit: ANI Duration: 01:43
Published
You Might Like



Uighurs in Australia fear retaliation from China for speaking out about 'ethnic genocide'

Representatives from the Uighur community in Australia have told a parliamentary committee about their fears of retaliation for speaking out about the "ethnic genocide" unfolding in northwest..




SBS - Published





China tells U.S. to stop interfering in its affairs, work to repair relations

China's top diplomat told his U.S. counterpart that Washington needed to respect Beijing's positions on key issues, halt its interference in issues such as Hong Kong, Taiwan and Xinjiang and work to..




Reuters - Published





Trump signs bill calling for sanctions over China treatment of Uighur Muslims

U.S. President Donald Trump signed legislation on Wednesday calling for sanctions against those responsible for repression of Uighur Muslims in China's Xinjiang province, the White House said in a..




Reuters - Published





U.S. senator calls for action on forced labor in China's Xinjiang

A senior U.S. senator on Tuesday accused U.S. firms of willfully ignoring "horrific" forced labor conditions in China's Xinjiang region and called on the Commerce Department to stop American companies..




Reuters - Published





U.N. rights boss expected in China, including restive Xinjiang region, this year: envoy

China expects U.N. High Commissioner for Human Rights Michelle Bachelet to visit the country this year, including its restive Xinjiang region, its Geneva ambassador said on Wednesday.




Reuters - Published





Three more Chinese regions lower emergency response level as virus threat recedes

The northwestern Chinese regions of Inner Mongolia and Xinjiang and the southwestern province of Sichuan have downgraded their emergency response level after assessing that health risks from the..




Reuters - Published





Uighur man issues desperate plea for wife and child after Chinese official 'lied' on Australian TV

Sadam Abdusalam is fighting to have his wife and three-year-old son, who is an Australian citizen, freed from house arrest in Xinjiang.




SBS - Published





U.S. Pompeo urges Kazakhstan to join it in pressing China over Uighur rights

U.S. Secretary of State Mike Pompeo urged Kazakhstan on Sunday to join Washington in pressing China over its treatment of Muslim minorities in the Xinjiang province, a sensitive matter for the Central..




Reuters - Published





China says confident of Central Asia support before Pompeo visit

Attempts to sow discord over Chinese policies in its Xinjiang region will fail, China's foreign ministry said on Tuesday, ahead of a visit by U.S. Secretary of State Mike Pompeo to neighboring central..




Reuters - Published





Indonesia Muslim groups deny China lobbying sways views on Uighurs

Indonesia's biggest Muslim groups have denied that lobbying by Beijing, including tours facilitated by China in Xinjiang, had influenced their stance on the treatment of the region's Muslim Uighur..




Reuters - Published





Chinese paramilitary conduct anti-terror drill in Xinjiang mountains: CCTV

Chinese paramilitary troops staged high altitude, anti-terror training in the Pamir mountains in the restive Xinjiang region in western China, according to a video broadcast by state television on..




Reuters - Published





China says people held in Xinjiang camps have 'graduated', condemns U.S. bill

People held in camps in China's Xinjiang region have now "graduated" and new trainees will have the freedom to come and go, the regional governor said on Monday.




Reuters - Published




U.S. bill on China's Xinjiang violates international law, regional official says

Recent U.S. legislation on Xinjiang is a severe violation of international law and gross interference in China's internal affairs, the governor of the far western region said on Monday, accusing the..




Reuters - Published





Governor of China's Xinjiang says U.S. bill violates international law

A recent U.S. measure on Xinjiang is a severe violation of international law and gross interference in China's internal affairs, the governor of the far western region said on Monday.




Reuters - Published





China says U.S bill on Xinjiang will affect bilateral cooperation

China's foreign ministry said on Wednesday the U.S. bill targeting camps for Muslim minorities in Xinjiang will affect bilateral cooperation in important areas.




Reuters - Published





Trump comments, Uighur bill hurt prospects of U.S.-China deal

U.S. President Donald Trump's comments that a trade agreement with China may have to wait until late 2020 and a House of Representatives bill targeting camps for Muslims in Xinjiang have cast doubt on..




Reuters - Published




U.S. says won't speculate on possible China retaliation to Xinjiang bill

The United States will not speculate on possible future actions by China in response to the U.S. House bill targeting camps for Muslims in western Xinjiang region, the U.S. Embassy in Beijing said on..




Reuters - Published





China says opposes U.S. House bill on Uighurs

China said on Wednesday it resolutely opposes the U.S. House of Representatives' bill requiring the Trump administration to toughen its response to what the bill called China's crackdown on ethnic..




Reuters - Published





China may ban all U.S. diplomatic passport-holders from Xinjiang: Global Times editor

China might ban all U.S. diplomatic passport-holders from entering the country's western Xinjiang autonomous region, Global Times Editor-in-Chief Hu Xijin said on Tuesday.




Reuters - Published





Pompeo says documents confirm China committing 'very significant' Xinjiang abuses

Recently leaked documents confirm China is committing "very significant" human rights abuses against Uighur Muslims and other minority groups in mass detention, U.S. Secretary of State Mike Pompeo said..




Reuters - Published





Germany: China must meet its human rights obligations

Germany's foreign minister on Tuesday said China must fulfill human rights obligations as United Nations experts and activists say at least 1 million Uighurs and members of other largely Muslim..




Reuters - Published





Uighurs in Australia hope proof of China's detention camps will free families

Members of Australia's Uighur communities say the secret cables revealing China's so-called job training centres in Xinjiang are actually mass detention camps mean the world should no longer look..




SBS - Published





More secrets of China's Xinjiang camps leaked to foreign media

Classified Chinese government documents made public by an international group of journalists describe the repressive inner workings of detention camps in Xinjiang, in a second rare leak in days of..




Reuters - Published





Government of China's Xinjiang says leak on Uighur camps 'fake news'

A report in the New York Times that included 400 pages of leaked internal documents on the internment of Uighur Muslims was "fabricated" and prompted by "hostile foreign forces", the government of..




Reuters - Published





What lies beyond China's crushing of the Uighurs

We now have proof that China's President is behind the giant prison that is Xinjiang - and that the picture does not end there.




The Age - Published





China attacks Western reporting on Xinjiang as 'pure fabrication'

China's ambassador to the United Kingdom on Monday dismissed reporting by Western media on the Chinese government's policies in Xinjiang as "pure fabrication" and "fake news".




Reuters - Published





'Deeply disturbing': Australia denounces documents detailing mass detention of Muslims

Australian politicians have expressed grave concerns over the details of a New York Times exposé on the Chinese crackdown on ethnic minorities in the Xinjiang region.




SBS - Published




Leaked Chinese government documents show details of Xinjiang clampdown: NYT

A trove of leaked Chinese government documents reveals details of its clampdown on Uighurs and other Muslims in the country's western Xinjiang region under President Xi Jinping, the New York Times..




Reuters - Published




EU's proposed ambassadorial visit to Xinjiang seen unlikely to happen

The European Union is discussing a visit for ambassadors to China's far western region of Xinjiang, where Beijing has been accused of oppressing ethnic Uighurs, but the trip is unlikely to happen..




Reuters - Published





China says World Bank report 'clarifies truth' on Xinjiang programmes

China responded on Tuesday to a decision by the World Bank to reduce funding for vocational training centers in the troubled western region of Xinjiang, by saying the bank's review of its projects had..




Reuters - Published





China defense minister discusses Hong Kong, Taiwan with U.S.: state media

Chinese Defense Minister Wei Fenghe discussed Hong Kong, Taiwan, the South China Sea and Xinjiang with U.S. Defense Secretary Mark Esper on Wednesday during a telephone call, state media said.




Reuters - Published





Pompeo says U.S. troubled by reports of China harassing families of Uighur Muslim activists

The United States remains deeply troubled by multiple reports that the Chinese government has "harassed, imprisoned, or arbitrarily detained" family members of Uighur Muslim activists and survivors of..




Reuters - Published





China warns U.S. criticism at U.N. over Xinjiang not 'helpful' for trade talks

China's U.N. Ambassador Zhang Jun warned on Tuesday that U.S. criticism at the world body of Beijing's policy in remote Xinjiang was not "helpful" for negotiations between the two countries on a trade..




Reuters - Published





Liberal MP and outspoken China critic vows Uighur 'loved ones' will not be forgotten

Liberal MP Andrew Hastie has commended the courage of Uighurs in Australia - with family and friends facing 'systematic persecution' in China's Xinjiang province.




SBS - Published





Pompeo says Orwell's '1984' coming to life in China's Xinjiang region

U.S. Secretary of State Mike Pompeo on Friday likened China's treatment of more than one million Uighur Muslims to George Orwell's "1984" novel, saying the Communist Party was detaining and abusing..




Reuters - Published





China condemns U.S. visa restrictions over treatment of Muslims

The Chinese Embassy in Washington on Tuesday denounced the U.S. imposition of visa restrictions on some Chinese officials over China's treatment of Muslim minorities in Xinjiang as interference in..




Reuters - Published





U.S. imposes visa restrictions on Chinese officials over Muslim treatment

The United States has imposed visa restrictions on Chinese government and Communist Party officials it believes responsible for the detention or abuse of Muslim minorities in Xinjiang province, the..




Reuters - Published





China foreign ministry says U.S. 'lies' on Xinjiang will 'crumble'

China's foreign ministry said on Wednesday that it strongly opposed U.S. "lies", after the United States led more than 30 countries in condemning what it called China's "horrific campaign of..




Reuters - Published





U.S. leads condemnation of China for 'horrific' repression of Muslims

The United States led more than 30 countries on Tuesday in condemning what it called China's "horrific campaign of repression" against Muslims in the western region of Xinjiang at an event on the..




Reuters - Published





Pompeo urges world to resist China's demands to repatriate ethnic Uighurs

U.S. Secretary of State Mike Pompeo on Sunday called on all countries to resist China's demands to repatriate ethnic Uighurs, saying Beijing's campaign in the western Chinese region of Xinjiang was an..




Reuters - Published





China says lodges stern representations to the U.S. on Xinjiang

China said on Tuesday it has lodged stern representations with the United States about comments made by Secretary of State Mike Pompeo on China's far western region of Xinjiang.




Reuters - Published





Hikvision, a surveillance powerhouse, walks U.S.-China tightrope

For China's Hikvision, the world's largest purveyor of video surveillance systems and a vendor to Xinjiang police agencies, a moment of reckoning may be at hand.




Reuters - Published





Turkey to send observation team to China's Xinjiang for Uighur Turks

Turkey will send an observation team to China's Xinjiang region, the Turkish foreign minister said on Tuesday after discussing the situation of Uighur Turks with his Chinese counterpart.




Reuters - Published





China says most people in Xinjiang camps have 'returned to society'

Most people sent to mass detention centers in China's Xinjiang region have "returned to society", a senior official from the region said on Tuesday, but he declined to give an estimate of for many have..




Reuters - Published





China says Xinjiang 'inseparable' despite attempts to distort history

The far northwestern region of Xinjiang is an "inseparable" part of China despite efforts by extremists to distort history and facts in a bid to split the country, the Chinese government said in a..




Reuters - Published





Saudi Arabia defends letter backing China's Xinjiang policy

Saudi Arabia on Thursday defended signing a letter along with 36 other countries in support of China's policies in its western region of Xinjiang, where the United Nations says at least 1 million..




Reuters - Published




Uighurs in Australia go public to pressure China to release family members

With the Department of Foreign Affairs and Trade confirming multiple requests to visit Xinjiang have been denied, twenty-nine-year-old Sadam is concerned he may never see his wife again – and never..




SBS - Published





Government needs to help detained Australians in Xinjiang

This week's Four Corners episode shines a spotlight on China's far-western province of Xinjiang.




The Age - Published





China says almost 40 states openly back its Xinjiang policy

Almost 40 states have written to the United Nations supporting China's policies in the western region of Xinjiang, a Chinese diplomat told the U.N. Human Rights Council on Friday.




Reuters - Published