Ukrainians
East Slavic ethnic group native to Ukraine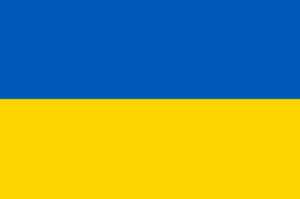 Ukrainians are an East Slavic ethnic group native to Ukraine, which is by total population the seventh-largest nation in Europe and the third-largest among the Slavic peoples after the Russians and Poles. The Constitution of Ukraine applies the term 'Ukrainians' to all its citizens. The people of Ukraine have historically been known as "Rusyns (Ruthenians)", "Little Russians", and "Cossacks", among others. The connection with the Zaporozhian Cossacks especially, is emphasized in the Ukrainian national anthem, "We are, brothers, of Cossack kin". According to most dictionary definitions, a descriptive name for the "inhabitants of Ukraine" is Ukrainian or Ukrainian people. The majority of Ukrainians are Eastern Orthodox Christians.


Ukraine says bodies of all 11 Ukrainians in Iran plane crash identified
The bodies of all 11 Ukrainians who died in last week's plane crash in Iran have been identified and will be transported back to Ukraine on Jan. 19, the interior ministry said in a statement to Reuters..
Reuters - Published
Don't cede too much for peace at Paris talks, Ukrainians tell president
Thousands of people gathered in the center of Kiev on Sunday to send a message to Ukraine's president, who meets his Russian counterpart on Monday, that Ukrainians will not accept a peace deal at the..
Reuters - Published
Bodies Of All 11 Ukrainians In Iran Plane Crash To Be Returned Home
Last week, Iran accidentally shot down a Ukrainian passenger plane, killing all on board. Now, Reuters reports the bodies of all 11 Ukrainians who died in the crash in Iran have been identified...
Credit: Wochit News Duration: 00:36Published
Evidence indicates Ukrainian jet shot down by Iran: Trudeau
Canadian Prime Minister Justin Trudeau told reporters on Thursday that "evidence" indicated that a Ukrainian jet that crashed the day before in Iran killing many Iranian-Canadians was "shot down by an..
Credit: Reuters Studio Duration: 01:15Published
Ukraine swaps prisoners with pro-Russian separatists
Ukraine and pro-Russian separatists carried out an all-for-all prisoner swap on Sunday, as hopes rise for a peaceful resolution to years of conflict. David Doyle reports.
Credit: Reuters Studio Duration: 00:56Published
Dems seek to bolster impeachment case at hearing
U.S. Democrats on Monday sought to strengthen the case for impeaching President Donald Trump, describing his pressuring of Ukraine to investigate a political rival as a "clear and present danger"..
Credit: Reuters - Politics Duration: 04:07Published
'No capitulation': Ukrainians rally before Russia summit
Thousands gather in Kyiv, urge Zelenskyy to defend country's interests in Putin meeting on war in eastern Ukraine.
Credit: Al Jazeera STUDIO Duration: 02:18Published
Oleg Sentsov: Freed filmmaker's thought for jailed Ukrainians as he picks up human rights prize
"While we are talking here in Strasbourg, in warmth and safety, our guys are still there, in Russia," said freed Ukrainian filmmaker Oleg Sentsov as he picked up the European Parliament's Sakharov..
Credit: euronews (in English) Duration: 02:12Published
Filmmaker Sentsov, 24 Ukrainian sailors in Russia-Ukraine prisoner swap: lawyer
Ukrainian filmmaker Oleg Sentsov, jailed in Russia, is among 35 Ukrainians who will be transferred from Moscow to Kiev as part of a prisoner exchanges on Saturday, his lawyer said.
Reuters - Published
Zelenskiy seeks broader mandate as Ukraine holds snap parliament election
Ukrainians voted in a snap parliamentary election on Sunday that is expected to strengthen President Volodymyr Zelenskiy's hold on power, handing the novice politician a broader mandate for driving..
Reuters - Published
Ukraine plans overhaul of citizenship process after Putin's passport offer
Ukraine's President Volodymyr Zelenskiy has ordered an overhaul of the process for granting Ukrainian citizenship, in response to a Russian decree expanding the number of Ukrainians who can apply for..
Reuters - Published
Search this site and the web:
You Might Like