Ukrainians
East Slavic ethnic group native to Ukraine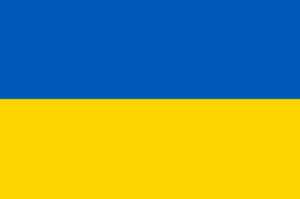 Ukrainians, historically also called Ruthenians, are an East Slavic ethnic group native to Ukraine, which is by total population the seventh-largest nation in Europe and the second-largest among the East Slavs after the Russians. The Constitution of Ukraine applies the term 'Ukrainians' to all its citizens. The people of Ukraine have historically been known as "Rusyns (Carpatho-Ruthenians)", "Little Russians", and "Cossacks", among others. The connection with the Zaporozhian Cossacks especially, is emphasized in the Ukrainian national anthem, "We are, brothers, of Cossack kin". According to most dictionary definitions, a descriptive name for the "inhabitants of Ukraine" is Ukrainian or Ukrainian people. The majority of Ukrainians are Eastern Orthodox Christians.


You Might Like
Apartment-bound Ukrainians check out portable homes
Business is thriving for a company manufacturing portable houses in Ukraine as people cooped up in tower blocks under lockdown yearn to live closer to nature.
Reuters - Published
Police levy fines, shut monastery as Ukraine begins Orthodox Easter under lockdown
Ukrainians geared up to celebrate Orthodox Easter this weekend under the wary eye of authorities who have tightened lockdown measures to fight the spread of the coronavirus and fined people for..
Reuters - Published
Thousands of Ukrainians wait at Polish border to get home
Thousands of Ukrainians queued in long lines on Friday at the last three border crossings with Poland that remain open to get to their homeland before Ukraine closes its borders due to the coronavirus..
Reuters - Published
All Ukrainians being evacuated from China in healthy condition: deputy health minister
All Ukrainians being evacuated from China's Hubei province this week are in a healthy condition, Dmytro Koval, the deputy health minister, told reporters on Wednesday.
Reuters - Published
Ukraine wants larger compensation for its citizens killed in plane shootdown in Iran
Ukraine's President Volodymyr Zelenskiy said on Sunday that Kiev was not satisfied with a size of compensation Iran had offered to families of Ukrainians killed in the downing of a plane near Tehran..
Reuters - Published
Ukraine in talks with Russia about release of detained Ukrainians
Ukraine started talks with Russia on a new swap of Ukrainians detained in Russia and in eastern Ukraine, which is under separatist control, Ukraine's presidential office said on Thursday.
Reuters - Published
Ukraine says bodies of all 11 Ukrainians in Iran plane crash identified
The bodies of all 11 Ukrainians who died in last week's plane crash in Iran have been identified and will be transported back to Ukraine on Jan. 19, the interior ministry said in a statement to Reuters..
Reuters - Published
Don't cede too much for peace at Paris talks, Ukrainians tell president
Thousands of people gathered in the center of Kiev on Sunday to send a message to Ukraine's president, who meets his Russian counterpart on Monday, that Ukrainians will not accept a peace deal at the..
Reuters - Published
Filmmaker Sentsov, 24 Ukrainian sailors in Russia-Ukraine prisoner swap: lawyer
Ukrainian filmmaker Oleg Sentsov, jailed in Russia, is among 35 Ukrainians who will be transferred from Moscow to Kiev as part of a prisoner exchanges on Saturday, his lawyer said.
Reuters - Published
Zelenskiy seeks broader mandate as Ukraine holds snap parliament election
Ukrainians voted in a snap parliamentary election on Sunday that is expected to strengthen President Volodymyr Zelenskiy's hold on power, handing the novice politician a broader mandate for driving..
Reuters - Published
Ukraine plans overhaul of citizenship process after Putin's passport offer
Ukraine's President Volodymyr Zelenskiy has ordered an overhaul of the process for granting Ukrainian citizenship, in response to a Russian decree expanding the number of Ukrainians who can apply for..
Reuters - Published