Northern Territory
Federal territory of Australia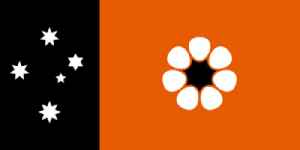 The Northern Territory is an Australian territory in the central and central northern regions of Australia. It shares borders with Western Australia to the west, South Australia to the south, and Queensland to the east. To the north, the territory looks out to the Timor Sea, the Arafura Sea and the Gulf of Carpentaria, including Western New Guinea and other islands of the Indonesian archaepeligo. The NT covers 1,349,129 square kilometres (520,902 sq mi), making it the third-largest Australian federal division, and the 11th-largest country subdivision in the world. It is sparsely populated, with a population of only 244,761, fewer than half as many people as Tasmania.


It's a 'Pub Day' like no other in Australia's outback

The chief minister of Australia's outback Northern Territory was one of the first people in the country to pour a beer in public for weeks as the region's pubs reopened their doors on Friday after an..
Credit: Reuters Studio Duration: 01:31
Published
You Might Like



Northern Territory carers accused of abusing 12 Indigenous children over 16 years

Twelve Aboriginal children in care were subjected to sexual and physical abuse by two carers who still have children in their care, an investigation has found.




SBS - Published





Yuendumu community anxious as case against police officer accused of murdering Kumanjayi Walker drags out

NT police officer Zachary Rolfe, who is charged with the murder of Aboriginal teenager Kumanjayi Walker, has appeared in an Alice Springs court via video link.




SBS - Published




The Northern Territory will open its borders to interstate travellers on 17 July

Thursday marked 28 days since the last of the 30 people to have COVID-19 in the Territory recovered - or the equivalent of two 14-day incubation periods




SBS - Published




South Australia is opening its borders to Tasmania, WA and the NT

South Australia will move early to lift COVID-19 border restrictions with WA, the NT and Tasmania from midnight.




SBS - Published





NT police officer sacked for selling shirts about death of Kumanjayi Walker

A police officer has been dismissed from the Northern Territory Police Force for making clothing referring to the shooting of an indigenous teen.




SBS - Published





NT youths set to get compo over tear gas

Four former detainees from the Don Dale Youth Detention Centre in Darwin are entitled to damages after they were tear gassed, the High Court has ruled.




SBS - Published





Australian media companies lose Dylan Voller Facebook defamation appeal

Ex-NT youth detainee Dylan Voller sued several Australian newspapers over comments made about him on Facebook posts.




SBS - Published





German migrant wins Uluru Camel Cup in Australia's Northern Territory

German migrant Lara Billar has won the Uluru Camel Cup with her camel, Tex.




SBS - Published





Australian athletes are learning about Indigenous cultures during Reconciliation Week

A group of Australian athletes are learning about history and culture from a remote Indigenous community in the Northern Territory.




SBS - Published





Two injured, fires in NT prison riot

A riot at the Darwin prison involving 21 inmates in which they armed themselves, left their cells and set fires ended peacefully but is being investigated.




SBS - Published





NT residents begin path back to normality on first day of eased coronavirus restrictions

People in the Northern Territory celebrated the easing of coronavirus restrictions on Friday, but authorities have warned residents not to 'do a Bondi'.




SBS - Published





Pubs sessions, date nights to return as Australia's outback territory ends virus restrictions

Australia's remote Northern Territory will lift all social distancing restrictions by June as it has recorded no cases of coronavirus for three weeks -- the first state or territory in Australia to..




Reuters - Published





NT will be first in Australia to lift major coronavirus restrictions and here's what will be open

The Northern Territory's roadmap to fully lifting coronavirus restrictions is the first announced so far by any state and territory government in Australia.




SBS - Published





Watch: NT COVID-19 update

The Northern Territory Chief Minister Michael Gunner is speaking live shortly with a coronavirus update shortly.




SBS - Published




NT renters 'bullied' out of homes as pressure mounts on Territory government to act on coronavirus tenancy laws

Tenants living in Australia's Top End say the Northern Territory government has been too slow to act on proposed measures to protect renters hit financially by the coronavirus pandemic.




SBS - Published





New coronavirus cases at record lows in most Australian states and territories

Queensland, South Australia, the NT and the ACT have recorded zero new cases of coronavirus in the past 24 hours.




SBS - Published





Kumanjayi Walker's family feel weight of coronavirus restrictions

The case against a Northern Territory police officer charged with murder over the November shooting of Kumanjayi Walker has been adjourned for 10 weeks, due in part to the impact COVID-19 has had on..




SBS - Published





Kumanjayi Walker shooting case adjourned over delays prompted by coronavirus

A Northern Territory court has adjourned a hearing on the murder case against Constable Zachary Rolfe, who was charged over the shooting of Warlpiri man Kumanjayi Walker in the central desert town of..




SBS - Published





Four new coronavirus cases in NT

The four new cases relate to travellers from overseas or interstate.




SBS - Published





Aboriginal land council calls for food security in remote communities amid coronavirus crisis

Indigenous residents of remote NT communities will defy stay home orders unless governments ensure food supply, a leading Aboriginal land council warns.




SBS - Published





NT land council warns on food security

The Aboriginal residents of remote NT communities will defy stay home orders unless governments ensure food supply, the Central Land Council warns.




SBS - Published





Northern Territory to force interstate visitors to foot the bill for forced quarantine in hotels

The Northern Territory government is to impose stricter border controls later this week, forcing all arrivals into supervised quarantine.




SBS - Published





Northern Territory to step up coronavirus measures, visitors to foot quarantine bill

The Northern Territory government is to impose stricter border controls later this week, forcing all arrivals into supervised quarantine.




SBS - Published





Warnings about COVID-19 are being translated into Aboriginal languages to reach all Australians

Language barriers in parts of the Northern Territory are being broken down so all Australians can access important messaging about the coronavirus pandemic.




SBS - Published





'Do whatever it takes': NT Chief Minister Michael Gunner says closing border is still an option

NT Chief Minister Michael Gunner says he will "do whatever it takes" to protect Territorians from the coronavirus.




SBS - Published





SBS News: Live stream

The Northern Territory health officials are speaking with an update on the COVID-19 outbreak.




SBS - Published





Watch: Northern Territory COVID-19 health update

The Northern Territory health officials are speaking with an update on the COVID-19 outbreak.




SBS - Published





Tiwi Islands grand final to go ahead but coronavirus restrictions limit fans

Sunday's Tiwi Islands grand final in the NT is set to be a local affair.




SBS - Published





NT opens 'pandemic clinic' as Australia prepares for more coronavirus cases

Clinics are being set up across Australia to deal with the potential spike in coronavirus cases.




SBS - Published




Cruise ship evacuees exit quarantine in NT

The Australians who were evacuated from the cruise ship Diamond Princess have flown home after spending 14 days in isolation at a camp near Darwin.




SBS - Published





Number of Australian coronavirus cases rises to 46 with first diagnosis in NT

New coronavirus cases have been recorded across Australia, boosting the overall number of diagnoses past 40.




SBS - Published





Darwin by-election proving litmus test for Gunner government, NT opposition

A by-election in Darwin could have major consequences for Labor Chief Minister Michael Gunner and the Country Liberal's opposition status.




SBS - Published





High tides expected as Cyclone Esther approaches NT-Queensland coast

Tropical cyclone Esther is heading towards the Northern Territory-Queensland border, bringing rain, gales and abnormally high tides to the region.




SBS - Published





These are some of the faces of evacuees from Wuhan, forced to live in quarantine in Australia's Top End

Australian families recount how their vacations to China turned into a two-week quarantine in the Northern Territory.




SBS - Published





Inside the Northern Territory facilities where coronavirus evacuees will be quarantined

A residential complex for mining workers - once described as a "stylish, innovative, and sustainable" accommodation village - will be the temporary home for the latest Australians evacuated out of..




SBS - Published




Wuhan evacuees on second Australian flight to be quarantined in NT mining camp

Evacuees on a second Australian flight out of Wuhan will be quarantined at a Darwin mining camp.




SBS - Published





New study looks to tackle food insecurity in regional Australia

A handful of remote Queensland and Northern Territory communities are partnering with a university to identify solutions to food insecurity.




SBS - Published





Food study tackles remote malnourishment

A handful of remote Queensland and Northern Territory communities are partnering with a university to identify solutions to food insecurity.




SBS - Published





Three dead in horror Christmas Day crash in Northern Territory

Police say the crash happened after one of the vehicles tried to evade officers who were alerted the car was unregistered.




SBS - Published





Murder trial 'part of our healing': Kumanjayi Walker's family to learn court location

The grieving family and friends of an Aboriginal man who died after being shot by a Northern Territory police officer have pleaded to keep court proceedings in Alice Springs, rather than 1,400km away..




SBS - Published





Wanted man tries to flee Darwin on yacht

A man wanted on charges in both NSW and the Northern Territory has been caught by authorities allegedly trying to flee the country on a yacht.




SBS - Published





NT police officer says he was stabbed before fatally shooting Kumanjayi Walker

A Northern Territory police officer charged with the murder of a 19-year-old Indigenous man has faced court for the first time in Alice Springs.




SBS - Published





Community hopeful courts will keep future Kumanjayi Walker proceedings in Alice Springs

A Northern Territory policeman charged with the murder of a 19-year-old indigenous man has faced court for the first time in Alice Springs.




SBS - Published





Aboriginal community opposes moving murder trial of NT police officer

The Alice Springs Magistrates Court will on Thursday consider an application from defence lawyers to move the trial from Alice Springs to Darwin.




The Age - Published





NT searchers find body of woman

Claire Hockridge went missing south of Alice Springs about two weeks ago. Her two travelling companions were found alive in the past few days.




The Age - Published





Second member of trio missing for two weeks in NT outback found alive

A second member of a trio who went missing on a drive through the remote Northern Territory outback has been found alive.




SBS - Published





Second member of NT trio found alive

A second member of a trio who went missing on a drive through the remote Northern Territory outback has been found alive.




SBS - Published





Second person found alive in NT outback

A second member of a trio who went missing two weeks ago during a drive in the Northern Territory has been found alive.




The Age - Published





Five killed in car crash in NT's Kakadu National Park

Five people have been killed in a road crash on the Arnhem Highway, west of Jabiru, in the Northern Territory.




SBS - Published





In the renewable energy race, Australia's states and territories are vastly different competitors

The Climate Council has found South Australia ranks number one in the push towards renewable energy, while the Northern Territory ranks last or near the bottom on most key metrics.




SBS - Published