Cyclone
Large scale air mass that rotates around a strong center of low pressure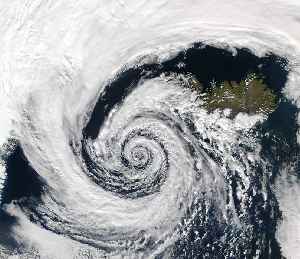 In meteorology, a cyclone is a large scale air mass that rotates around a strong center of low atmospheric pressure. Cyclones are characterized by inward spiraling winds that rotate about a zone of low pressure. The largest low-pressure systems are polar vortices and extratropical cyclones of the largest scale. Warm-core cyclones such as tropical cyclones and subtropical cyclones also lie within the synoptic scale. Mesocyclones, tornadoes, and dust devils lie within smaller mesoscale. Upper level cyclones can exist without the presence of a surface low, and can pinch off from the base of the tropical upper tropospheric trough during the summer months in the Northern Hemisphere. Cyclones have also been seen on extraterrestrial planets, such as Mars, Jupiter, and Neptune. Cyclogenesis is the process of cyclone formation and intensification. Extratropical cyclones begin as waves in large regions of enhanced mid-latitude temperature contrasts called baroclinic zones. These zones contract and form weather fronts as the cyclonic circulation closes and intensifies. Later in their life cycle, extratropical cyclones occlude as cold air masses undercut the warmer air and become cold core systems. A cyclone's track is guided over the course of its 2 to 6 day life cycle by the steering flow of the subtropical jet stream.


Cyclone warning issued for far north Qld
Residents in far north Queensland have been warned to prepare for heavy rain and gale force winds as the Bureau of Meteorology issues a cyclone warning.
SBS - Published
Cyclone hits Bangladesh after battering India, mass evacuations save lives
The strongest cyclone to hit India in five years killed at least 12 people in eastern Odisha state, before swinging north-eastwards into Bangladesh on Saturday where four more people died although more..
Reuters - Published
Cyclone recovery key issue in Mozambique election
Six months after devastating cyclones left more than 1,300 people dead in Mozambique, it's citizens try to put tragedy aside long enough to vote in general election.
Credit: Al Jazeera STUDIO Duration: 02:49Published
Cyclone slams into Indian temple town, Bangladesh braces with evacuation order
A cyclone barreled into eastern India on Friday, damaging houses in the tourist town of Puri and wounding 160 people after a million people were moved into storm shelters.
Reuters - Published
Cyclone slams Indian temple town after a million people flee east coast homes
A cyclone barreled into eastern India on Friday, bringing down trees and power lines and "extensively" damaging the tourist town of Puri, but there were no early reports of casualties with a million..
Reuters - Published
Cyclone kills one, leaves trail of destruction in Mozambique
Cyclone Kenneth killed at least one person and left a trail of destruction in northern Mozambique, destroying houses, ripping up trees and knocking out power, authorities said on Friday.
Reuters - Published
Cyclone hit millions across Africa in record disaster: U.N.
Cyclone winds and floods that swept across southeastern Africa affected more than 2.6 million people and could rank as one of the worst weather-related disaster recorded in the southern hemisphere,..
Reuters - Published
You Might Like