Sydney
Most populous city in Australia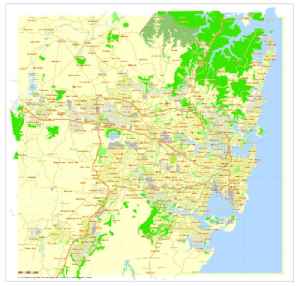 Sydney is the state capital of New South Wales and the most populous city in Australia and Oceania. Located on Australia's east coast, the metropolis surrounds Port Jackson and extends about 70 km (43.5 mi) on its periphery towards the Blue Mountains to the west, Hawkesbury to the north, the Royal National Park to the south and Macarthur to the south-west. Sydney is made up of 658 suburbs, 40 local government areas and 15 contiguous regions. Residents of the city are known as "Sydneysiders". As of June 2019, Sydney's estimated metropolitan population was 5,312,163, meaning the city is home to approximately 65% of the state's population.


Drone films swimmer passing over shark

People swimming at Sydney's world-famous Bondi Beach had a close shave with several sharks on Friday (October 23).
Credit: Reuters Studio Duration: 00:45
Published
First 'no-quarantine' flights land in Australia

Hundreds of New Zealand plane passengers started arriving in Sydney on Friday as part of a new trans-Tasman travel bubble amid a rapidly falling growth rate in cases at the epicenter of Australia's..
Credit: Reuters Studio Duration: 01:17
Published
Feisty Tasmanian devils roaming mainland Australia again

Tasmanian devils – the carnivorous marsupials whose frenzied eating habits wonthe animals cartoon fame – have returned to mainland Australia for the firsttime in 3,000 years. "Seeing those devils..
Credit: PA - Press Association STUDIO Duration: 01:22
Published
Australia evacuates journalists from China

Two Australian foreign correspondents were rushed out of China for their safety with the help of Australian consular officials after being questioned by China's Ministry of State Security, their..
Credit: Reuters - Politics Duration: 02:16
Published
Australian journalists flee China

The last two journalists working for Australian media in China have left thecountry after police demanded interviews with them, the AustralianBroadcasting Corporation (ABC) has reported. ABC's Bill..
Credit: PA - Press Association STUDIO Duration: 01:10
Published
You Might Like



Eighteen Australian women subjected to invasive searches on Qatar flight from Doha to Sydney

Foreign Minister Marise Payne is awaiting a report into invasive searches conducted on Australian women before contacting her counterpart in Qatar.




SBS - Published





Dozens of Sydney suburbs warned about coronavirus risk as Tasmania reveals plan to reopen border with NSW

Gladys Berejiklian says she wants to open the Victorian border 'as soon as we can', with NSW recording two new local coronavirus cases today.




SBS - Published





South-west Sydney wants to open its libraries after dark to help gambling addicts

The Fairfield local government area is hoping to introduce the Libraries After Dark program, first trialled in Victoria, to its communities.




SBS - Published





The 'grossly disturbing' practice of strip-searching women at airports is far from an isolated incident, experts say

Australians were shocked to hear more than a dozen women had been internally examined at a Qatar airport before flying to Sydney earlier this month. But experts say this practice is disturbingly common..




SBS - Published





Man accused of destroying antique chandeliers and causing $100,000 of damage at a Sydney mosque

A 20-year-old man has been arrested after allegedly causing $100,000 worth of damage at a mosque in western Sydney. Antique chandeliers, a plasma television, and 13 large windows were vandalised at the..




SBS - Published





Man, 39, charged with murder following alleged domestic violence attack in Sydney's south

Police will allege the 39-year-old man was in a two year "on-and-off-again relationship" with the victim.




SBS - Published





AFP investigation of controversial Sydney airport deal probing 'fraud' and 'corruption' concerns

The investigation centres around the purchase of the Leppington Triangle land near Western Sydney Airport for the allegedly inflated value of $30 million.




SBS - Published





NSW records one new local coronavirus case as Sydney's Oran Park cluster grows to 19

A coronavirus cluster in southwest Sydney has grown to 19, with NSW recording one new locally-acquired case and another four in hotel quarantine.




SBS - Published




Seventeen travellers from New Zealand leave Melbourne Airport in a breach of the trans-Tasman bubble

The passengers landed in Sydney as part of the trans-Tasman bubble and then allegedly caught a connecting flight to Melbourne.




SBS - Published




NSW reports five new local coronavirus cases as testing ramps up in southwest Sydney

It comes restrictions in NSW for outdoor venues are eased, with up to 500 people allowed to attend open-air concerts so long as they stay seated and four metres apart.




SBS - Published




Coronavirus testing ramping up in southwest Sydney as NSW eases restrictions for outdoor venues

It comes as the NSW government conditionally approves more than 350 workers from Fiji to help fill a labour shortage in the state's abattoirs.




SBS - Published




Emotional scenes as first 'no-quarantine' flights arrive into Sydney under new trans-Tasman travel bubble

The arrangements are not yet reciprocal, with New Zealand requiring arrivals from Australia to quarantine for two weeks.




SBS - Published




NSW records six new community coronavirus cases as authorities issue new health alerts

As numerous health alerts are issued, NSW Premier Gladys Berejiklian is warning the state is at a critical point with more COVID-19 outbreaks in Sydney's west.




SBS - Published




New coronavirus alerts issued for Sydney's west as NSW holds off on easing more restrictions

As numerous health alerts are issued NSW Premier Gladys Berejiklian is warning the state is at a critical point with more COVID-19 outbreaks in Sydney's west.




SBS - Published





NSW won't ease more virus restrictions

As numerous health alerts are issued NSW Premier Gladys Berejiklian is warning the state is at a critical point with more COVID-19 outbreaks in Sydney's west.




SBS - Published





NSW halts easing of restrictions after recording 11 new locally-acquired cases

COVID-19 clusters in southwest Sydney continue to grow, with authorities issuing alerts for Woolworths, Aldi, Bunnings and McDonalds outlets in the area.




SBS - Published





Doctors, disability worker among new NSW coronavirus cases as outdoor dining, music restrictions eased

COVID-19 clusters in southwest Sydney have continued to grow, while the NSW government has eased restrictions on outdoor dining and music performances.




SBS - Published





Doctors, disability worker among new NSW COVID-19 cases

The COVID-19 clusters in southwest Sydney continue to grow with five of seven new locally acquired infections coming from the same household.




SBS - Published





Seven new local COVID-19 cases in NSW

The COVID-19 clusters in southwest Sydney continue to grow with five-of-seven new locally acquired infections coming from the same household in the hot-spot.




SBS - Published





Watch: NSW COVID-19 update

NSW Health has issued an alert after two doctors from a southwestern Sydney medical centre were diagnosed with COVID-19. NSW Premier Gladys Berejiklian and state health officials are live shortly with..




SBS - Published





Two Sydney doctors test positive for coronavirus, after state records one locally-acquired case

NSW Health has issued an alert after two doctors from a southwestern Sydney medical centre were diagnosed with COVID-19.




SBS - Published





Sydney nurse tests positive to COVID-19 as NSW records three new cases

NSW has recorded just two new locally acquired cases of coronavirus as its war of words with the Queensland government continues.




SBS - Published





NSW expecting more local coronavirus cases as NT reopens border to Sydneysiders

NSW authorities are closely watching for more community coronavirus spread, as the Northern Territory's decision to lift its hotspot declaration for Sydney comes into effect.




SBS - Published





NSW's streak of no community coronavirus transmission is now over

Authorities say the three cases - two from southwestern Sydney and one from western Sydney - are not related to each other.




SBS - Published





'Uncertainty scares me most': Sydney teacher forced to move out of her home due to JobSeeker cuts

Sahra is one of millions of Australians struggling to survive on the reduced JobSeeker payment. She's anxious about what will happen next.




SBS - Published





Warnings to stay away from Sydney beaches as warm weather draws crowds

Public holiday crowds have spurred overcrowding fears as they flocked to Sydney beaches just as NSW marked 10 days with no locally transmitted COVID-19 cases.




SBS - Published




Australia has a widespread coronavirus travel ban. Why is Cardinal George Pell able to leave the country?

Cardinal George Pell has departed Sydney for Rome, despite a ban preventing Australian citizens travelling overseas.




SBS - Published




Cardinal George Pell to leave Australia for Rome six months after acquittal

Cardinal George Pell is due to depart Sydney for Rome on Tuesday, six months after he was acquitted of sexual abuse by Australia's High Court.




SBS - Published





NSW hopes raw sewage testing will strengthen fight against COVID-19

A research program to find traces of COVID-19 in Sydney sewage could prove a useful tool in the fight against the pandemic, NSW's chief health officer says.




SBS - Published





Sewage tests a tool in NSW pandemic fight

A research program to find traces of COVID-19 in Sydney sewage could prove a useful tool in the fight against the pandemic, NSW's chief health officers says.




SBS - Published





NSW records its first coronavirus death in weeks as health warnings are issued after a taxi driver tested positive

NSW has recorded its first coronavirus death in five weeks, while a Sydney taxi driver has tested positive for coronavirus, prompting health warnings for potential contacts to monitor for symptoms in a..




SBS - Published





'Buffets and pandemics don't mix': Sydney restaurant fined for coronavirus breaches

A Korean BBQ restaurant has been fined for having a self-serve buffet despite COVID-19 rules, with SafeWork NSW saying the breaches defy logic.




SBS - Published





Huge tracing operation underway after Sydney taxi driver tests positive for coronavirus

A Sydney taxi driver has tested positive for coronavirus, prompting health warnings for potential contacts to monitor for symptoms in a number of locations.




SBS - Published





Sydney cab driver tests positive for virus

A Sydney taxi driver has tested positive for coronavirus, prompting health warnings for potential contacts to monitor for symptoms in a number of locations.




SBS - Published





Higher education staff are furious New York University's Sydney campus is receiving JobKeeper

Public university staff are baffled the New York University's Sydney campus is receiving JobKeeper wage subsidies when they have been excluded from the scheme.




SBS - Published





American uni receiving JobKeeper payments

Public university staff are baffled the New York University's Sydney campus is receiving JobKeeper wage subsidies when they have been excluded from the scheme.




SBS - Published





Relief as resident of Sydney's Newmarch House cleared after false-positive COVID-19 result

A COVID-19 scare at Sydney's Newmarch House aged care home is over after the resident was cleared following a false-positive test result.




SBS - Published





Alert for Sydney KFC outlet, as NSW records nine new coronavirus infections

NSW has recorded nine new COVID-19 cases including two linked to the Eastern Suburbs Legion Club and two connected to St Paul's Catholic College Greystanes.




SBS - Published





Northern Territory to reopen borders to Sydneysiders next month

Northern Territory officials say "superb" contact tracing and a drop in COVID-19 cases has allowed them to plan a re-opening of the border to those from Sydney from 9 October.




SBS - Published





NSW hospital cluster grows as state records 10 new cases

The outbreak at two Sydney hospitals has forced 100 workers into isolation.




SBS - Published





Dying father in Queensland granted wish to have Sydney family visit amid debate on border policy

Queensland's tough border policy has made it difficult for family members outside Queensland to visit dying relatives in the state.




SBS - Published





Former Chinese detainee says Cheng Lei is in one of the worst forms of detention

Sydney academic Chongyi Fung, who himself was detained by Chinese authorities in a Guangzhou hotel for a week in 2017, says the Cheng Lei's 'residential surveillance' detention is reserved for..




SBS - Published





Academic once detained in China reveals the harsh conditions Cheng Lei could be facing

The type of detention Australian journalist Cheng Lei is being subjected to is among the harshest in the world, Sydney academic Chongyi Feng says.




SBS - Published





NSW leaders fire up over Queensland's 'loopy' border closure, as state records nine new coronavirus cases

Nine new COVID-19 cases have been recorded in NSW and 12 people associated with Sydney's Concord and Liverpool hospitals have now tested positive.




SBS - Published





Nine new coronavirus cases recorded in NSW as Sydney hospital cluster grows

Nine new COVID-19 cases have been recorded in NSW and 12 people associated with Sydney's Concord and Liverpool hospitals have now tested positive.




SBS - Published