Kashmiris
Ethnic group native to the Kashmir Valley, in the Indian state of Jammu and Kashmir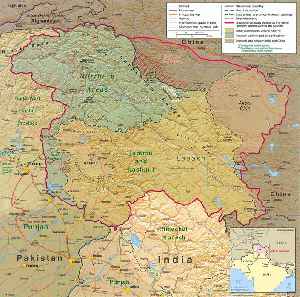 The Kashmiris are an ethnic group native to the Kashmir Valley, in the Indian state of Jammu and Kashmir, who speak Kashmiri, an Indo-Aryan Dardic language. The bulk of Kashmiri people predominantly live in the Kashmir Valley–which is the 'actual' Kashmir and does not include the other territories of the former princely state of Jammu and Kashmir. Other ethnic groups living in the Jammu and Kashmir state include Gujjars, Dogras, Paharis, Baltis and Ladakhis.


Pakistan's army chief vows support for Kashmiris as India keeps up blackout
Pakistan's military will "go to any extent" to support people in Kashmir, its army chief said on Tuesday, as India kept up a telecoms blackout for a second day to deter protests over its scrapping of..
Reuters - Published
Leader of hardline Hindu group in India defends beating of Kashmiris
The leader of a hardline Hindu group in India on Thursday justified the beating of two street vendors from mostly Muslim Kashmir by his members, saying "suspicious" Kashmiris had to be watched after a..
Reuters - Published
Kashmiri children among prisoners in India crackdown
More than two months after New Delhi revoked the autonomy of Indian-administered Kashmir, thousands of Kashmiris are still in jail, including some as young as nine-year-old.
Credit: Al Jazeera STUDIO Duration: 03:07Published
Kashmiris erect barricades to keep Indian soldiers at bay
The UN is urging India to end the crackdown on free speech and access to information in Indian-administered Kashmir.
Credit: Al Jazeera STUDIO Duration: 02:12Published
Kashmir: Indian forces accused of firing pellets at civilians
Fire from pellet guns used by the Indian forces has allegedly blinded some Kashmiris, including children and women.
Credit: Al Jazeera STUDIO Duration: 02:27Published
Search this site and the web:
You Might Like