Yomiuri Shimbun
Japanese newspaper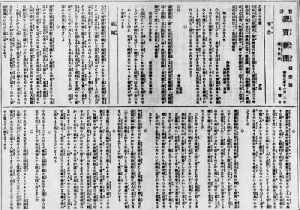 The
Yomiuri Shimbun
(読売新聞)
is a Japanese newspaper published in Tokyo, Osaka, Fukuoka, and other major Japanese cities. It is one of the five national newspapers in Japan; the other four are
The Asahi Shimbun
, the
Mainichi Shimbun
,
Nihon Keizai Shimbun
, and the
Sankei Shimbun
. The headquarters is in Otemachi, Chiyoda, Tokyo.
You Might Like
China, South Korea consult Japan on easing business-travel curbs: Yomiuri
China and South Korea have consulted Japan about easing border controls on business travellers to help revive business activities, the Yomiuri newspaper reported on Sunday without citing sources.
Reuters - Published
Japan to expand state of emergency to rest of country: Yomiuri
Prime Minister Shinzo Abe is preparing to expand the state of emergency that Japan has declared for seven of its 47 prefectures so far to the rest of the nation in a bid to contain the coronavirus, the..
Reuters - Published
Japan's PM Abe to declare state of emergency as soon as Tuesday: Yomiuri
Japanese Prime Minister Shinzo Abe will declare a state of emergency as early as Tuesday in a bid to stop the coronavirus spreading across the country, the Yomiuri newspaper reported, as the cumulative..
Reuters - Published
Japan plans to order two-week quarantine for all Chinese, South Korean visitors - Yomiuri
Japan plans to adopt a mandatory quarantine term of two weeks for all visitors from neighbors China and South Korea, the Yomiuri newspaper said, in a battle to rein in the spread of a coronavirus.
Reuters - Published
Japan economy minister Motegi front-runner to be next foreign minister: Yomiuri
Japanese Economy Minister Toshimitsu Motegi is set to replace Taro Kono as foreign minister when Prime Minister Shinzo Abe reshuffles his cabinet on Sept. 11, the Yomiuri newspaper reported on..
Reuters - Published
Japan won't join U.S.-led maritime coalition in Gulf: newspaper
Japan will not join a U.S.-led security mission to protect merchant vessels passing through key Middle Eastern waterways, but will consider deploying its naval force independently, the Yomiuri..
Reuters - Published
Japan's Aso, Suga to retain posts in cabinet reshuffle - Yomiuri
Japanese Finance Minister Taro Aso and Chief Cabinet Secretary Yoshihide Suga will likely retain their posts at a cabinet reshuffle in September, the Yomiuri newspaper reported on Wednesday.
Reuters - Published
Japanese report to say North Korea has miniaturized nuclear warheads: newspaper
Japan will upgrade its estimate of North Korea's nuclear weapons capability in an upcoming annual defense report, saying it seems Pyongyang has already achieved the miniaturization of warheads, the..
Reuters - Published