Rudy Giuliani
American attorney and politician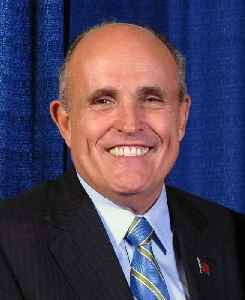 Rudolph William Louis Giuliani, is an American attorney and politician. He led the 1980s federal prosecution of New York City mafia bosses, and led New York's controversial "civic cleanup" as its mayor from 1994 to 2001. In 2017, US President Donald Trump appointed him cybersecurity advisor. In 2018, he joined Trump's personal legal team. Politically a Democrat and then Independent in the 1970s, Giuliani has been a Republican since the 1980s. The US Associate Attorney General from 1981 to 1983, he was the US Attorney for the Southern District of New York from 1983 to 1989. After a failed New York City Mayoral election campaign in 1989, he succeeded in 1993, and was reelected in 1997, holding a platform of toughness on crime.


U.S. sanctions Russia-linked Ukrainian lawmaker

The United States on Thursday imposed sanctions on a pro-Russian Ukrainian lawmaker linked to Republican efforts to dig up dirt on Democratic presidential candidate Joe Biden and his son Hunter,..
Credit: Reuters - Politics Duration: 01:47
Published
Rudy Giuliani on Biden: 'He's a Trojan horse'

Speaking on the final night of the Republican National Convention on Thursday, President Donald Trump's personal lawyer and former New York City Mayor Rudy Giuliani attacked Joe Biden, calling him a..
Credit: Reuters Studio Duration: 01:46
Published
You Might Like



Rudy Giuliani Rips 'Disrespectful' Houston Texans, 'Stay In Locker Room Forever'

Rudy Giuliani is FURIOUS at the Houston Texans for staying in their locker room for the national anthem before Thursday's game ... saying, "Maybe they should stay in the locker room forever." "Maybe..




TMZ.com - Published





Rudy Giuliani Rips Doc Rivers, You're Misleading Black People About Cops!

Rudy Giuliani just went scorched-earth on Doc Rivers -- claiming his emotional speech about the Jacob Blake shooting is loaded with BS. The former NYC mayor took serious issue with the Clippers coach..




TMZ.com - Published





Rudy Giuliani Says Kanye's Still Secret Trump Supporter, Fuels Spoiler Campaign Theory

Rudy Giuliani believes Kanye West secretly wants Donald Trump reelected, and the former NYC Mayor seems to be saying Ye could spoil Joe Biden's chances. We got the President's personal attorney Sunday..




TMZ.com - Published





Justice Department receiving information on Bidens from Giuliani: Senator

The U.S. Justice Department is receiving information on former Vice President Joe Biden and his businessman son, Hunter Biden, from President Donald Trump's personal lawyer Rudy Giuliani, a top Trump..




Reuters - Published




Exclusive: Giuliani told U.S. his client deserves leniency for financing Venezuela's opposition - Parnas

At a lavish August gathering at a private estate in Spain, a wealthy Venezuelan businessman under criminal investigation in the United States introduced Rudy Giuliani, President Donald Trump's..




Reuters - Published





Exclusive: Ukrainian tycoon's lawyer says he lent money to Giuliani associate

A Swiss lawyer said on Wednesday he had lent $1 million to Lev Parnas, an associate of U.S. President Donald Trump's personal lawyer Rudy Giuliani, and Parnas' wife in order for them to buy a home in..




Reuters - Published





Ukraine lawmaker met Giuliani to discuss misuse of U.S. taxpayer money in Ukraine

An independent Ukrainian lawmaker said on Thursday he had met U.S. President Donald Trump's personal lawyer in Kiev to discuss the alleged misuse of U.S. taxpayer money by Ukrainian state bodies.




Reuters - Published




Factbox: Who are the Giuliani associates charged with trying to influence U.S. elections?

Igor Fruman and Lev Parnas, two foreign-born associates of U.S. President Donald Trump's personal lawyer Rudy Giuliani, were charged on Thursday with conspiring to influence U.S. politics with illegal..




Reuters - Published





Factbox: Who are the Giuliani associates charged with funneling Russian money to pro-Trump group?

Igor Fruman and Lev Parnas, two foreign-born associates of U.S. President Donald Trump's personal lawyer Rudy Giuliani, were charged on Thursday with conspiring to influence U.S. politics with illegal..




Reuters - Published




Factbox: The criminal charges against Giuliani's associates

Lev Parnas and Igor Fruman, two foreign-born businessmen associated with U.S. President Donald Trump's personal lawyer Rudy Giuliani, were arrested on federal charges they conspired to funnel foreign..




Reuters - Published





Trump says he does not know the two associates of Giuliani

U.S. President Donald Trump said on Thursday he does not know the two associates of his personal lawyer Rudolph Giuliani who were arrested, even if they are in a picture with him.




Reuters - Published





Giuliani associates to be held in custody until they meet conditions for bond

Two foreign-born Florida businessmen who are associates of President Donald Trump's personal attorney Rudy Giuliani and were charged on Thursday with campaign finance crimes will be held in custody..




Reuters - Published





Factbox: The Giuliani associates arrested on U.S. campaign finances charges

Two foreign-born businessmen associated with U.S. President Donald Trump's personal lawyer Rudy Giuliani have been arrested on federal charges that they conspired to funnel foreign money to U.S...




Reuters - Published





House Democrats issue subpoenas for two indicted Giuliani associates

House Democrats leading the impeachment inquiry into U.S. President Donald Trump on Thursday subpoenaed two of Trump attorney Rudy Giuliani's associates who were arrested and charged over campaign..




Reuters - Published





House committees launch probe of Trump, Giuliani and Ukraine

Three U.S. House of Representatives committees said on Monday they had begun "a wide-ranging investigation" into reports that President Donald Trump, his lawyer Rudy Giuliani and possibly others..




Reuters - Published