Margaret Court
Australian tennis player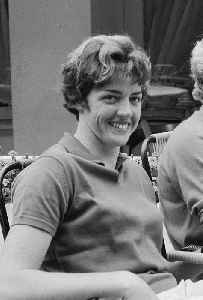 Margaret Court, also known as Margaret Smith Court, is a retired Australian tennis player and former world No. 1. She amassed more major titles than any other player in history and is considered one of the greatest tennis players of all time. She is currently a Christian minister in Perth, Western Australia.


'That was very, very wrong': Margaret Court responds to Martina Navratilova, John McEnroe protest
The 24-time grand slam singles champion felt she was discriminated against by Tennis Australia at the recent Australian Open.
SBS - Published
Martina Navratilova says Margaret Court needs to keep quiet
On the same day as Margaret Court's tennis feats were celebrated, Martina Navratilova says the former champion needs to keep her homophobic views to herself.
SBS - Published
Margaret Court lashes out at transgender athletes
Margaret Court has criticised transgender athletes in a sermon at a Pentecostal church in Perth just weeks before she is to be honoured by Tennis Australia.
SBS - Published
Tennis Australia to honour Margaret Court despite star's divisive views on same-sex marriage
Court, a Christian pastor at a Perth-based church she set up decades ago, has long been vocal about her opposition to same-sex marriage, a stance that has alienated gay players, past and present.
SBS - Published
CBD Melbourne: No, no and no again, insists Davis
Davis copped a grilling on Richmond's safe injecting room, whether he would support pill testing and his thoughts on whether Margaret Court's name should be scrapped from the Margaret Court Arena.
The Age - Published
I'll be glued to the Australian Open, but not for the tennis
Just how will Tennis Australia pull off its promised feat of recognising but not celebrating Margaret Court?
The Age - Published
Ash Barty aims to end Australia's 46-year drought at Roland-Garros
Ashleigh Barty will become Australia's first French Open winner since Margaret Court 46 years ago if she beats Marketa Vondrousova at Roland Garros.
SBS - Published
You Might Like