Malaysia Airlines Flight 17
Downing of a Malaysian civilian airliner by a missile on 17 July 2014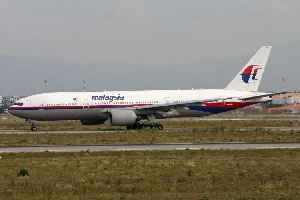 Malaysia Airlines Flight 17 (MH17) was a scheduled passenger flight from Amsterdam to Kuala Lumpur that was shot down on 17 July 2014 while flying over eastern Ukraine, killing all 283 passengers and 15 crew on board. Contact with the aircraft, a Boeing 777-200ER, was lost when it was about 50 km (31 mi) from the Ukraine–Russia border and wreckage of the aircraft fell near Hrabove in Donetsk Oblast, Ukraine, 40 km (25 mi) from the border. The shoot-down occurred in the War in Donbass, during the Battle of Shakhtarsk, in an area controlled by pro-Russian rebels. The crash was Malaysia Airlines' second aircraft loss during 2014 after the disappearance of Flight 370 on 8 March.


Remembering the MH17 victims five years on from the tragedy
The family members of the MH17 victims have paid their respects to the lives lost on the five-year anniversary of the tragedy.
SBS - Published
Five years on, flight MH17 families call for justice
Family members of those aboard the downed Malaysia Airlines flight MH17 called on Wednesday for those responsible to be brought to justice, as they marked the fifth anniversary of the tragedy.
Reuters - Published
Russians, Ukrainian Face Murder Charges For Shooting Down Flight MH17
According to a report by Reuters, on Wednesday, an international investigative team said that three Russians and Ukrainian will face murder charges for the deaths of 298 people aboard Malaysia Airlines..
Credit: Wochit News Duration: 00:53Published
Putin's Q&A discusses living standards, MH17 and a dialogue with Trump
During a four hour TV appearance, the Russian President said that the government would deliver higher living standards and reminded voters that they were better off now than in the 1990s. He also spoke..
Credit: euronews (in English) Duration: 02:25Published
First four suspects named for MH17 murder trial
Leaders of a Russian-backed militia have been indicted and will face trial in the Netherlands in March 2020.
Credit: Al Jazeera STUDIO Duration: 02:49Published
Ukraine President: 'I Hope MH17 Crash Suspects Will Stand Trial'
Ukrainian President Volodymyr Zelenskiy said he welcomed murder charges brought against four suspects over the 2014 downing of the MH17 passenger jet. Zelenskiy adding that he hoped they would stand..
Credit: Wochit News Duration: 00:38Published
Four suspects face murder charge for downing MH17
A Dutch-led investigation names three Russians and a Ukrainian as suspects in the downing of flight MH17 over Ukraine five years ago. All 298 aboard perished. Lucy Fielder reports.
Credit: Reuters Studio Duration: 01:41Published
Dutch police chief names murder suspects in MH17 downing
Dutch National Police chief Wilbert Paulissen has named three Russians and one Ukrainian as murder suspects in the downing of Flight MH17. He identified the men as Russians Igor Girkin, Sergey..
Credit: PA - Press Association STUDIO Duration: 01:22Published
Investigators To Present Latest Findings On MH17, Five Years After It Was Shot Down
According to a report by Reuters, on Friday, international investigators said that next week they would present their latest findings on Malaysia Airlines flight MH17, nearly five years after plane was..
Credit: Wochit News Duration: 01:01Published
MH17 anniversary: 'You'd better answer that, the plane might of crashed'
The passage of five years today since the attack on MH17 doesn't change too much say the families who lost loved ones.
The Age - Published
Search this site and the web:
You Might Like