Medicare (United States)
United States single-payer national social insurance program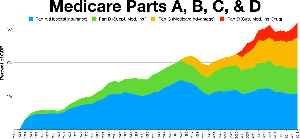 Medicare is a national health insurance program in the United States, begun in 1966 under the Social Security Administration and now administered by the Centers for Medicare and Medicaid Services (CMS). It provides health insurance for Americans aged 65 and older. It also provides health insurance to younger people with some disability status as determined by the Social Security Administration, as well as people with end stage renal disease and amyotrophic lateral sclerosis. Medicare is funded by a combination of a payroll tax, beneficiary premiums and surtaxes from beneficiaries, and general U.S. Treasury revenue.


X-rays set to be cheaper for patients
The Morrison government has promised to make x-rays and other diagnostic scans cheaper by adding them to the indexed Medicare benefits schedule.
SBS - Published
Search this site and the web:
You Might Like