Medicare (United States)
United States single-payer national social insurance program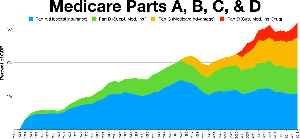 Medicare is a national health insurance program in the United States, begun in 1966 under the Social Security Administration (SSA) and now administered by the Centers for Medicare and Medicaid Services (CMS). It primarily provides health insurance for Americans aged 65 and older, but also for some younger people with disability status as determined by the Social Security Administration, as well as people with end stage renal disease and amyotrophic lateral sclerosis.


Medicare data used to recruit people with bipolar for research
A letter sent to almost 50,000 patients inviting them to take part in a bipolar study has raised questions about how our private information is stored and used.
The Age - Published
Private health insurance in a death spiral? Good. Let's shut it down
Our dual health system is in strife as people abandon private insurance. Where is the evidence that a Medicare-only system wouldn't work better?
The Age - Published
Pelosi unveils drug price plan
U.S. House Speaker Nancy Pelosi unveiled a plan that would allow the federal government to negotiate the prices of prescription drugs for Medicare beneficiaries and consumers. Fred Katayama reports.
Credit: Reuters Studio Duration: 01:08Published
Long Term Care Has Massive Impact On Elderly People's Health
Long-term acute care hospitals are supposed to restore independence in people who have a variety of illnesses. A new study suggests that for most that isn't the case, according to UPI. Fewer than..
Credit: Wochit News Duration: 00:42Published
Medicare For All Is More Popular Than You Think
Senator Bernie Sanders wants Medicare for All, but is it popular with Americans? The answer is yes. Polls show most people with employer-based insurance don't mind changes as long as they keep..
Credit: Wochit News Duration: 00:42Published
Kamala Harris Unveils Healthcare Policy Days Before Democratic Debate
Senator Kamala Harris released a "Medicare for All" proposal ahead of a second debate for Democratic presidential candidates. The candidates' differing approaches to healthcare insurance policy are..
Credit: Wochit News Duration: 00:32Published
What To Know About Democratic Presidential Candidate Marianne Williamson
Bestselling author Marianne Williamson is a Democratic presidential candidate who's better known for her books than her politics. The bestselling author is also a spiritual lecturer, AIDs activist, and..
Credit: Wochit News Duration: 00:32Published
Aged commission: Medicare is failing older Australians in remote areas
Older people in remote parts of Australia were being hospitalised at four times the rate of other Australians for avoidable conditions. The Royal Commission into Aged Care also heard how services..
The Age - Published
Plan for Australians living with pain
A new national plan aims to improve the lives of people living with ongoing pain, through more Medicare-funded services and better informed doctors.
SBS - Published
In memory of Bob Hawke, it's time for Medicare II
The universal health system that Australians have come to take for granted is not fit for purpose. Medicare needs a makeover.
The Age - Published
Phone, online GP visits are minister's aim
Health Minister Greg Hunt has begun work on a 10-year plan he hopes will make phone and online doctor consultations available through Medicare.
SBS - Published
Medicare, pathway to Asia and fighting apartheid: How Bob Hawke's government changed Australia
Bob Hawke said his work to end apartheid in South Africa was one of his proudest achievements. SBS News takes a look back at Australia's longest serving Labor prime minister and his legacy.
SBS - Published
Bill Shorten promises $2.3 billion Medicare plan to fight cancer
Labor leader Bill Shorten has delivered his 2019 Budget reply speech, promising "the most important investment in Medicare since Bob Hawke created it".
SBS - Published
Ageing population costs to exceed Medicare
The Australian government's bottom line will take a $36 billion hit from the nation's ageing population in 10 years time.
SBS - Published
Labor promises early Medicare freeze end
All Medicare rebates would go up in line with inflation from the middle of this year if federal Labor wins the next election, the party has vowed.
SBS - Published
X-rays set to be cheaper for patients
The Morrison government has promised to make x-rays and other diagnostic scans cheaper by adding them to the indexed Medicare benefits schedule.
SBS - Published
You Might Like