Eurofighter Typhoon
1994 multi-role combat aircraft family by Eurofighter; primary fighter of British, German and other air forces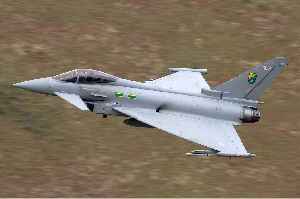 The Eurofighter Typhoon is a twin-engine, canard–delta wing, multirole fighter. The Typhoon was designed originally as an air superiority fighter and is manufactured by a consortium of Airbus, BAE Systems and Leonardo that conducts the majority of the project through a joint holding company, Eurofighter Jagdflugzeug GmbH formed in 1986. NATO Eurofighter and Tornado Management Agency manages the project and is the prime customer.


You Might Like
German plan sees Eurofighter, F-18 mix replacing Tornado: source
A German procurement proposal to replace Germany's aging fleet of Tornado fighter jets foresees the purchase of up to 93 Eurofighters, and up to 45 F-18s from Boeing, a German Defense Ministry source..
Reuters - Published
Italy to join Britain's Tempest fighter jet project
Italy will work with Britain on its planned Tempest fighter plane program, Britain's defense ministry said on Wednesday, in a boost to its proposed replacement for the Eurofighter Typhoon program.
Reuters - Published
Investigators believe pilot error caused German Eurofighter crash: Spiegel
Investigators looking into the crash this week of two German air force Eurofighter warplanes have ruled out mechanical failure, making pilot error the most likely cause, Der Spiegel reported.
Reuters - Published
Pilot killed in Eurofighter collision over eastern Germany
One pilot was killed and another was able to parachute to safety after two German Eurofighter jets collided over northeastern Germany on Monday.
Reuters - Published
One pilot in German Eurofighter collision is dead: broadcaster n-tv
One of the two pilots involved in the midair collision of two Eurofighter warplanes over northeastern Germany on Monday is dead, broadcaster n-tv reported, citing local police.
Reuters - Published
Two Eurofighters crash over eastern Germany, pilots eject
Two Eurofighter warplanes crashed in northeastern Germany after a mid-air collision on Monday, the German air force said, adding that both pilots had managed to use their ejector seats.
Reuters - Published
Eurofighter, NATO launch studies on long-term evolution of fighter
The countries and companies behind Europe's Eurofighter Typhoon fighter jet have agreed to spend 53.7 million euros ($60.2 million) to study the long-term evolution of the advanced fighter jet and its..
Reuters - Published