Jerusalem
Holy city of the Abrahamic religions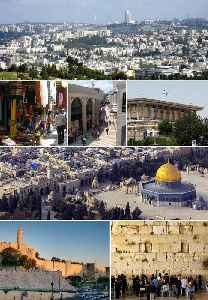 Jerusalem is a city in the Middle East, on a plateau in the Judaean Mountains between the Mediterranean and the Dead Sea. It is one of the oldest cities in the world, and is considered holy to the three major Abrahamic religions—Judaism, Christianity, and Islam. Both Israel and the Palestinian Authority claim Jerusalem as their capital, as Israel maintains its primary governmental institutions there and the State of Palestine ultimately foresees it as its seat of power; however, neither claim is widely recognized internationally.


Trump supporters drive to U.S. embassy in Jerusalem

Waving U.S. flags and beeping their horns, a car convoy carrying Republicans living in Israel, made its way on Tuesday to the U.S. embassy in Jerusalem in a show of support for Donald Trump and his..
Credit: Reuters - Politics Duration: 01:22
Published
This is the U.S. campaign, on Israeli streets

"You have to thank Trump" posters in Hebrew suddenly started appearing on minibuses in Tel Aviv this week, as Republican ads brought the race for the White House onto the streets of Israel. Democrats..
Credit: Reuters - Politics Duration: 02:07
Published
You Might Like



'We are seeing justice': Accused paedophile Malka Leifer should be extradited to Australia, court rules

Malka Leifer should be extradited to Australia to face 74 child sex abuse charges, a Jerusalem court has ruled. The former Melbourne school principal's alleged victims say the decision is a "victory"..




SBS - Published




Guess Who This Doggone Cutie Turned Into!

Before this puppy loving princess was becoming an A-list actress and activist, she was just another doggone cutie growing up in Jerusalem, Israel. This ruff runt has been acting since she was a young..




TMZ.com - Published





Exclusive: Israel builds new Jerusalem road that will link settlements as government weighs West Bank annexation

Construction is under way on a major new ring road for Jerusalem that Israeli officials say will benefit all of its residents, but critics of the project say is another obstacle to Palestinian hopes to..




Reuters - Published





Condolences from Netanyahu, a week after police kill autistic Palestinian

More than a week after Israeli police shot dead an unarmed and autistic Palestinian in Jerusalem, Prime Minister Benjamin Netanyahu on Sunday called the killing a tragedy and offered his condolences to..




Reuters - Published





Factbox: Latest on the worldwide spread of the coronavirus

Gradual easing of coronavirus restrictions around the world included some openings for the faithful, including Jerusalem's Al-Aqsa mosque compound which reopened to Muslim worshippers and visitors on..




Reuters - Published





Jerusalem's Al-Aqsa mosque compound reopens after more than two months

Jerusalem's Al-Aqsa mosque compound reopened to Muslim worshippers and visitors on Sunday after a two-and-a-half month coronavirus closure, but authorities imposed some precautions as health officials..




Reuters - Published




Israeli police fatally shoot Palestinian in Jerusalem -spokesman

Israeli police officers fatally shot a Palestinian they suspected was carrying a weapon in Jerusalem's Old City on Saturday, a police spokesman said, but the man was later found to have been unarmed,..




Reuters - Published




Netanyahu arrives at court for corruption trial, says case aimed at "toppling me, in any way possible"

Israeli Prime Minister Benjamin Netanyahu arrived on Sunday at the Jerusalem court for the start of his corruption trial and said his opponents were aiming to oust him.




Reuters - Published





Israel's Netanyahu goes on trial for corruption

The corruption trial of Benjamin Netanyahu opens on Sunday in a Jerusalem court, where he will become the first serving Israeli prime minister to face criminal prosecution, in a case he calls a..




Reuters - Published





Prayers at Jerusalem's al-Aqsa mosque compound to resume next week: statement

Muslim prayers at Jerusalem's al-Aqsa mosque compound will resume next week after a nearly two-month pause now that the spread of the new coronavirus has slowed, a religious council said on Tuesday.




Reuters - Published




Masked and partitioned, worshippers return to Jerusalem's Western Wall

Worshippers are returning to the Western Wall in Jerusalem as Judaism's holiest prayer site gradually reopens under eased coronavirus precautions. But now they are themselves being walled-off.




Reuters - Published





Parking lot prayers: Muslims in Jaffa and Jerusalem improvise for Ramadan

Shortly after sunset, Muslims in the ancient Israeli port city of Jaffa filed quietly into an empty parking lot for Ramadan prayers, after the coronavirus outbreak forced mosques to close in Israel and..




Reuters - Published





Islam's holiest sites emptied by coronavirus crisis as Ramadan begins

The holy month of Ramadan began on Friday with Islam's holiest sites in Saudi Arabia and Jerusalem largely empty of worshippers as the coronavirus crisis forced authorities to impose unprecedented..




Reuters - Published





Al-Aqsa preacher's voice echoes across Jerusalem devoid of Ramadan crowds

An imam standing atop an 18-foot pulpit in a near-empty Al-Aqsa Mosque delivered the first Friday prayers of Ramadan in Jerusalem, his voice echoing across an empty and windswept plateau almost devoid..




Reuters - Published





Too poor to buy, too scared to meet: Palestinians face joyless Ramadan

The electric lanterns and ornate decorations of Ramadan would normally be hanging in the streets of Gaza, the West Bank and east Jerusalem by now, but not this year amid coronavirus restrictions and..




Reuters - Published





Israeli forces kill Palestinian attacker near Jerusalem: police

Israeli security forces shot and killed a Palestinian man who stabbed a police officer at a checkpoint near Jerusalem on Wednesday, an Israeli police spokesman said.




Reuters - Published





A Holy Land Easter season like no other - under the shadow of coronavirus

Orthodox Christians celebrated Easter in Jerusalem on Sunday, bringing to a close a holiday season uniquely devoid of the colourful ceremonies that would normally have echoed around the Old City's..




Reuters - Published





Holy Fire lit as Orthodox Easter bells echo over near-empty Jerusalem

The Holy Fire ceremony symbolising Jesus' resurrection was lit in a deserted Jerusalem on Saturday, without the joyful throng of Orthodox Christian pilgrims who normally attend a spectacle that brings..




Reuters - Published





Orthodox church forsakes Via Dolorosa procession in Jerusalem

The streets of Jerusalem's Old City were eerily quiet on Friday, after Greek Orthodox church authorities cancelled the traditional Easter procession along the Via Dolorosa amid a nationwide coronavirus..




Reuters - Published





Ramadan prayers banned at Jerusalem's al-Aqsa mosque due to virus

Jerusalem's al-Aqsa mosque compound will be closed to Muslim worshippers throughout the holy fasting month of Ramadan due to the coronavirus epidemic, Muslim clerics at Islam's third-holiest site said..




Reuters - Published




Prayers at Jerusalem's al-Aqsa mosque compound suspended for Ramadan: Muslim clerics

Jerusalem's al-Aqsa mosque compound will be closed to Muslim worshippers throughout the holy fasting month of Ramadan due to the coronavirus epidemic, the Jordan-appointed council that oversees Islam's..




Reuters - Published




Israel closes off Jerusalem's ultra-Orthodox areas to stem coronavirus spread

Israel locked down mainly ultra-Orthodox Jewish areas of Jerusalem on Sunday to try to contain the spread of the coronavirus from the densely populated neighbourhoods where the infection rate is high.




Reuters - Published





'Life will prevail' says Holy Land archbishop on Easter Sunday

With Jerusalem under lockdown over coronavirus, Easter Sunday was marked at the traditional site of Jesus' death and resurrection by just a handful of Christian clerics.




Reuters - Published





On an empty Via Dolorosa, archbishop urges Good Friday prayer for the dying

On an eerie Good Friday in Jerusalem, a handful of Franciscan friars - some wearing face masks - commemorated Jesus' crucifixion and resurrection along a Via Dolorosa in lockdown and empty of pilgrims.




Reuters - Published





On Good Friday, Jerusalem archbishop urges prayer for the suffering and dying

On a sombre and quiet Good Friday in Jerusalem, the Vatican's apostolic administrator in the Holy Land called for prayer for people suffering and dying from the coronavirus.




Reuters - Published





On an empty Via Dolorosa before Easter, praying for the world's sick

Brown-robed Franciscans stride through a shuttered and deserted Jerusalem to the Church of the Holy Sepulchre, the global focus of the most important festival in the Christian calendar - but in a city..




Reuters - Published





Olive branches handed out on Palm Sunday in near-deserted Jerusalem

Franciscan friars wearing surgical masks and gloves made house calls in Jerusalem on Palm Sunday, delivering olive branches to Christians who are self-isolating as a precaution against the coronavirus.




Reuters - Published





Holy Land custodian urges Israel to let clerics celebrate Easter in Holy Sepulchre

Easter celebrations should be permitted inside the Church of the Holy Sepulchre in Jerusalem, even if only by a small number of clerics abiding by anti-coronavirus guidelines, a senior clergyman said..




Reuters - Published





Workers in hazmat suits collect prayers from 'God's mailbox' in Jerusalem

Twice a year, cleaning teams using long sticks gouge out tens of thousands of written prayers that visitors traditionally cram into the crevices of Judaism's Western Wall in Jerusalem.




Reuters - Published





Some ultra-Orthodox Israelis chafe at coronavirus restrictions

Israeli police have used a drone, helicopter and stun grenades in recent days to prevent people gathering in an ultra-Orthodox Jewish neighborhood of Jerusalem in defiance of Health Ministry measures..




Reuters - Published





In Jerusalem, a Palestinian family under coronavirus lockdown

A Palestinian English teacher, Jizelle Sara, faces a double challenge while observing a partial lockdown in her Jerusalem home during the coronavirus crisis.




Reuters - Published





Israeli leaders open up nuclear bunker in war on coronavirus

The Israeli government has opened up a war bunker in the Jerusalem hills to help coordinate its campaign against the spread of the coronavirus, Israeli officials said on Thursday.




Reuters - Published





Jerusalem's Church of the Holy Sepulchre closes amid coronavirus fears

Jerusalem's Church of the Holy Sepulchre, revered in Christian tradition as the site of Jesus's crucifixion and burial, was closed on Wednesday as a precaution against the coronavirus.




Reuters - Published





Jewish worshippers urged not to kiss Western Wall due to coronavirus fears

The Jewish faithful should refrain from kissing the stones of the Western Wall, the chief rabbi of the Jerusalem site said on Monday, adding to measures that religious authorities have taken to prevent..




Reuters - Published





Jerusalem's Al-Aqsa Mosque shut as precaution against coronavirus by Muslim clerics

Jerusalem's Al-Aqsa Mosque and Dome of the Rock will shut their doors until further notice, religious authorities said on Sunday, in a move to protect worshippers at Islam's third holiest site.




Reuters - Published




Coronavirus fears lead Holy Land Catholic churches to give communion by hand only

Roman Catholic authorities in Jerusalem have instructed their priests to give communion by hand only, rather than placing the wafers on worshippers' tongues, and to empty holy water fonts - as..




Reuters - Published





Israel may quarantine 200 South Korean visitors in army base: report

Israel may quarantine some 200 visitors from South Korea in a military base south of Jerusalem over coronavirus worries, Israel's Ynet news site reported on Sunday.




Reuters - Published





Israeli police say killed man who attempted Jerusalem stabbing attack

Israeli police shot and killed a man who tried to carry out a stabbing attack in the old city of Jerusalem on Saturday, a spokesman said.




Reuters - Published





Killing of Iranian commander will bring liberation of Jerusalem: Guards spokesman

The killing of top Iranian commander Qassem Soleimani will lead to the liberation of Jerusalem, the spokesman for the elite Revolutionary Guards said on Thursday, according to the Tasnim news agency.




Reuters - Published




Israeli-Palestinian violence rises after Trump peace plan

At least two Palestinians were killed and 15 Israelis were hurt on Thursday in a string of incidents in Jerusalem and the occupied West Bank, where violence has risen after the U.S. announcement of its..




Reuters - Published





Palestinian killed in West Bank; Israeli troops hurt in Jerusalem ramming

A car ran down a group of Israeli soldiers in Jerusalem early on Thursday in a suspected Palestinian attack and, in a separate incident, Israeli troops shot dead a Palestinian during clashes in the..




Reuters - Published





Fourteen people, mostly soldiers, hurt in Jerusalem car-ramming: Israeli officials

A car ran down and injured 12 Israeli soldiers and two other people in Jerusalem early on Thursday, Israeli military and medical officials said, in an incident police described as a suspected..




Reuters - Published





Uganda 'studying' opening embassy in Jerusalem, Museveni tells Netanyahu

Uganda is "studying" the possibility of opening an embassy in Jerusalem, President Yoweri Museveni said on Monday, during a visit by Israeli Prime Minister Benjamin Netanyahu.




Reuters - Published





Israeli PM hopes Uganda will open embassy in Jerusalem in 'near future'

Israeli Benjamin Netanyahu said on Monday that he hopes long-standing African ally Uganda will open an embassy in Jerusalem soon, becoming the third nation to do so after the United States and..




Reuters - Published





Abu Dis, an unlikely capital for a future Palestinian state

Abu Dis, the town earmarked for the Palestinian capital in U.S. President Donald Trump's Middle East peace plan, lies a short distance to the east of Jerusalem's walled Old City.




Reuters - Published





U.S. sees no imposed change to 'status quo' around Al-Aqsa mosque

A U.S. proposal for Israeli-Palestinian peace does not call for imposing any change to prayer arrangements around a key Jerusalem mosque compound which was also the site of ancient Jewish temples, a..




Reuters - Published





U.S. Middle East peace plan prompts some praise, much Arab anger

U.S. President Donald Trump on Tuesday proposed the creation of a Palestinian state with a capital on the outskirts of Jerusalem.




Reuters - Published




Netanyahu says proposed Palestinian capital will be in Abu Dis

Israeli Prime Minister Benjamin Netanyahu said on Tuesday that a U.S. peace plan envisages the proposed Palestinian capital be located in Abu Dis, a neighborhood on the outskirts of Jerusalem.




Reuters - Published