First Fleet
11 ships that left Great Britain to found the penal colony in Australia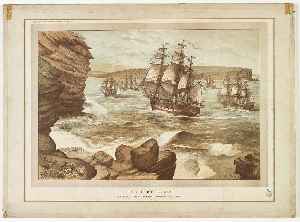 The First Fleet was the 11 ships that departed from Portsmouth, England, on 13 May 1787 to found the penal colony that became the first European settlement in Australia. The Fleet consisted of two Royal Navy vessels, three store ships and six convict transports, carrying between 1,000 and 1,500 convicts, marines, seamen, civil officers and free people, and a large quantity of stores. From England, the Fleet sailed southwest to Rio de Janeiro, then east to Cape Town and via the Great Southern Ocean to Botany Bay, arriving over the period of 18 to 20 January 1788, taking 250 to 252 days from departure to final arrival.


Dischord over rival claims to ownership of First Fleet piano
History of a piano which arrived with the First Fleet is not black and white.
The Age - Published
Search this site and the web:
You Might Like