Carlos Ghosn
French-Brazilian businessman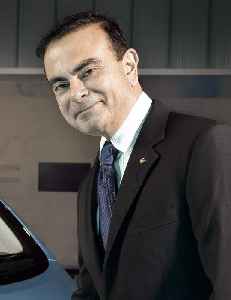 Carlos Ghosn, KBE is a Brazilian-born French businessman of Lebanese ancestry. Ghosn formerly served as the CEO of Michelin North America, chairman and CEO of Renault, chairman of AvtoVAZ, chairman and CEO of Nissan, and chairman of Mitsubishi Motors. Ghosn was also chairman and CEO of the Renault–Nissan–Mitsubishi Alliance, a strategic partnership between those automotive manufacturers through a complex cross-shareholding agreement. The venture has held an approximately 10% market share since 2010, and as of 2017 was reckoned to be the largest automobile group worldwide.


Ghosn's wife steps up call for G20 leaders to help her husband
The wife of ousted Nissan Chairman Carlos Ghosn has again called on world leaders, who have gathered in Japan for a G20 summit, to help raise the issue of her husband's treatment in the country where..
Reuters - Published
Carlos Ghosn to be indicted on additional charge as early as Monday: NHK
Tokyo prosecutors are likely to indict former Nissan Motor Co Ltd Chairman Carlos Ghosn on an additional charge of aggravated breach of trust as early as Monday when his current detention period..
Reuters - Published
Renault shares tumble after profit warning
Renault shares tumbled Friday after the French automaker cut its outlook for sales and profits. Julian Satterthwaite reports.
Credit: Reuters Studio Duration: 01:18Published
Financial irregularities force new Nissan boss to step down
Nissan's embattled chief executive Hiroto Saikawa will step down on Sept. 16 and will be temporarily replaced by Chief Operating Officer Yasuhiro Yamauchi, the automaker's board chairman said on..
Credit: Reuters Studio Duration: 00:54Published
Ex-Nissan chief Ghosn case shines harsh light on Japan's 'hostage justice'
The high-profile case of ex-Nissan chairman Carlos Ghosn has shone a light in Japan on what critics call "hostage justice", in which suspects can be held for months after arrest, but any reforms will..
Reuters - Published
Search this site and the web:
You Might Like