Tunisia
Country in Northern Africa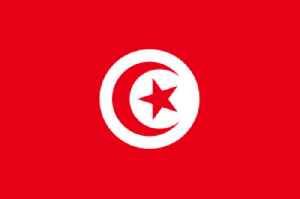 Tunisia (officially the Republic of Tunisia) is a country in the Maghreb region of North Africa, covering 163,610 square kilometres. Its northernmost point, Cape Angela, is the northernmost point on the African continent. It is bordered by Algeria to the west and southwest, Libya to the southeast, and the Mediterranean Sea to the north and east. Tunisia's population was 11.435 million in 2017. Tunisia's name is derived from its capital city, Tunis, which is located on its northeast coast.


Man gets life in prison for stabbing policeman at Michigan airport
A Tunisian man was sentenced to life in prison on Thursday for stabbing a police officer at the airport in Flint, Michigan, a decision a federal judge said was made easier by the defendant's defiant..
Reuters - Published
Struggle over leadership deepens division in Tunisia president's party
Tunisia's ruling party Nidaa Tounes on Saturday elected two leaders, one of them the president's son, in two parallel congresses, deepening the division that has hit the party in recent years.
Reuters - Published
Libya crisis: Tunisia 'disarms' French nationals trying to cross border
France supports the unrecognised government in Tripoli but also maintained ties with the other government led by Haftar.
Credit: Al Jazeera STUDIO Duration: 02:21Published
Tunisia detains armed European diplomats en route from Libya
Tunisia detains armed European diplomats en route from Libya
Credit: Al Jazeera STUDIO Duration: 05:49Published
After Coup, Sudan Faces Fragile Transition to Democracy
While ousting a 30-year autocrat is a major step, Sudan now has to successfully transition to a democracy instead of another dictatorship.
Credit: Newsy Studio Duration: 01:50Published
Libya fighting: Tunisians fear more deaths on coast
As the conflict intensifies in Libya, Tunisia faces challenges dealing with an increasing number of displaced migrants trying to cross the Mediterranean and ending up on its shores.
Credit: Al Jazeera STUDIO Duration: 02:00Published
Libyans flee Tripoli fighting to Tunisia
While many Libyans are trapped because of the fighting around Tripoli, others are crossing the border into Tunisia to seek safety.
Credit: Al Jazeera STUDIO Duration: 01:55Published
UN: Libya militias in Tripoli profiting from human trafficking
As fighting over Libya's capital rages, armed groups are making a windfall from many African migrants trying to reach Europe through Tunisia.
Credit: Al Jazeera STUDIO Duration: 02:34Published
Analysis: Will Arab League summit push for Palestinian state?
Leaders at the Arab League summit in Tunisia were making a new, unified push for the creation of a Palestinian state.
Credit: Al Jazeera STUDIO Duration: 07:21Published
U.N. Chief Wants Democratic Transition In Algeria
According to Reuters, U.N. Secretary-General Antonio Guterres said on Sunday that he welcomed efforts towards a peaceful and democratic transition in Algeria. Addressing an Arab League summit in Tunis,..
Credit: Wochit News Duration: 00:33Published
Qatar Emir Abruptly Leaves Arab League Summit In Tunisia
According to Reuters, Qatar's Emir Sheikh Tamim bin Hamad al-Thani on Sunday left a summit of Arab leaders in Tunis. The summit had gathered the rulers of Saudi Arabia and Qatar for the first time..
Credit: Wochit News Duration: 00:30Published
Libya Quartet meets in Tunis to reconcile warring factions
The so-called Libya Quartet hopes to end the years-long conflict in the African nation.
Credit: Al Jazeera STUDIO Duration: 03:00Published
Tunisia probes death of 11 babies, health minister resigns
Preliminary findings revealed that the deaths were 'likely caused by septic shock resulting from blood infections'.
Credit: Al Jazeera STUDIO Duration: 01:20Published
Ghost workers sap Tunisia's phosphate wealth
To reduce unemployment, Tunisia's state phosphate firm CPG has hired thousands since 2011 but the company has since lost its spot as the country's top exporter and many of the workers on its payroll do..
Credit: Reuters Studio Duration: 01:44Published
What is Tunisia's 'cultural cave' and how is it helping local artists?
A natural cave filled with modern paintings and artwork installations is amongst Tunisia's hidden cultural treasures.
Credit: euronews (in English) Duration: 02:31Published
Where Libya's revolution began, many now yearn for a strong hand
In the cradle of Libya's revolution residents are tired after three years of street fighting that's flattened whole districts and left Benghazi cut off from the west. Emily Wither reports.
Credit: Reuters Studio Duration: 01:33Published
Search this site and the web:
You Might Like