Washington Nationals
Baseball team and Major League Baseball franchise in Washington, D.C., United States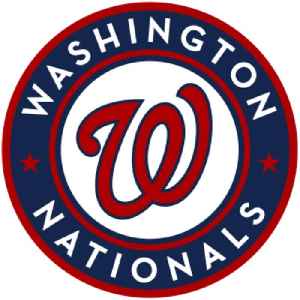 The Washington Nationals are a professional baseball team based in Washington, D.C. The Nationals compete in Major League Baseball (MLB) as a member club of the National League (NL) East division. From 2005 to 2007, the team played in RFK Stadium; since 2008 their home stadium has been Nationals Park on South Capitol Street in Southeast D.C., near the Anacostia River.


Nats confirm leadership team in Canberra
National Party MPs are expected to keep Michael McCormack as their leader and Bridget McKenzie as deputy at a meeting in the wake of the coalition election win.
SBS - Published
WA Nationals refer government election ads
A $245,000 advertising campaign by the WA government during the federal election has been referred to the Public Sector Commission by the state Nationals.
SBS - Published
Tornadoes, flash flooding pummel Southern Plains
A powerful storm system moving across the U.S. Southern Plains spawned tornaodes and triggered flash flooding as the region braces for more severe weather. Linda So reports.
Credit: Reuters Studio Duration: 00:50Published
Dozens of tornadoes rip through Midwest
Dozens of tornadoes touched down in the Midwest Friday as the central U.S. braces for more powerful storms through the weekend. Linda So reports.
Credit: Reuters Studio Duration: 00:46Published
Kentucky Derby horse dung for sale
An entrepreneurial artist is making money with manure ahead of the Kentucky Derby, but it's not just anyone's manure. Coleman Larkin says it's the manure of champions. Nathan Frandino has more.
Credit: Reuters Studio Duration: 01:55Published
Woman faces jail time in $400K GoFundMe scam
Katelyn McClure of New Jersey faces four years in prison for her role in scamming more than $400,000 from GoFundMe donors. Linda So reports.
Credit: Reuters Studio Duration: 01:47Published
How Important Is Bryce Harper's Success for Baseball?
Bryce Harper hit a towering home run in his first game back in Nationals Park after leaving the Nats in free agency this offseason. SI Now's Robin Lundberg and Amy Campbell discuss how key Harper's..
Credit: Sports Illustrated Duration: 01:23Published
Bryce Harper Booed And Cheered In D.C. Return
Click here to view original GIF If there were any questions about how Nationals fans would greet Bryce Harper in his return to Washington, they were answered well before first pitch. A tribute..
Credit: Wochit News Duration: 00:33Published
Fifth grader dies after classroom fight
School officials say a fifth grader who was injured when a fight broke out in her classroom at a South Carolina school has died. Linda So reports.
Credit: Reuters Studio Duration: 00:57Published
SI's Ben Reiter Picks Nationals to Represent NL in World Series
No Bryce Harper? No problem, says SI senior writer Ben Reiter, who adds that the Nationals' deep and talented roster make them the likely choice to represent the National League in the Fall Classic.
Credit: Sports Illustrated Duration: 01:54Published
Search this site and the web:
You Might Like