David Attenborough
British broadcaster and naturalist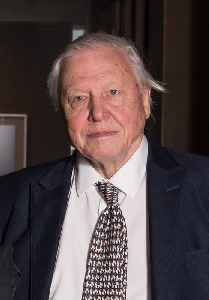 Sir David Frederick Attenborough is an English broadcaster and natural historian. He is best known for writing and presenting, in conjunction with the BBC Natural History Unit, the nine natural history documentary series forming the Life collection that together constitute a comprehensive survey of animal and plant life on Earth. He is a former senior manager at the BBC, having served as controller of BBC Two and director of programming for BBC Television in the 1960s and 1970s. He is the only person to have won BAFTAs for programmes in each of black and white, colour, HD, 3D and 4K.


David Attenborough takes aim at Australia for lack of climate action
Legendary natural historian, David Attenborough, has outlined a dire future for the world if climate change is not addressed immediately.
SBS - Published
Attenborough lauds no-plastic Glastonbury
In a surprise appearance, Sir David Attenborough has thanked Glastonbury for banning plastic bottles as he showed a trailer for his latest documentary.
SBS - Published
Attenborough warns of 'social unrest' due to climate change
Naturalist David Attenborough has told British lawmakers that failure to tackle climate change could lead to massive social unrest. Rough Cut (no reporter narration).
Credit: Reuters Studio Duration: 01:25Published
Attenborough: Nobody thought humans could change climate
Sir David Attenborough gives evidence to the Business, Energy and Industrial Strategy select committee on climate change and the environment.
Credit: PA - Press Association STUDIO Duration: 01:37Published
Seal named Sir David Attenborough is released back into the wild
A seal which was found with a plastic frisbee ring stuck around his neck has been nursed back to health and released into the wild. The severely injured adult male grey seal was rescued by volunteers..
Credit: PA - Press Association STUDIO Duration: 00:31Published
David Attenborough Congratulates Festival Attendees For Banning Single-Use Plastic Bottles
David Attenborough thanked festival goers at the Glastonbury stage for banning single-use plastic bottles. He said: "That is more than 1 million bottles of water that have not been drunk by you in..
Credit: Wochit News Duration: 00:32Published
Fans react as David Attenborough makes surprise Glastonbury appearance
Fans react as David Attenborough makes a surprise appearance at Glastonbury. Interviews with Aggie Lloyd, Emma Vickers, Emily Templeman, and Carl Dawson.
Credit: PA - Press Association STUDIO Duration: 00:45Published
Guinness Fights Back Against Plastic
by Stephanie Boyd - Beer Owner Removes Multipack Packaging The continued fight against the rise of plastic in our landfills and in our oceans is something which continues to be well-publicized, and..
One News Page Staff - Published
Search this site and the web:
You Might Like