Banksy
Pseudonymous England-based graffiti artist, political activist, and painter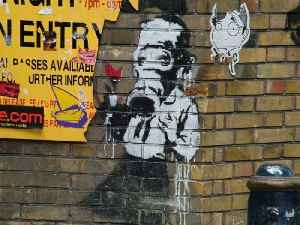 Banksy is an anonymous England-based street artist, vandal, political activist, and film director, active since the 1990s. His satirical street art and subversive epigrams combine dark humour with graffiti executed in a distinctive stenciling technique. His works of political and social commentary have been featured on streets, walls, and bridges of cities throughout the world. Banksy's work grew out of the Bristol underground scene, which involved collaborations between artists and musicians. Banksy says that he was inspired by 3D, a graffiti artist and founding member of the musical group Massive Attack.


Banksy wows Saudis in Riyadh exhibition

Nearly 70 art pieces depicting the works of famed graffiti artist Banksy are on display for the first time in the Middle East, this time in the Saudi capital Riyadh.
Credit: Reuters Studio Duration: 00:54
Published
Banksy plays with violence and innocence in Valentine's Day graffiti

British street artist Banksy has given a Valentine's Day gift to his home town of Bristol in western England with the appearance of a new mural showing a small girl with a catapult and a splatter of..
Credit: Reuters Studio Duration: 00:50
Published
'Banksy' mural appears in Bristol, UK

A new mural believed to be the work of street artist Banksy has appeared on a wall in Bristol. The black and white stencil of a girl with a catapult and a red paint splat, made of roses and plastic..
Credit: PA - Press Association STUDIO Duration: 00:29
Published
You Might Like
Search this site and the web: